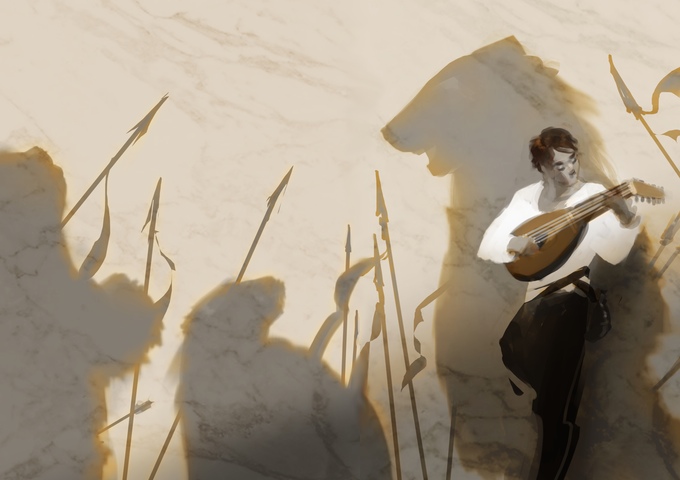 Is there ever a time in which we couldn't use a bit more myth and magic in our lives? The answer is no—especially in a secondary world as fantastically detailed as that of Chad Corrie's Tralodren. Corrie, an internationally published novelist, has been in the fantasy literature business for quite some time, and his work has been positively reviewed by SF Site, Twin Cities Geek, and Midwest Book Review—to name a few. While his writings have continued to circulate overseas, he has recently launched a Kickstarter campaign in order to help bring back some of his out of print works in English.
Corrie's plan is to get two books funded first: Corwyn and Company, a short story collection about a bard named Corwyn Danther, and Return of the Wizard King, the first novel in a fantasy trilogy, about an eclectic group of mercenaries—including, my personal favorite, a scholarly wizardess! If these two books get funded (*fingers crossed*), the plan is to pursue publication of the final two works in the trilogy. While Corrie's works will certainly appeal to fans of high or epic fantasy, he manages to effectively balance gravity with humor and quests with daily life in Tralodren. He also utilizes fantasy tropes and familiar character types in new and interesting ways.
There are ten different ways you can pledge your support to this campaign—each with its own rewards. For simply donating $5, you will get a digital copy of Corwyn and Company; however, if you're feeling a bit more generous and want to pledge $50 or more, you will get digital and print copies of both Corwyn and Company and Return of the Wizard King. And, of course, there are many other pledge options in between. This is a win-win situation, and we at Rogues Portal hope you will consider supporting Chad Corrie by August 8th!
For more information on Chad Corrie and his Kickstarter, check out any of the below links:
Link to the Kickstarter Page: 
https://www.kickstarter.com/projects/118802692/corwyn-and-company
Link to the Kickstarter Video via You Tube: 
https://youtu.be/CYtK0ubGQnY

www.chadcorrie.com
www.tralodren.com
www.facebook.com/chadcorriefans
www.twitter.com/authorchad