Bad Moms
Director: Jon Lucas, Scott Moore
Writers: Jon Lucas, Scott Moore
Starring: Mila Kunis, Kathryn Hahn, Kristen Bell, Christina Applegate, Jada Pinkett Smith, Annie Mumolo
Reviewed by Gregory Brothers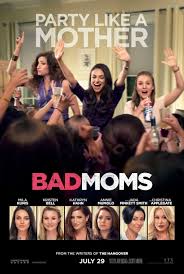 Written by the same group of people who brought you The Hangover, Bad Moms tells the story of Amy who seems to have the life that so many people dream of. She has a nice home, a nice job, two well-behaved kids, and a marriage that seems to be rock solid. However, things are not always as they appear and a series of events pushes Amy to the edge. Trying to find the answers to how to get out of her rut. Amy meets up with two other moms who are feeling the same way, leading to several adventures along the way and direct conflict with some of the more perfect moms.
We are introduced to Amy (Mila Kunis) via a voice over giving a short introduction about herself and her family as she pulls her van up in front of the school for the daily drop-off for school. After sending her kids off with a hug, kiss, and a bit of embarrassment, she is reminded by Gwendolyn (Christina Applegate) and her two side kicks Stacy (Jada Pinkett Smith) and Vicky (Annie Mumolo) about an emergency PTO meeting that is coming up. We also get a quick glimpse of Kiki (Kristen Bell), who is described by one of the other moms as the weird stay at home mom, and Carla (Kathryn Hahn) who is a single mother who is seen trying to seduce the dads in the drop off lane.
Seeing that Amy is the focus of the story we follow her through the rest of her day. We are first introduced to new hip coffee company where she works, and is older than the other employees by at least 10 years, including the company's owner Dale (Clarke Duke), and is the only one who seems to work in the whole building. After a long day of hard work and taxiing kids around we are introduced to Amy's husband Mike (David Walton), who doesn't seem to appreciate everything that his wife does for him and the family. After a long night of waiting to see if her daughter makes the school soccer team, a series of events over the next 24 hours leads Amy to question the life of being a perfect mom, and with her two new best friends, their adventure begins.
During this second act of the film that Kunis, Bell, and Hahn get to go on some adventures that many moms and even dads in many ways wish that they could go on. To forget all of your responsibilities even if just for a little bit and be able to let go and truly have fun. Well at least until the next morning when you have to go back to your responsibilities, but now with little sleep and a headache. The scenes themselves are great, but the music that Jon Lucas and Scott Moore use during them just adds to the feeling. It seemed like the theater I was in wanted to get up and join in with the partying at one point.
Christina Applegate's Gwendolyn is the perfect foil to Kunis's Amy. She plays the part of an adult mean girl who knows what is best for everyone is and expects for them all to fall in line with her expectations or risk getting run over. She uses the power that she has given herself as PTO president to make sure that everyone understands those expectations and punishes those that do not conform. Obviously, being a comedy, the actions that Gwendolyn takes are over exaggerated, but any parent who has ever run afoul of the local PTO will understand that there are those in real life who wish they had the power that is exhibited here.
As with any good comedy casting goes a long way in how some of the jokes are both presented and received. The six ladies that are the focus of the movie are all perfect for the roles that they have within the movies. Bell especially plays the socially awkward mom who is trying to find her place and make connections brilliantly. Several of the scenes with just her facial expressions and body movement alone make you believe this is who she truly is. The cameos throughout are equally as great, including Wendell Pierce playing Principal Burr, Wanda Sykes as a Dr. Karl, and JJ Watts as Coach Craig, the school's soccer coach who only wants to make enough money to live happily with his cat.
As much fun as this movie would be if it was just an hour and a half of moms shaking of the chains of responsibility and having a great time, the movie really hits on several key points about society with its message. The first of which is a reminder that in the days of social media where our lives are more visible than they have ever been, the pressure to be the perfect mom and parent is real. Everything you do is being judged and any choice that is made that doesn't fall into line is subject to intense security. This film serves as a reminder that we must allow people to raise their children in a way that fits their family needs the best and not force people into compliance of our own personal norms. In addition, and more importantly, we must remember that you never know what people may be going through behind the public persona that they put on.
The Verdict
See It! Bad Moms is the perfect summer comedy that not only gives you great laughs but also gives you something to think about. Moms, leave the kids with dad or the babysitter and make a girls night out of it where you can laugh and talk about who you know that falls into each character. Dads, go and see the movie and in between laughs take note of the things that your wife does that makes your family's life easier, and then show her you appreciate her.