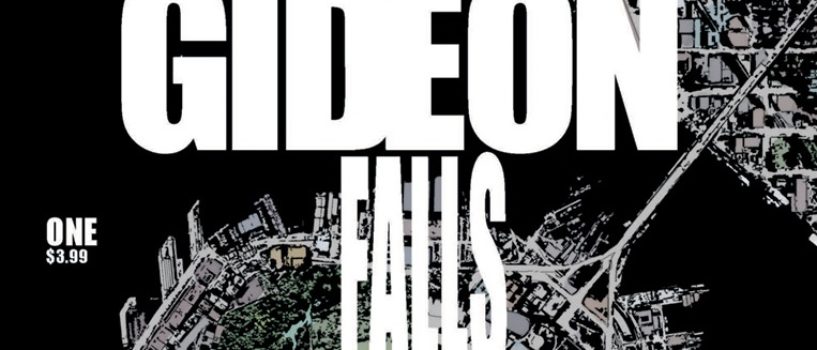 Gideon Falls #1
Writer: Jeff Lemire
Artist: Andrea Sorrentino
Colorist: Dave Stewart
Letterer: Steve Wands
Publisher: Image
Review by Cory Webber
Gideon Falls #1 is the story of a reclusive young man obsessed with a conspiracy in the city's garbage. It is also the story of a washed-up Catholic priest assigned to take over a congregation in the small town of Gideon Falls after the death of the previous pastor. The lives of these two figures become intertwined around a mysterious Black Barn. Now, that is all I will say in fear of spoiling anything. In fact, I feel that the solicit for this issue divulges a little too much.
Now, I first got into comics in June of 2014. A couple of movies piqued my interest to the tipping point: the recently released X-Men: Days of Future Past, and the upcoming Guardians of the Galaxy, Vol.1. I just had to dive into the wacky world of comics! So, I started to research. I asked for suggestions on message boards and comment sections. Most people suggested Scott Snyder's Batman, Mark Waid's Daredevil and Geoff John's Justice League (all great, btw!), but many people also praised Lemire & Sorrentino's Green Arrow. I wasn't really familiar with the character, so I didn't check it out for two years (!!). Once I did, however, I never looked back. These two creators were meant to make comics together. They followed up Green Arrow with a run on Old Man Logan. Again, the pairing made some magic. So, when I heard they were doing some creator-owned work on a horror title at Image, I knew I had to check out Gideon Falls #1.
Now, like I said before, I know they were meant to make comics together, but what I didn't know is that they were really meant to make horror comics together. Sorrentino's shadow-drenched art fills each panel with an ominous feeling you just can't shake. The page layouts help augment the horror and suspense. Some panels and pages involving the reclusive young man, Norton, are flipped upside down; this gives a feeling of distrust and uneasiness. Is this guy crazy or is he really onto something? I would be remiss if I didn't mention the wonderful color work by Dave Stewart. His colors, even the pastels he uses, are subdued. This gives the effect that you are reading Gideon Falls #1 in the dark; however, there are a few instances where he makes use of a bright splash of color for dramatic effect. This is one of the modern era of comic's best creative duos, and the addition of Dave Stewart on colors completes the trifecta. They combine to create an eerie, suspenseful story with enough mystery to hook you for the entire ride, which hopefully lasts quite a while.
Verdict:
Buy it. There are a few things that make a great #1 issue: interesting characters, compelling plot, solid art and leaving readers wanting more when it ends. Gideon Falls #1 excels on all accounts. I will be reading this monthly, and here's the catch: I'm not even a fan of horror.
Gideon Falls #1 will be in stores March 7, 2018.