American Horror Story Season 6 started this week, and just like me you're all wondering what in the name of Holy Hell is going to be the main theme of the new series (since I live in the UK, I have not seen it yet).
American Horror Story is an American Horror Television show devised by Glee and Nip/Tuck creator Ryan Murphy. Described as an anthology series, AHS seasons are conceived as their very own miniseries, which will then follow a series of characters, and once the series ends, you may (or may not) see them again, especially since some story-lines are set in the past while other are set in the present. Each miniseries has it's own 'beginning, middle, and end' with some plot elements are based on true events, something that season 5 relied heavily on (not that it's a bad thing).
Of course with every series you should expect a Funko Pop or two and Funko have always created Funko's of the most popular characters from each series! Here is a description of series 1-4 and what Funko to expect from them.
Series 1: Murder House
The first series is set in modern times but contains flashbacks from 1920's, 1940's, 1960's, 1970's, 1980's etc. It follows the story of the Harmon Family – psychiatrist Ben, his wife Vivien and their teenage daughter Violet. They move from Boston to Los Angles after Vivien miscarries and Ben has an affair. They move into a restored mansion where they meet the house' former residents, The Langdons – Constance and her two children, Tate and Addie. Ben and Vivien try to rekindle the romance in their marriage while Violet who is battling depression finds comfort with Tate. With some unnerving happenings in the house they eventually find that the mansion is haunted by those who have died within the the property.
Characters include: Tate and Rubberman
Series 2: Asylum
This series takes place in a Mental Institution in 1964. It follows the lives of the patients, doctors and nuns who occupy Briarcliff Mental Institution. The wardens who run the institution include Stern nun Sister Jude, Sister Mary Eunice and the founder, Monsignor Timothy Howard, the doctors in charge of treating the patients include psychiatrist Dr. Oliver Thredson and the sadistic scientist Dr. Arthur Arden. Many of the patients have been unjustly institutionalised including journalist Lana Winters. All the characters and subjected to supernatural and scientific influences which include demonic possession and extraterrestrial abduction.
No characters from this series has been created into a Funko Pop.
Series 3: Coven
The series takes place in 2013 and follows the descendants of the witches who survived the Salem Witch Trials, who nearly become extinct. A mysterious all-girls boarding school opens in New Orleans to protect and house young women who carry the Salem bloodline. The long absent Supreme and most powerful witch of her generation, Fiona Goode arrives to ensure the safety of the Coven as well as fulfill her own agenda. Events reveal a long-held rivalry between the witches of Salem and the Voodoo practitioners of New Orleans, as well as a historic grudge between Voodoo Queen Marie Laveau and socialite serial killer Delphine LaLaurie
Characters include: Marie Laveau, Cordelia Foxx, Fiona Goode, Misty Day, Myrtle Snow and Pappa Legba.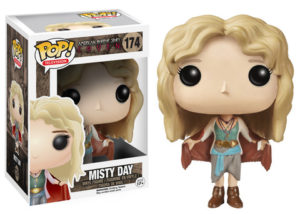 Series 4: Freak Show
Freak Show takes place in 1952 in the town of Jupiter, Florida and follows a struggling Freak Show led by Elsa Mars. Other member of the Freak Show include Jimmy Darling, Jimmy's mother bearded lady Ethel Darling, Strongman Dell Toledo and his three-breasted wife Desiree Dupree. In a time when the era of television beginning to reign above sideshow acts, they must overcome those who persecute them based on their looks.
Characters include: Elsa Mars and Ma Petite, Pepper, Tattler Twins and Twisty