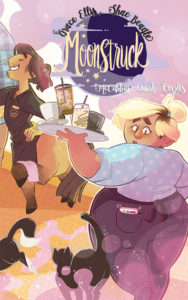 Superstar writer Grace Ellis (Lumberjanes, Bravest Warriors) and mega-talented newcomer Shae Beagle join forces for a magical ongoing series, Moonstruck, coming this July from Image Comics.
In Moonstruck, fantasy creatures live typical, unremarkable lives alongside humans, and barista Julie strives to be the most unremarkable of all. Normal job, normal almost-girlfriend, normal…werewolf transformations that happen when she gets upset? Yikes!
But all bets are off when she and her centaur best friend Chet find themselves in the middle of a magical conspiracy. Will Julie and Chet be able to save their friends? Is Julie's dogged determination to be normal a lost cause? Who's going to watch the coffee shop while our heroes are out saving the world??
A story of monsters, romance, and magical hijinks, the first arc of Moonstruck also features a story-within-a-story illustrated by artist Kate Leth (Patsy Walker A.K.A. Hellcat, Spell on Wheels)!
"I'm extremely proud of Moonstruck; it's definitely the best thing I've ever written. And it's full of things I like: It's fun, it's character-driven, it's got a lot of room for creativity, it's got queer people—not to mention mystical magic AND close-up card-trick magic. And lots of coffee! So if you like those things—a fun, slice-of-life character story with genre trappings—I imagine you'll like Moonstruck a whole lot." – Grace Ellis
"Moonstruck is already near and dear to me, and I'm so excited to get it out into the world! Even in this world of magic and monsters, all the characters are relatable and lovable in their own ways. Moonstruck is the lighthearted queer romance we've all been wishing for, with lots of magical flavor." – Shae Beagle
Moonstruck #1 hits comic book stores Wednesday, July 19th, 2017.