In episode 37 of The Fordcast Podcast, Rachel and Lauren discuss Harrison Ford's 2002 film K-19: Widowmaker, co-starring Peter Sarsgaard and Liam Neeson, and directed by Oscar Winner Kathryn Bigelow.
After a discussion of accents, the actors, and love of K-Bigs, the ladies spend the second half of the episode talking about their favorite female directors. They put special focus on Patty Jenkins (Wonder Woman), Ava Duvernay (Selma, 13th and A Wrinkle In Time), and Leslye Headland (Bachelorette and Sleeping with Other People).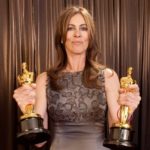 Lauren also takes a moment to talk about some early history of female film directors, Ida Lupino, and the Hayes Code as a road block to more women behind the scenes.
Check out our website for SHOW NOTES and more info. You can also enter our contests and follow us on social media.
Sponsored by HausUrban.com (Skin Care). Please review us on iTunes or drop us a line at thefordcastpodcast@gmail.com!