I've been researching a lot of 19th-century knitwear for a project I'm planning and discovered my new favourite knitwear obsession: sontag shawls. Sontags (also called "Bossom Friends" in some contemporary publications) are triangular shawls that cross snugly across the chest and have a long cord or braid at two of the triangle's points to tie around the waist. They were named after the famous German opera singer Henriette Sontag (1806-1854), who is credited with starting the fashion trend. They became very popular in the last half of the 19th and early part of the 20th centuries.
Here's a mid-19th century picture to give you an idea of what a sontag is and how it was worn.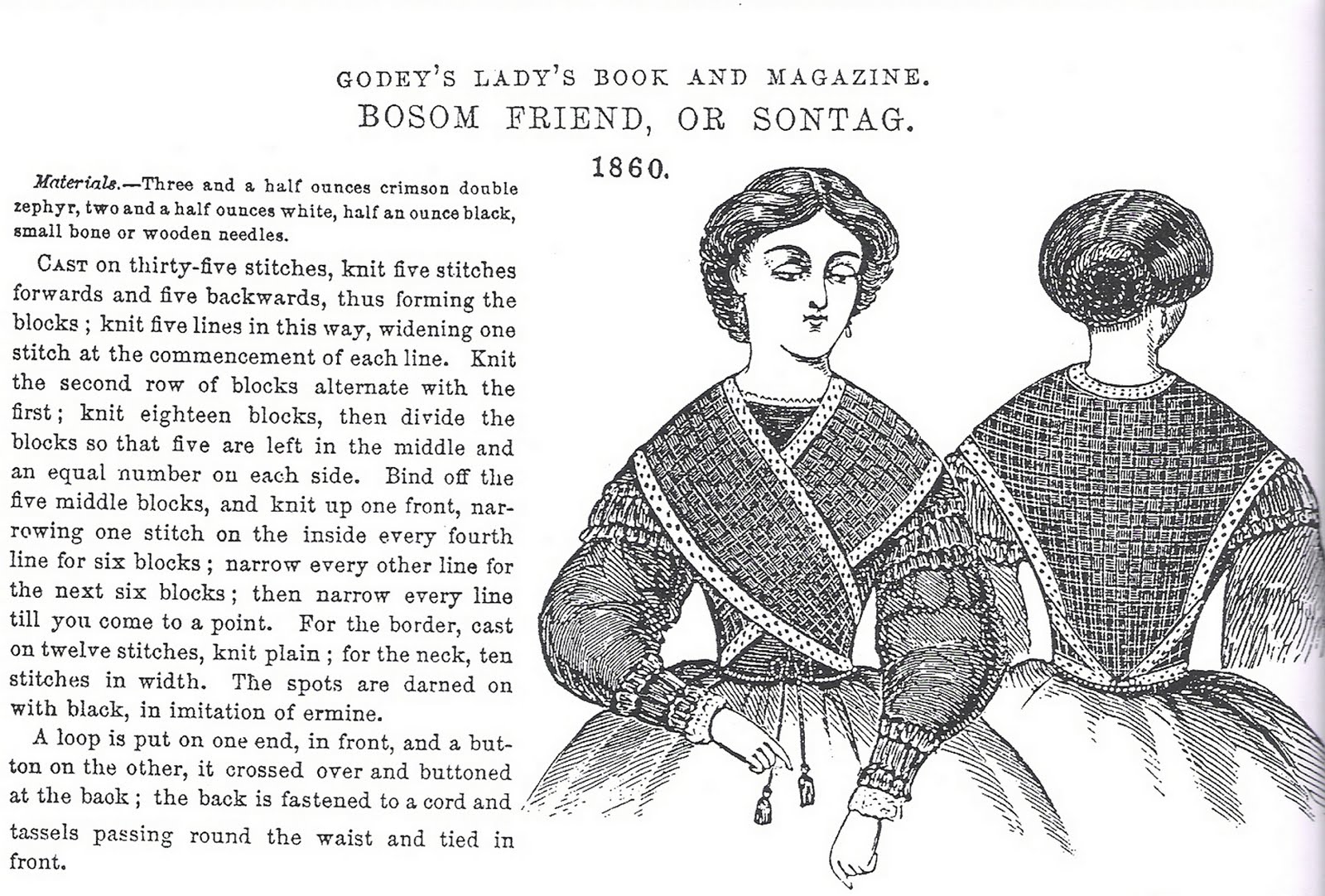 Doesn't that look cozy?! I love knitting shawls but find them difficult to wear; how do I stuff all that drapey knitted fabric into a parka in order to walk out in the snow to pick up my kids from school? These are the perfect solution. Although parkas weren't a thing yet, these were meant to fit under layers of clothing for being out in the cold, or to be worn indoors without hindering movement. I'm in love.
So I completely geeked out when I went to see Little Women (2019) with some friends and saw not one, but at least half a dozen of these beautiful and versatile items among the costumes on display. Even such a utilitarian and ubiquitous item as a sontag had a part to play in telling the stories of these characters on screen. Like shawls in general, sontags are a blank slate for whatever colors, patterns, and styles the knitter wants to make, which makes them an excellent vehicle for displaying the characters' styles and personalities.
Let's first look at this scene that displays three of the sisters, each wearing a different sontag.
Beth (Eliza Scanlen, Sharp Objects) and Jo (Saorise Ronan, Lady Bird) are each wearing a sontag knit in garter stitch stripes. They're very practical stash-busting items that are very fitting with the economic times and the family's financial circumstances. Jo's is in dark blues that match the dark, more masculine colors of her outfit. Beth's is in neutral tones of grey and brown, indicating her constant desire to fade into the background and remain unnoticed. Compare that to the striking contrast of Amy's (Florence Pugh, Midsommer) sontag.
Whereas the other two are in practical, dark, or neutral colors, Amy's is bright pink. Instead of economical stripse, it's a solid color, meaning she would have had to purchase enough yarn in that color all at once to make it. Every other sontag in the movie is knit in garter stitch or basket stitch, simple stitches that add bulk, and therefore warmth, to the garment. Amy's is knit in stockinette with yarn-over eyelets, creating a thinner, albeit more decorative, fabric. It's a bold piece of luxury on her otherwise simple dress, an expression of yearning for the kind of wealth and beauty that she aspires to. This shawl, and its contrast to others in the room, gives a glimpse into Amy's mind, her heart, and her ambition.
Marmee (Laura Dern, Marriage Story) wears a few different sontags throughout the film, but this one is my favorite.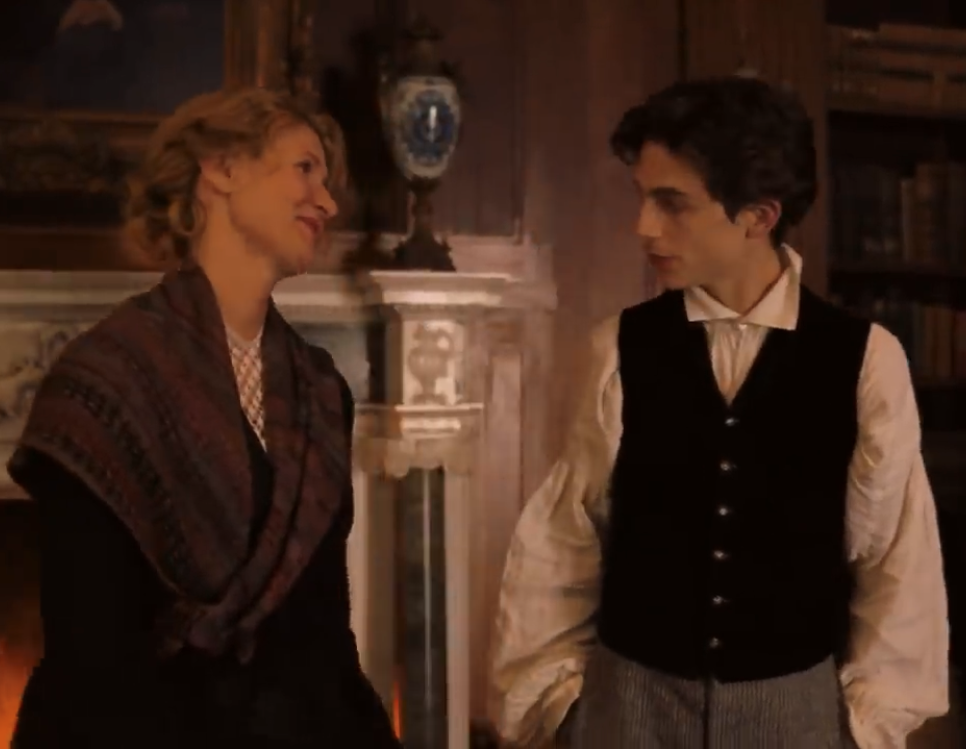 First, look at how she's wearing it. She comes in from outside, yet she has it tied loosely at the front instead of tight around her waist. One of the important characteristics of Marmie is that she isn't a typical buttoned-up, scolding her daughters to behave "lady-like" type of mother. She gives her daughters wonderful freedom to explore themselves and their world and to be who they are. This way of tying her shawl speaks to that freedom and casual attitude towards societal propriety.
The other thing of note are the colors. Greta Gerwig confirmed in a video for Vanity Fair that the design of this sontag was very intentional. She explained that each girl had a color that was worked into their costume design: green for Meg, blue for Amy, etc. Although in muted tones, this is the most colorful sontag in the film, incorporating colors from each of the girls' wardrobes. Each of her girls has a different aspect of Marmie in her personality; they are her, and she is them. It's a beautiful and heartwarming visual signifier of the family's unity and connectedness.
Sadly, I couldn't get a screenshot of Meg wearing her sontag, but it is not to be left out. Similar to the one in the vintage knitting pattern posted above, it's knit in a very sensible basketweave pattern for warmth and comfort. But unlike the pattern above, it's bordered with a scalloped edge. Meg is the practical eldest daughter, who still longs for beauty and luxury in her life. She can't bring herself to go for the thin, lacy, bright pink design like Amy. However, it has just a little more style and sophistication than the plain shawls worn by Beth and Jo.
You can find a fan-made pattern for Beth's sontag here (Jo's is so similar that you could use this pattern to create it, as well). A pattern for Marmee's shawl is here.
I've fallen for these beautiful, useful pieces and am looking forward to making one of my own. Let's bring these wonderful vintage items back into fashion and live out our Little Women fantasies!