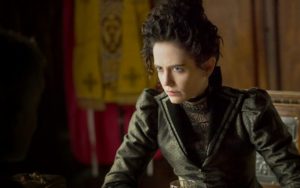 So. This article is my favorite ever because it gave me an excuse to go hunting for Gothic Victorian clothing. My challenge was to put together an inexpensive (yet supercool) Penny Dreadful inspired cosplay outfit. Any thrift store junkie knows that some days are better than others. You can walk out of the store with a whole house worth of furniture one day, and find nothing worthwhile on another. I'm not one to brag, but I must have gone on the right day, because I rocked this challenge like a boss. Just sayin'.
Penny Dreadful is not only a great story, but the popular television show is dripping with lavish sets and costumes. Vanessa Ives, the mysterious and darkly mystical main character, is known for her black gowns, lacy decolletage, high-collared blouses, and fitted jackets with puffed sleeves. As these styles are no longer readily available, I was able to find some modern equivalents. If I could sew, I'd embellish my finds with black beads and lace and all kinds of gothicry.  I'm not particularly domestic however, so that isn't going to happen. But please pretend I sewed the hell outta these clothes…..
The individual pieces:
I already had a pair of black boots, though the skirt almost reaches the floor, and added a choker I got from the thrift store a while back for only a few bucks. So! The official cosplay  total is $27, but I wouldn't be a thrift store aficionado if I didn't have my 30% off coupon….which brings the pre-tax total to under twenty bucks. I might add that the skirt and the vest had their original tags attached, so I got a great deal. I also might add that the top is extremely uncomfortable and I do not envy Victorian women having to wear clothes so tight in the waist just to make them look delicate.
THE FINISHED LOOK (in which we see why I cannot breathe):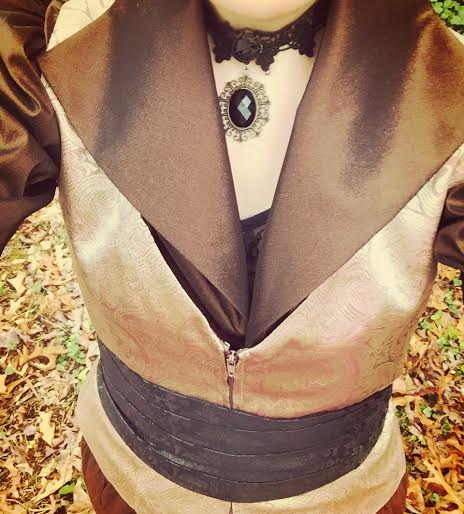 Aaaaaand my ode to vintage photography. Yes, I had way too much fun with this….
The moral of this article is that, while it may take some picking through, or a couple of trips, you too -YES YOU- can cosplay for  pennies if you are truly dedicated to the art of thrift store shopping, and of course, to your character.
Happy hunting!