Babyteeth#1
Writer: Donny Cates
Artist: Garry Brown
Colorist: Mark Englert
Letterer: Taylor Esposito
Publisher: AfterShock Comics
A review by David Hildebrand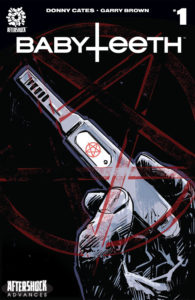 Everything writer Donny Cates has produced lately has been gold. There is no other way to put it. He has hit home runs with all his latest works like God's Country, Redneck, and one of my favorites, The Paybacks. So it wasn't too hard to get on board when I read that his newest outing would be about a teenage girl giving birth to the Antichrist in Babyteeth #1.
Babyteeth#1 is centered around Sadie recording a video on her phone for her newborn child, Clark, recounting the events leading up to his birth. At least it is assumed at this point the child is still fairly young as that small detail escapes the narrative for the moment. Sadie describes the moments when she was pregnant at the age of sixteen. She details her first contraction all the way up to the supernatural happenings of the child's arrival into the world.
Cates does a fantastic job focusing the tale around Sadie and her dramatic childbirth experience. He doesn't put much attention on the horror aspect of the story until closer to the end of the issue, where the true story begins to reveal itself. The pacing of the story doesn't drag at any moment and the supporting characters are around just enough to make an appearance but they never draw the spotlight away from Sadie. Sadie's sister Heather is the one that comes to her rescue when she goes into labor. Sadie's contractions causes earthquake tremors and each panel increases with unsettling tension as Heather races Sadie to the emergency room.
Garry Brown's art shines as well as he takes us on the roller coaster of emotions that Sadie endures throughout the issue. His talent is remarkable as he displays Sadie's innocence, fear, and joy. Mark Englert's colors enhances Brown's art with his muted colors but adding a burst of red and orange when Sadie has contractions. Overall Babyteeth #1 is visually appealing as it is story driven. There is a talented team working on this book!
The Verdict
Buy it! Donny Cates has had a stellar year so far. He surprised me with God's Country and now that he is taken on another horror style book, I am a bigger fan. It's a no brainer that if you too are a fan of Cates' work, you should pick this up. However, if you are not familiar with his work but dig horror stories, then you should probably add this to your pull list because I don't see how the readers can be lead astray with such a strong premier issue as Babyteeth #1. Pick it up!