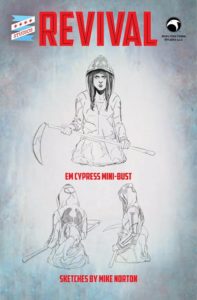 I have to express my utter excitement about this. Revival has been one of my favorite go-to comics for awhile and now fans of the comic will have something to keep on their shelves.
This fall, Skelton Crew Studio & Four Star Studios, which includes Revival's creators Tim Seeley (writer) and Mike Norton (artist), have teamed up to give us a bust of the heroine of Revival: Em Cypress.
The bust of Em Cypress will be available for only a limited time and set to debut in fall 2016. The bust will stand at six inches tall and will have her well known skeleton hoodie and bloody scythe in tow, but behind her back will be "a creep" against her. It's already a spectacular and spooky looking bust, especially with Mike Norton drawing the initial sketches of it.

If you don't know the story of Revival, what have you been doing? Released in 2012, this comic from Image has wowed readers with its never-ending twists, spectacular writing, and absolutely beautiful art. Revival is a rural noir and one of the best comics in its long run. Revival sets its territory in central Wisconsin, where Dana Cypress has to deal with a particular incident that doesn't seem to have any explanation. The dead are coming back to life. Em Cypress, Dana's sister happens to be one of people who has come back. The sisters take their own course of justice to find out what's been going on in the town, and man… it's a killer.
Mike Norton's more than excited about the collaboration with Skelton Crew Studio. He quotes:
"Personally, this is a dream come true. Having a statue made of a character near and dear to me is so exciting. To have it made by these guys is icing on the cake!"

I can not wait to get my hands on one of these things. If you haven't been reading Revival it's definitely not too late to start! Check out their Image Comics series page. If you'd like to know more about Four Star Studios, check them out here. Skelton Crew Studios is very hard at work on these beauties, so you can check out their work in progress on their website.
Don't forget to look out for dates when the lovely Em Cypress will become available for purchase.