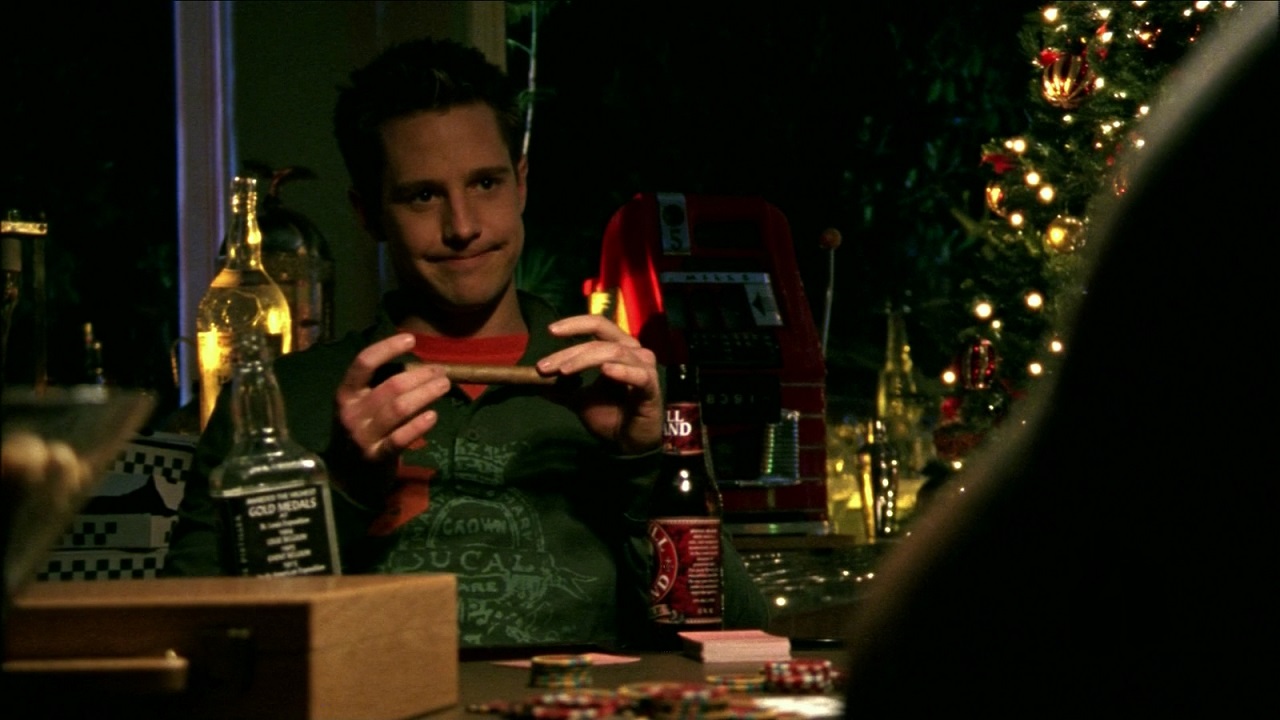 If you're like me — and most people should be, as far as I'm concerned — you love spending Christmas Eve or Christmas Day watching some of your favourite movies. Whether those are holiday classics or movies that just mean a lot to you, it's the time of year to put on some comfort media, something to have on in the background and tune in and out of while you're getting jacked up on that Christmas spirit. This year of all years I think it's important to try to spend the holidays in a positive mindset.
To that end I've created the unquestionably correct and final 24 Hour Christmas Marathon. This list will take you from 5 o'clock in the morning Christmas Eve to 5 o'clock in the morning Christmas Day. I don't suggest this marathon for the faint of heart, those with a cowardly constitution or Scrooges.
This list will include some classics, some newer fare and a couple less-obvious choices. Unfortunately I don't think there's a Christmas episode of 24, which is to be expected when the whole series takes place over like 10 days. I still think I picked some true gems. There's a lot of great holiday media out there — and a lot of clunkers — so you could come up with a completely different list. But . . . don't. Because I went to the trouble of making this one.
Anyway, time to wake up:
5 AM to 7 AM
How the Grinch Stole Christmas (1966)
National Lampoon's Christmas Vacation (1989)
It's early, I know. So we're gonna start it off right by watching two Christmas classics to help get you in the right spirit for the day ahead. How the Grinch Stole Christmas is a nice, comfortable classic to help you get ready for the day. Presumably you'll be all bundled up in pajamas with reindeers on them and waiting for your coffee or tea to be ready, so you can zone out and watch the special's fun animation and sweet ending.
Next up is National Lampoon's Christmas Vacation. This movie has been a standard my whole life and I've never grown tired of it. Chevy Chase is an asshole but when he's at his best, which he is in Christmas Vacation, he's unbeatable. I think this movie annoys some people, so if you're not into it feel free to swap it out, but you're missing out on Randy Quaid saying "shitter's full" so it's your loss.
7 AM to 9 AM
Community Season 2, Episode 11 "Abed's Uncontrollable Christmas"
Kiss Kiss Bang Bang (2005)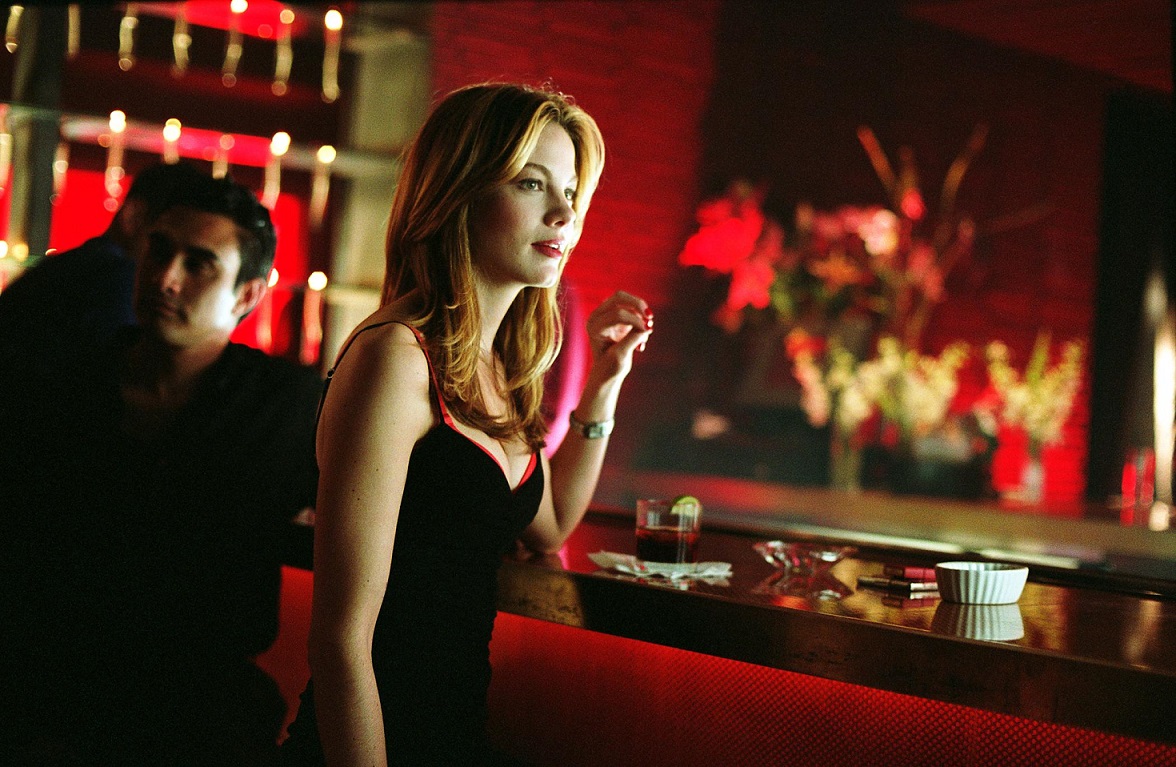 So right now you're probably doing nothing. Just sitting on your couch. Which is fine, no judgement here. It's the Holiday Season, after all. So we'll continue from the last movie with some laughs and move onto Community's Christmas Special. "Abed's Uncontrollable Christmas" is an homage to the classic Rankin-Bass stop-motion specials. Because it's a Dan Harmon joint it also deals with mental health and takes place on several layers of reality. It's also really funny and all of the stop-motion version of the main characters are absolutely adorable.
In case you're still not fully awake yet we're gonna watch Kiss Kiss Bang Bang. Like most of Shane Black's output, it take place during the holiday season. I could have picked Lethal Weapon or The Long Kiss Goodnight but I chose Kiss Kiss Bang Bang because it was Black's directorial debut, Christmas plays a big part and it's a very underrated film. Robert Downey Jr and Val Kilmer are basically perfect in it.
9 AM to 10:30 AM
The Muppet Christmas Carol (1992)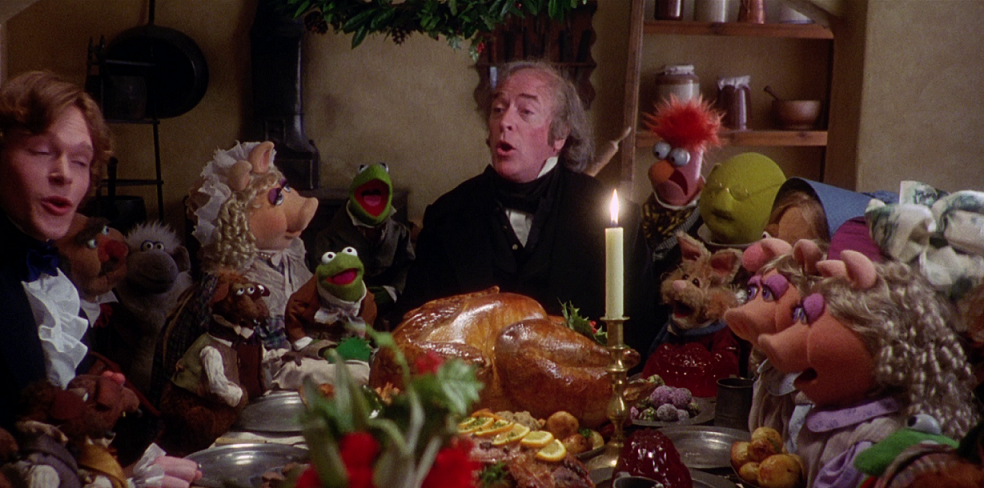 This definitely isn't the last take on A Christmas Carol on this list but it deserves to be the first one. You're in the swing of things by now, God willing, and probably jacked up on Christmas cheer. Well this bad boy's gonna put you through the damn roof.
Michael Caine's Ebenezer Scrooge is an all-timer, up there with Alastair Sim and Scrooge McDuck. He just seems to be having so much fun in the role, it's infectious. This is still solid Muppet filmmaking too, not like some of the shakier later entries. Oh, and the little Tiny Tim frog Muppet is freaking adorable.
10:30 AM to 12 PM
The Office Season 2, Episode 10 "Christmas Party"
Friends Season 7, Episode 10 "The One with the Holiday Armadillo"
Seinfeld Season 9, Episode 10 "The Strike"
Bob's Burgers Season 4, Episode 8 "Christmas in the Car"
Our first big block of TV comedy Christmas specials. Now is the perfect time to start wrapping those last-minute presents you bought that are burning a hole in the shopping bags on the floor of your bedroom. So grab some wrapping paper and get to business because I'm sure you've seen some of these before.
The Office's "Christmas Party" is worth watching for the extremely uncomfortable scene where everyone is forced to play Yankee Swap with their secret Santa gifts. The Friends and Seinfeld episodes go well together because they both feature alternate takes on the holidays with the Holiday Armadillo and Festivus respectively. Really, no year should go by without people watching the Festivus episode of Seinfeld. Finally, Bob's Burgers "Christmas in the Car" is the best animated Christmas episode since classic-era Simpsons. Their decision to do a take on Steven Spielberg's Duel is inspired and actually adds some real tension to a pretty silly show.
12 PM to 3 PM
Veronica Mars Season 1, Episode 10 "An Echolls Family Christmas"
LOST Season 4, Episode 5 "The Constant"
It's Always Sunny in Philadelphia Season 6, Episode 13 & 14 "A Very Sunny Christmas"
Mr. Bean Season 1, Episode 7 "Merry Christmas, Mr. Bean"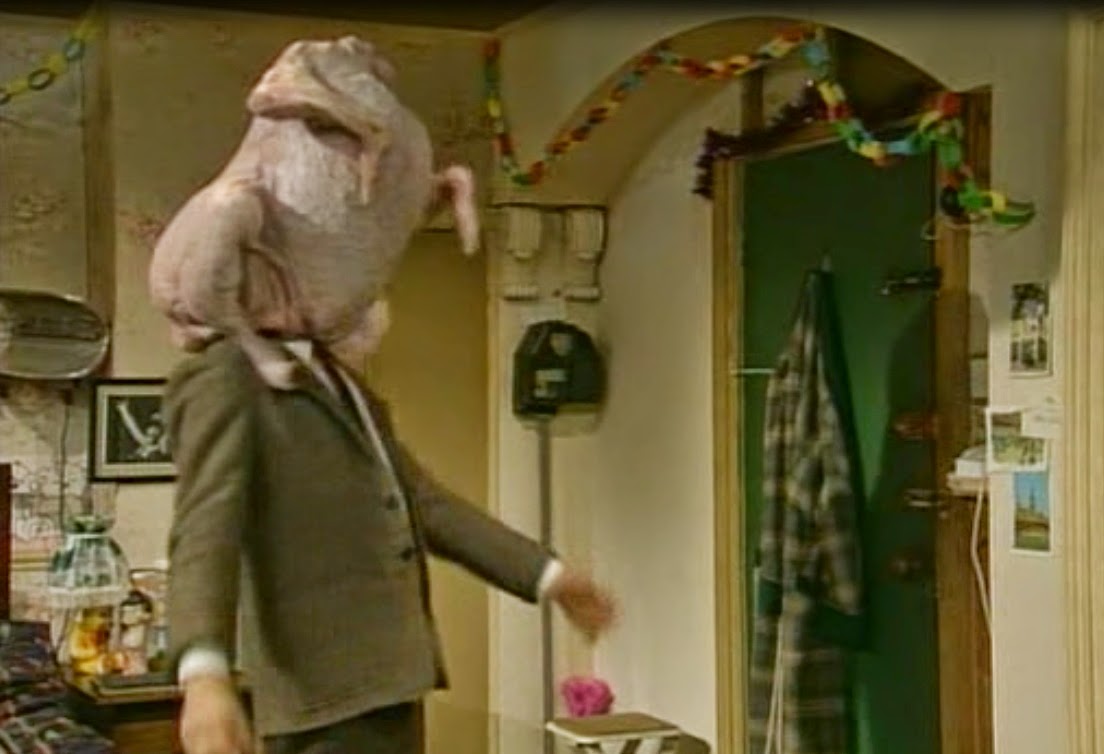 It's post-noon, so if you feel like a rum and eggnog this would be the time to grab one. Hopefully you've finished wrapping your gifts. If you haven't then you are a very slow wrapper and probably should have done these much earlier. Poor choice, you.
Starting off our collection of longer TV episodes is Veronica Mars. "An Echolls Family Christmas" is great for people who have seen the show before and newcomers alike. There's not much serialized storytelling in this one, it has a self-contained mystery, some solid Christmas references and an ending that may make newcomers start watching the show come New Year. Next up is LOST's "The Constant". This one would be very hard for newcomers to follow or even care about, but I don't care, it's my list and it starts. It also happens to be the best episode of the series.
Steering back into overt comedy is "A Very Sunny Christmas", the It's Always Sunny in Philadelphia Christmas episode. It's a pretty singular episode in the show because while it contains much of the crude humour and unlikeable character as the rest of the series they also added some heart. It's definitely worth a watch.
And of course you have to watch "Merry Christmas, Mr. Bean" because there's a good chance it's the funniest thing ever recorded.
3 PM to 4:30 PM
Bad Santa (2003)
This is the start of a big block of easy-to-watch classics that will be fine for you to doze off during. You've been up since five, you've got a couple rum and eggnogs in you. It's all right if you need to take a little nap.
Bad Santa is holiday movie counter-programming. Something to break up the sweetness that's maybe been built up from too many sappy holiday tales. It's crude and funny and has one of Billy Bob Thornton's best film roles. It's also worth watching for John Ritter's final film role.
4:30 PM to 6 PM
Tales from the Crypt Season 1, Episode 2 "And All Through the House"
The Simpsons Season 1, Episode 1 "Simpsons Roasting on an Open Fire"
The Simpsons Season 7, Episode 11 "Marge Be Not Proud"
Futurama Season 2, Episode 4 "Xmas Story"
We're still in the "okay to nap a little block", but for those sticking it out completely we're starting with a TV episode that will help jolt you awake a bit. The second Tales from the Crypt adapts an infamous EC Comic story, "And All Through the House". Starring Mary Ellen Trainor as a woman who kills her husband and then is terrorized by Larry Drake's Santa-dressed serial killer. The whole thing is directed by Robert Zemeckis, no stranger to Christmas stories, and the episode is trashy, lurid and a whole lot of fun.
After that we have a block of classic Christmas episodes. As much as The Simpsons is known for their Halloween episodes it all started with a Christmas special. The very first episode, "Simpsons Roasting on an Open Fire" is a solid addition to the Christmas TV canon and introduces Santa's Little Helper to the Simpsons family. The best Simpsons Christmas episode, however, is "Marge Be Not Proud". It's basically a perfect episode of the show and I refuse to believe anyone hasn't seen it. Finally there's "Xmas Story", Futurama's first Christmas special. Their take on Santa Claus is a nice twist of the norm and it's almost as funny as classic era Simpsons.
6 PM to 8 PM
The Nightmare Before Christmas (1993)
Mickey's Christmas Carol (1983)
It's prime-time viewing and we're in the back half of our marathon. From here on out it's classics and my personal favourites. Why my personal favourites and not yours, you may ask? That's a dumb question. You should have had a nap earlier because you sound delirious.
First up is The Nightmare Before Christmas. Henry Selick's beautiful stop-motion animation and Tim Burton's fun story make for an engaging watch. But there's no need to sell it, really. I'm sure if you've ever even accidentally walked into a Hot Topic you keep this movie in your holiday rotation. Next up is Mickey's Christmas Carol, a wonderful retelling of the story with our favourite Disney icons in the major roles. It's a fairly short, condensed outing, so it moves at a quick pace. It's like getting a nice reminder in case your Christmas media-addled mind has forgotten the beats of A Christmas Carol.   
8 PM to 9:30 PM
The Night Before (2015)
At this point we'll get a little more adult after a few hours of cartoons. The Night Before is a really new addition to the Christmas movie canon, so it's hard to say how much staying power it will have. The last couple movies that managed to become "Christmas Classics" are probably Elf (good) and Love, Actually (bad), so who knows?
But we don't have to worry about The Night Before's place in history, we just need to worry about laughing. It's a really funny movie with a stellar cast (Joseph Gordon-Levitt, Anthony Mackie, Seth Rogen, Lizzy Caplan, Michael Shannon, Jillian Bell) and a story that actually manages to have a little depth without coming off as hokey.
9:30 PM to 2 AM
Batman Returns (1992)
Die Hard (1988)
Coming into the home stretch we've saved the best for last. Two of my favourite off-the-beaten-path Christmas movies will help take us to the end. It's dark out, there's snow on the ground, it may even be snowing. So bundle up, drink some cocoa (or more eggnog, you lush) and enjoy.
First up is Batman Returns. I went a little in-depth about the movie and why I think it's an underrated Christmas classic in an article earlier in the week so I won't go over that again here. Just hop over and read that.
Die Hard is the quintessential alternative Christmas movie. It gets thrown around a lot online so there's been a bit of a backlash against people calling it their favourite Christmas movie. Luckily, it's not my favourite. It's close though! It's a fantastic movie with interesting characters, a tight story, some fantastic action choreography and — keeping it Holiday-related — a happy ending involving family.
The most important reason to have Die Hard here is to keep you awake to get you to the end of the marathon. We're almost to the end and with John McClane's help we'll get you there, dammit!
2 AM to 5 AM
Rudolph the Red-Nosed Reindeer (1964)
It's a Wonderful Life (1946)
We've come to the end so I figured we'd finish it off with two classics. One of the most famous Christmas stories/specials/songs of all-time and one of my favourite movies of all-time.
Rudolph the Red-Nosed Reindeer is a holiday staple for good reason. It's fun, inventive and just the right kind of weird. It also manages to tell an important story which our own Billy Seguire expertly discussed in a recent article. I don't consider a holiday season complete until I've watched this special.
Finally there's It's a Wonderful Life. It's such an odd story with a wonky structure — the majority of the movie is backstory discussed between two angels — and it's so damn endearing. It's both Jimmy Stewart and Frank Capra's first movie after the war and they ended up making a dark but ultimately heart-warming holiday film. I don't think I've ever watched the film without at least tearing up a little bit at the ending.
At this point it's five in the morning. You've returned to where you began, like a magical trip on Santa's sleigh. You're out of my hands now, the next decision you have to make is yours. Go to that comfortable bed, curl up and fall asleep or start your Christmas Day.
Whichever you choose: Merry Christmas to All and to All a Good Morning.