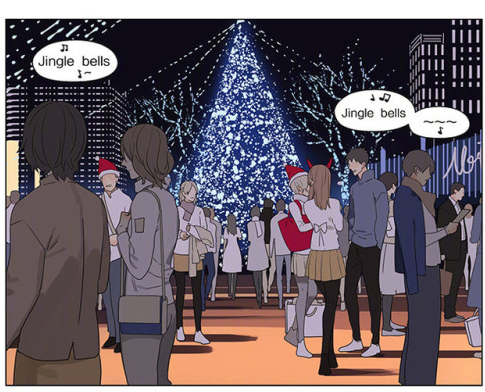 19 Days is back with not one but two Christmas specials!! Both chapters are set in the future just like last years. Back then (if my memory serves me correctly) Jian Yi was getting too close and drunk while He Tian bought Guanshan some condoms. What will happen in this chapter? Let's find out…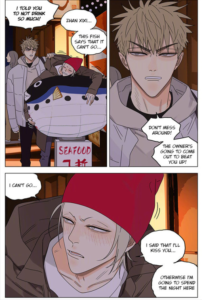 Plot
The plot breaks down into two separate stories, one focusing on Tian and Guanshan with He Tian returning to the country and already pestering Guanshan and the other focusing on Jian and Zhang where Zhang has to look after a very drunk Jian Yi.
Opinion
Honestly, these were…slightly underwhelming. I was hoping for development in character, especially from Mo. I was expecting him to be standoffish but in an adult-like, mature way. It's as if he's hasn't matured at all. Maybe Old Xian is doing that because she doesn't want to spoil the main plotline by making him too different. But I did want to see him be a little happy that He Tian is back.
He Tian is still a goddamn menace. Pretending he doesn't have a car and he doesn't have money. Again no real character development. Their grown-ups now. I wonder how old they are meant to be in these chapters?
The Jian Yi and Zhang's chapter is cute but again very underwhelming. You would think by now Zhang would be a bit more open about his feelings, but he still does the childish kissing his finger thing which is really aggravating me. JUST KISS! Jian's character will always be a kid. I don't expect him to grow up ever.
One thing I loved about this chapter was the colouring. The use of warm colours really set the Christmassy feel to the entire chapter and I loved loved LOVED the first panel on Jian Yi and Zhang's chapter. It's soo beautiful for a manhua!!
Next Chapter: The next chapter will see them back in the middle school which is fine. If Old Xian did a sequel to last years christmas special, then she might do the same with last years Valentine's special and we all remember how that ended…