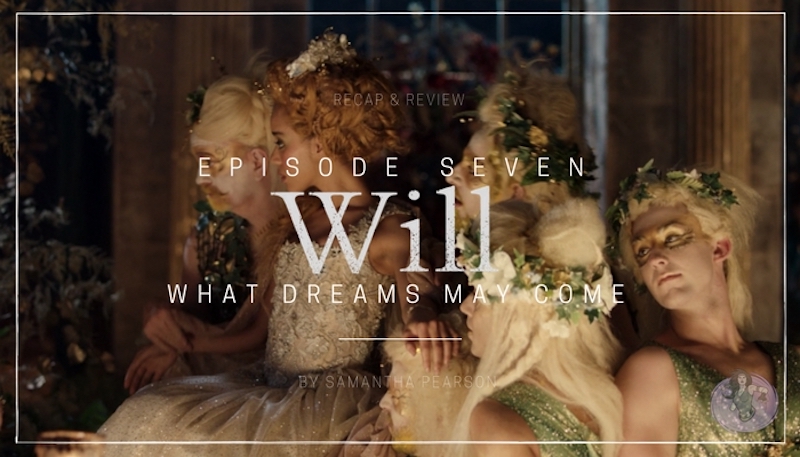 Will S01E07: What Dreams May Come
Director: Magnus Martens
Writer: Sarah Byrd
Starring: Laurie Davidson, Olivia DeJonge, Ewen Bremner, Mattias Inwood, Jamie Campbell Bower, William Houston, Lukas Rolfe, Colm Meaney
A review by Samantha Pearson
With just three episodes left in its first season, Will seems to have finally hit its stride in S01E07, What Dreams May Come. This episode is easily my favorite of the series (so far). Without shying away from any of the dark, horrible themes presented in the first half of the series (many of those coming to a head in the last episode, Something Wicked This Way Comes), What Dreams May Come is whimsical, fantastical, supernatural, and beautiful.
Following Presto's self-destructive fire at the end of S01E06, Burbage's theater is in ruins. He also owes Henslowe three months' worth of rent. Therefore, the theater has to close. Players' spirits are low — especially Alice's — for the majority of S01E07. However, Will hatches a plan. He enlists the help of Emilia Bassano (Jasmin Savoy Brown) and Lord Fortescue's "filthy riches" to save the theater. Even though Alice proclaims to hate him, Will believes that saving the theater will give her new hope. It drives him to succeed more than anything has before.
As Will tries to write a play that will win over Lord Fortescue's intended, everything else falls apart. Topcliffe's stab wound festers; he admits to his pedophilia and then threatens to rape the daughter of his latest torture victim. The victim breaks, for the sake of his family, and tells Topcliffe everything he needs to find Father Southwell. Presto runs to Will to confess that he set fire to the theater in a suicide attempt. He also tells Will about Topcliffe, and his dead sister. Then Presto tries to murder Topcliffe, but Will stops him. Alice falls in with Father Southwell. He aims to not only convert her to Catholicism but use her to impress his manuscript upon the queen.
Last but not least, Kit Marlowe's supernatural-leaning plot finally begins to make sense. He asks to see the devil, so he may sell his soul, and crafts his most famous play from the experience. Marlowe presents the idea for The Tragical History of the Life and Death of Doctor Faustus to Henslowe at the Rose. And Will, our word savante and faithful believer in love, swears vengeance on behalf of Presto.
What Dreams May Come is a wild ride.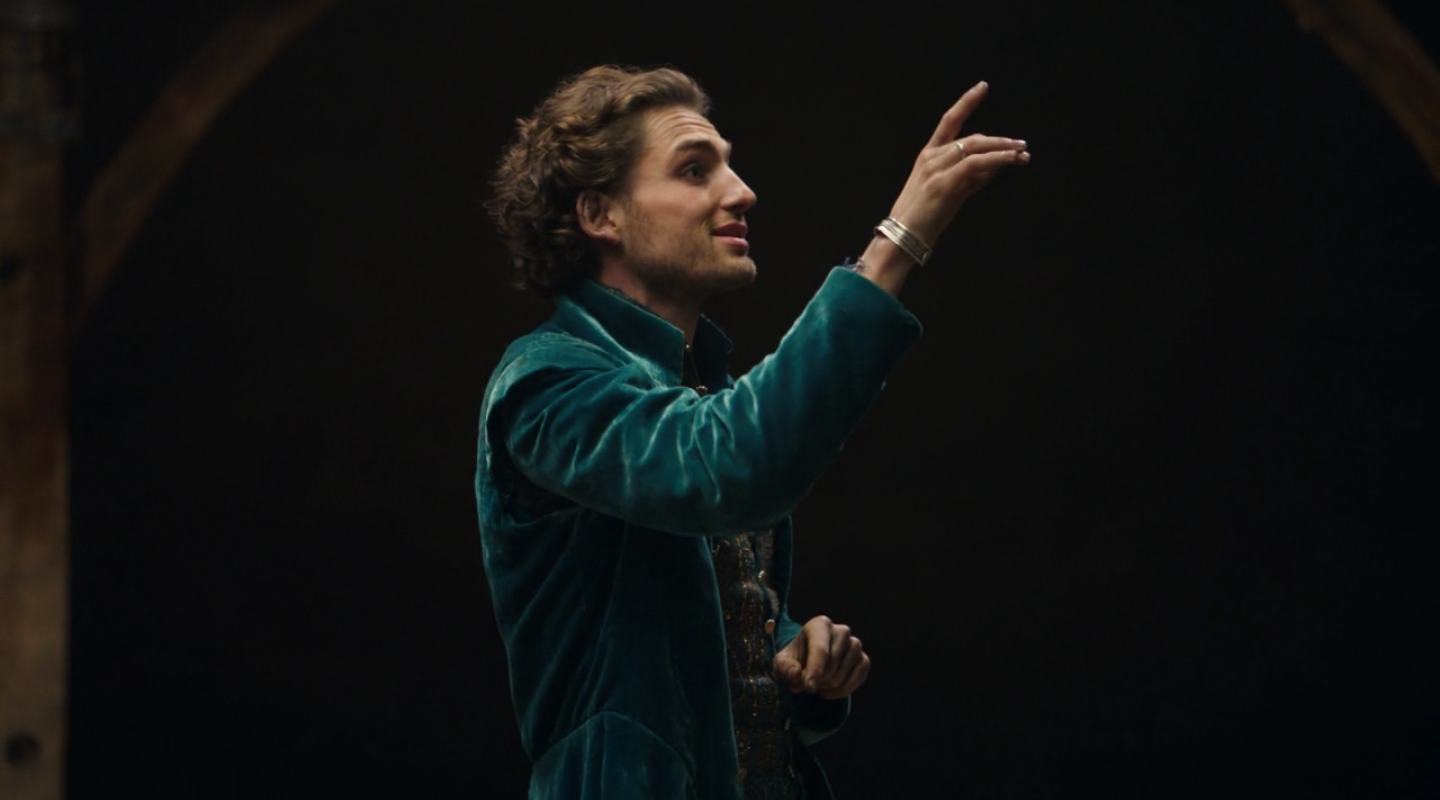 I must confess: my favorite Shakespearean comedy is A Midsummer Night's Dream. Although the Will writers opted to play a bit fast and loose with Shakespeare canon (a theme of the series) by pushing this play to the very beginning of his career, its usage in What Dreams May Come is so good that I just… don't care.
This episode is peppered with so many Shakespeare tidbits that it feels more like The Play's the Thing than any other episode, despite the episodes being written and directed by different people. The episode title is from Hamlet, the opening quote from Richard III, and the opening monologue from Romeo and Juliet. Plus, they perform A Midsummer Night's Dream in its entirety and Will once again recites Sonnet 29, which he wrote for Richard to impress Emilia Bassano in S01E06.
The introduction of Emilia is, truly, one of the best things to come out of these two episodes. Though her intelligence is made obvious in Something Wicked This Way Comes, her wit, tenacity, and brightness don't truly shine until S01E07. Jasmin Savoy Brown is like a breath of fresh air. Emilia pulls Will out of his self-hatred and forces him to recognize that love, like dreams, will always return. She steals every single scene and has such presence and grace that it's all but impossible to look away.
The real Emilia Bassano was, supposedly, the subject of Shakespeare's latter 28 sonnets. Some also suspect that she is the "true author" of Shakespeare's plays. According to Wikipedia (so take it with a grain of salt), Emilia Bassano was the first professional female poet in England. Her appearance on Will is thrilling, and the way Brown and Laurie Davidson play off one another is utterly delightful.
It's quite interesting that Will writes Midsummer in the midst of his deepest despair over Alice. The play is a comedy, but focuses on the idea that "the course of true love never did run smooth." Will has said, repeatedly, that Alice is his true love (sorry, Anne?) and their relationship is currently in shambles. Given the things he said to her, it will likely never be fully repaired, which is an eventuality Will manages to accept with Emilia's help.
However, even without the promise of romance, Will can offer something better: the future Alice desires. Without Lord Fortescue's money, Alice's dream may never come true. She wants to transform her father's theater into a booming, successful space for entertainment. That can only happen if they pull off Midsummer and Fortescue's intended says yes to his proposal. Thus, Will's poetry skills are more important than ever. Luckily, he has Emilia to help him keep his cynicism in check. The stakes are very high in S01E07, and everyone feels the tension.
Even Richard, who previously shut down Will's attempts to cast him as Oberon, King of the Faeries, gets so into character (and the cause) that he turns down advances from a beautiful Italian woman. (He also flirts quite heavily with Moll. Their slow courtship, to which he seems utterly oblivious, is one of the sweetest things Will has to offer.)
Despite the continuations on Topcliffe's, Marlowe's, and even Alice and Will's plots, What Dreams May Come plays like an interlude. Succeeding in their mission to save the theater invigorates the players in a whole new way. Their teamwork is absolutely inspired. And Will's new take on the Alice situation, courtesy of Emilia, is the best damn thing his writing has seen all season.
Verdict
If you only watch one episode of Will, make it this one. What Dreams May Come features some of the most beautiful costuming, set design and performances we've seen all season. It may be one of my favorite episodes of television, ever.