The Unbeatable Squirrel Girl: Squirrel Meets World
Writers: Shannon and Dean Hale
Cover Artist: Bruno Mangyoku
Publisher: Disney Hyperion
A review by Stephanie Cooke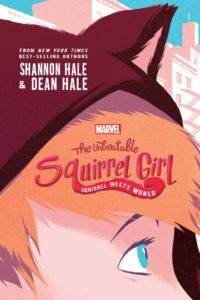 I love Squirrel Girl. She is, without a doubt, one of my all-time favourite characters for a number of different reasons. What are those reasons? LET ME TELL YOU…
Doreen Green is hella delightful, to start with. She has endless supplies of optimism and positivity. She's not a brooding puddle of angst and she has a strong support system involving her parents (alive and well) and her friends (also alive and well). She is compassionate and kind and is always trying to look for an alternative way to saving the day. She has super strength but she uses her mind and her charisma to talk with the people she comes up against and tries to level with people, not as hero to villain, but simply person to person. She's the freaking best.
I was over the moon when the news came out that Marvel would be releasing a Squirrel Girl YA book. I'm a big fan of The She-Hulk Diaries and the Black Widow books, Forever Red and Red Vengeance. I think it's a great way to crossover into a different market and potentially bring in a new readership so why not do the same for Squirrel Girl? Marvel hired established writers Shannon and Dean Hale to pen the novel and carry on the series outside of Ryan North and Erica Henderson's run on the comics.
I have to admit that I was a tad worried that the Hale's wouldn't be able to capture the same spirit and tone that we've grown accustomed to in the comics but those worries were squashed immediately upon diving into the book. In Squirrel Meets World, Doreen is a 14-year old "normal" teenage girl. She's just moved to New Jersey and is starting at a brand new school. She's trying to make friends (among humans AND squirrels) and having a really lousy time with it. However, as she adjusts to her new city and meets new friends (sorry, spoilers but you knew that was coming), she realizes something sinister is afoot. Doreen has to decide between keeping her secret squirrel powers to herself or whether to step up and use her powers to make a difference.
Shannon and Deal Hale do a fabulous job with Squirrel Meets World and channel the spirit of the character we've come to know and love. She's the same Doreen Green from the comics but young and more naive, trying to figure out how to be Doreen and how to be Squirrel Girl. She juggles school, making new friends (and enemies) with the same gusto as before, and even without the imagery from Erica Henderson, it's written in such a way that it's easy to imagine the character bounding from tree to tree with her squirrel posse and saving the day.
Squirrel Meets World is nothing short of delightful. There are ups and downs as Doreen figures out who she is and what her place is in the world and it's not without emotion. Her parents are wonderful and I got teary reading about their love for their daughter and their unwavering support for her. The new character and familiar characters alike are welcome additions to the story and add so much to who Doreen is. Plus you get to learn some chitterspeak in the book too, so you know, it's educational and such, or as Tippy-Toe might say, "Chhkt-chiktt, ckt."
The book, despite already giving you insight into Doreen's mind, even carries on with commentary at the bottom of the page that we've seen within the comics. At first I kind of thought that maybe they should've avoided this to have their own "thing" for the book but you know what? Who cares! It's fun and the Hale's have nailed the voice of the character so it works. It works really well.
The Verdict
"Chkkt-kit!" which roughly translates in chitterspeak to "Buy it!". Squirrel Meets World is perfect for you or perfect for your whole family to read together. You won't regret picking it up and it's something that can sit on your forever bookshelf as a classic you'll come back to again and again.
Squirrel Meets World is on sale on Feb 7, 2017.