The Alienist– Episode 10: "Castle in the Sky"
Starring: Daniel Bruhl, Luke Evans, Dakota Fanning, Matthew Shear, Douglas Smith, Bill Heck, Matt Lintz, Robert Wisdom, Brian Geraghty, Jackson Gann, and David Wilmot
Written by: Chase Palmer, John Sayles, and Cary Joji Fukunaga
Directed by: Jamie Payne
"I have learned from you. We can either let it haunt us the rest of our lives, or we can accept it and use the memory of our pain to help others."
We've reached the end of this whole bloody affair and what an ending it was, dear readers. The full might of Team Alienist reassembled and the next holy day (the venerated Feast of John the Baptist) rapidly approaching. This finale episode stylishly and emotionally brings the whole of the series home. Episode 10 ends the mystery on a bittersweet, but satisfying note that completes all our character's arcs as well as bringing a deranged killer to some semblance of justice. This episode is given macabre visual poetry by director Jamie Payne and a tender but pointed voice by writers Chase Palmer, John Sayles, and Cary Joji Fukunaga. "Castle on a Cloud" ends The Alienist on a high point. It sends our beloved Lazlo, Sara, and John into the 20th Century changed people, made better by their "fruitful partnership."
"We know his name," Sara tells the despondent Teddy Roosevelt, "We know where he lives." But catching the man is an entirely different animal, as the team soon finds out. That won't stop them from trying as Beecham (a breathy-voiced and slyly terrifying Bill Heck) takes the life of another boy. He also kidnaps the young Bernadette. The one constant character that Luke Evans' John has had a connection with from the start, to sacrifice her grandly to complete his bloody "holy" ritual.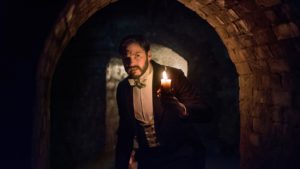 This episode is mostly dedicated to the endgame of capturing Beecham, as well as getting Lazlo back into the fold of the investigation. I am happy to report that "Castle in the Sky" really makes an effort to bring each character's arc to a satisfying and affecting close. Luke Evans really shines this episode. He confronts his own privilege and his rich man apathy after learning of Bernadette's kidnapping. This not only adds yet another ticking clock to the episode but gives John some real personal stakes in the game, beyond just helping his friends. He hasn't ever really had too much to do in the show. Evans has really impressed me throughout this series. Seeing him both internalizing the turns his character has taken and then projecting the change outward through his performance has really made me see him in an all-new and very flattering light.
Daniel Bruhl's Kreizler also makes a thunderous comeback during this episode. Drummed out of his grief by a powerful and heart-wrenching scene with Dakota Fanning's Sara, which we will dig into here in a moment. Lazlo throws himself back into the case with gusto. He starts by methodically combing through crime scenes and Beecham's apartment. This gives the episode some of its most cleverly staged scenes as he walks through the sets, drinking in the gory details while director Payne either physically puts him in the skin of the killer. We switch from the sterile post-investigation sites to the day of the murders with simple lighting changes or pervasive sound design, filling Lazlo's mind (and the audience's ears) with a constant deluge of noise. Mostly repeated dialogue from the previous episodes or a creepy internal monologue from the killer himself.
But again, the MVP of this episode is the luminous Dakota Fanning. After taking the reins of the investigation, she takes control of this episode. Even when she is off screen, her presence permeates throughout the proceedings. Her biggest moment comes early in the episode when she finally confronts Lazlo. They both finally come to terms with one another, along with their childhood trauma.
Prompted by Lazlo's reveal of what actually happened to his lame arm (a "gift" from his bipolar alcoholic father), she also reveals the root of her inquisitiveness and drive to help people. You see, her father was a depressive and one horrible day he became so low that he attempted to take his own life, but botched it. "He took my hand. We held the gun together." she recounts, voice cracking and eyes brimming with tears. She never once loses the steely resolve that has defined her character. Fanning has had a multitude of great moments throughout this series. However, this scene with Bruhl, who also matches Fanning's emotional intensity, has to be her crowning achievement in the show. Once again imbuing Sara with a deep well of humanity and empathy that radiates from the screen.
Verdict: Watch It.
Though this series has had its ups and downs, "Castle in the Sky" ends the series on a high emotional point. This episode even manages to throw out a few truly creepy narrative feints, culminating in a climactic, candlelit showdown in the tunnels beneath New York. Some might be disappointed in the show's denouement. I feel that "Castle in the Sky" sends The Alienist into the ether with a strong, character-focused finale. One that will only get stronger once people start to revisit the show as a whole. As I said when we started this whole bloody affair, crime procedurals are a dime a dozen. Recapping this one with you all was an honor and a privilege. One I will look upon fondly. I hope you had as much fun watching (and reading) this as I did writing it.
Until next time here is to our own fruitful partnership and I'll be seeing you.