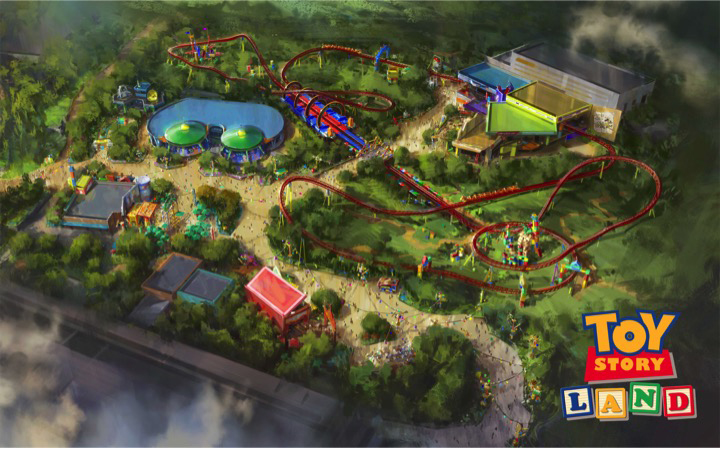 On April 2, a large part of Disney's Hollywood Studios closed prompting speculation about what's being built. Turns out, it's going to be a whole themed world. That world? Toy Story Land!
In Toy Story Land, you'll find yourself shrunk to the size of a toy to explore the world of Andy's backyard with your favourite Toy Story characters! So far there are two new themed attractions being developed for Toy Story Land.
According to Imagineer Kathy Mangum, the first attraction is called Slinky Dog Dash and will be an all-ages coaster. The coaster features a track that Andy has built over his backyard using his Mega Coaster Play Kit and, since he has a pretty amazing imagination, he's combined it with some of his other toys. It will stretch Slinky's coils to his limits!
The second attraction will be Alien Swirling Saucers. It's designed as a toy play set that Andy got from Pizza Planet, inspired, of course, by the first Toy Story film. The attraction will consist of aliens flying in their saucers and trying to capture your rocket toy vehicle with 'The Claw'. As you rotate around toy planets and satellites, the music, lighting, and sound effects will make 'The Claw' even more ominous as it hovers above your head!
So far, no opening date has been announced for the new land or either of the new attractions. Keep your eye on the official Disney Parks Blog for news.