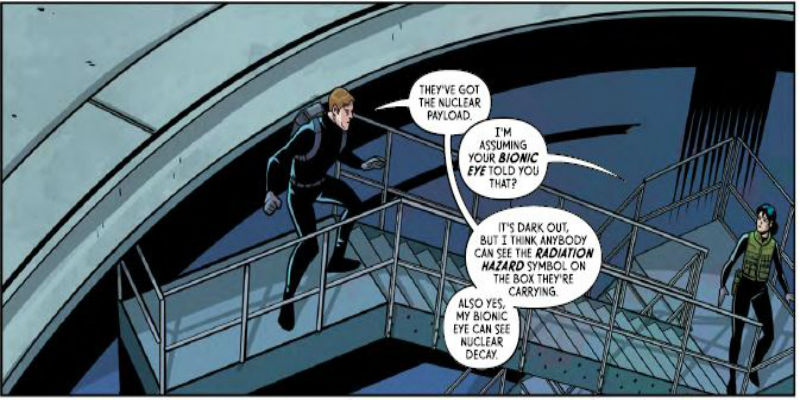 The Six Million Dollar Man #1
Written by Christopher Hastings
Art by David Hahn
Colors by Roshan Kurichiyanil
Published by Dynamite
Review by Stacy Dooks
"Steve Austin, astronaut. A man barely alive. "Gentlemen, We Can Rebuild Him. We have the technology. We have the capability to make the world's first bionic man. Steve Austin will be that man. Better than he was before. Better. Stronger. Faster."
I first saw The Six Million Dollar Man television series in syndication as a kid in the late '70s and early '80s and I  loved every minute of it. The premise of a wounded astronaut who undergoes radical cybernetic augmentation and becomes the world's first literally super super-spy was one I fell in love with, though apart from a few rumors about an upcoming reboot of the franchise there hasn't been much in the way of new movies or television featuring Steve Austin or his world. There have been a number of enjoyable Six Million Dollar Man titles from Dynamite in the past, so when I heard the character was getting a new mini-series helmed by Dr. McNinja's Christopher Hastings, I knew this was going to be interesting. What'd I think? Let's dig into The Six Million Dollar Man #1 and we'll discuss it.
The year is 1974, the place is Japan, and agent Niko Abe is not having an especially good day. She's been investigating a businessman named Amari who she's convinced is involved in some especially nefarious business and, having been ignored by her superiors, is approached by the CIA. She expects a squad of crack commandoes ready to infiltatrate Mr. Amari's island stronghold, but instead she's greeted by what appears to be an extremely self-confident former astronaut in a NASA jacket who claims he can handle the heavy lifting of the mission himself. He's a cyborg, you see. On a mission with her career on the line and a potential crazy person for a partner. What could possibly go wrong?
The Six Million Dollar man #1 was a genuine hoot. Hastings has a real ear for fun action and funny dialogue, and his take on Steve Austin is utterly charming: friendly, a little overconfident, and eccentric to a near Tom Bakerian degree. I loved it. The art by David Hahn is great, not only in conveying the thrilling action but also the facial expressions, which contrast Niko's frustration and growing amazement with Steve's cocky self-assurance and genuine friendliness in all the best ways. The colors by Roshan Kurichiyanil compliment the art and give it a stylized, animated feel that felt of a piece with Batman: The Animated Series at points.
The Verdict
Buy It. Admittedly as a (gracefully) aging fanboy I'm definitely in the tank for a property like this that takes me on a sentimental journey, but the book is genuinely good even if you're going in ice cold. If you enjoy fun dialogue, adventure in the style of James Bond with a sci-fi twist, and comics with beautiful art you should definitely add The Six Million Dollar Man #1 to your pull list. You'll be glad you did. Recommended.