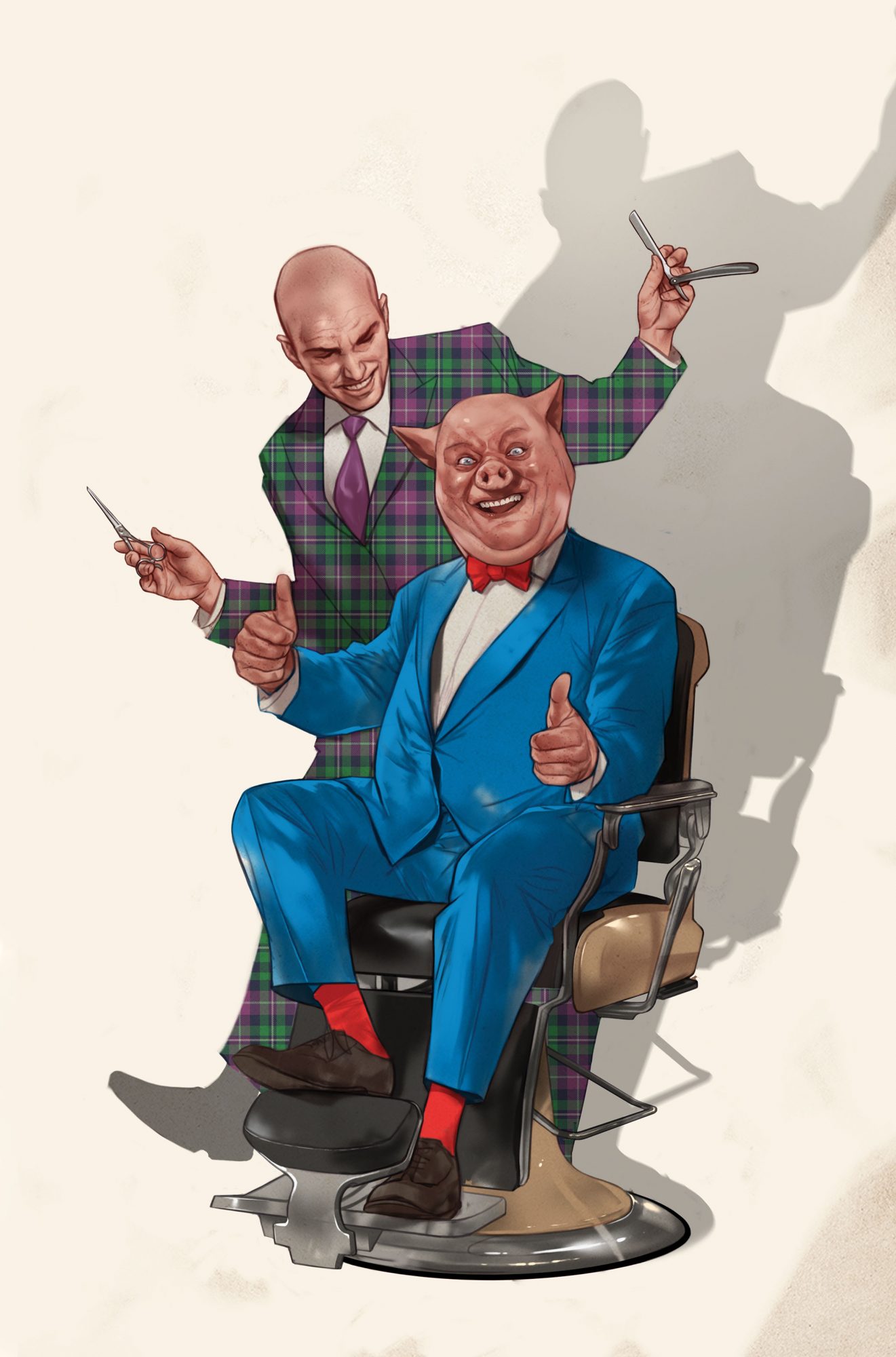 ---
RP's Rapid Reviews — 08.29 NCBD Releases
by Cory Webber
Each week, we here at RP try to deliver as many in-depth comic reviews as we can. Alas, we are only human, and can only do so much. But, we know how much you all love comics, and we want to review as many books as we can for you. I mean, it can be hard to wade trough the multitude of books released each week. So, without further ado, here are some quick-shot reviews of books that our staff did not individually review. I try to stick to #1's, beginnings and endings of arcs, and one-shot specials, with the occasional book I'm excited to talk about. I have sorted them by section (Buy It, Wait and See, Skip It).
---
BUY IT
Batgirl #26 (DC) — Batgirl kicks off with a new creative team and a new direction. Mairghread Scott, who technically started in the #25 over-sized anniversary issue, doesn't waste time making her mark by creating a dramatic change to Barbara Gordon's current status quo. This story picks up directly where Scott's story in the last issue ended. Scott does a stellar job at nailing Barbara's inner voice. She also paced the story along well, especially the second half of the book where things start to get intense. Moreover, Paul Pelletier's pencils are solid. His action/movement is dynamic, especially during the opening motorcycle chase scene. Also, he draws great facial expressions that help flesh out the emotions of this story. Furthermore, I felt that Norm Rapmund's inks and Jordis Bellaire's colors complement the pencils and story very well. They just melt effortlessly into the overall narrative. I like where this is going and can't wait to see how long this dramatic change sticks. Please don't be a gimmick!
---
Batgirl Annual #2 ( DC) — Again, Mairghread Scott is on writing duties. And, man, does she get pretty dark and twisted. This over-sized story follows Barbara as she investigates some gruesome serial killings that may be a copycat of her now-imprisoned, serial-killer brother. If that sentence either confused you or gave you the willies, this story may not be for you. As for me, I'm not steeped in Batgirl's lore — I didn't even know she had a brother — so this issue was all sorts of crazy discovery for me. Now, I need to gush a little about Elena Casagrande's art. The parts of Gotham that were shown looked like they came from someone who has lived in this world a long time, not from a first time bat-world artist. Also, some of the perspectives she chose were unique and really caused me to stop and soak in her panels. Plus, she draws one hell of a facial expression (well, actually a lot of facial expressions, but you know what I meant). Now, back to Scott's script. I really liked the psychological analysis she injects via her brother's inner monologue. She presents the age-old dilemma of how close super heroes really are to being super psychos. I look forward to this being explored down the line, as this was teased as being an ongoing story at the end. Overall, this was a chillingly effective serial killer investigation tale that genuinely surprised me.
---
Bone Parish #2 (Boom!) — If you miss Breaking Bad, especially the parts where their operation expanded and got noticed by rival entities, then you must read Bone Parish. This issue picks up, quality-wise, where the first one left off. Cullen Bunn, Jonas Scharf, Alex Guimarães, and Ed Dukeshire are demonstrating a solid collaborative effort seen by a team that has been together for more than just two issues. While Bunn doesn't directly address that great reveal at the end of last issue, he takes this issue to introduce back story for all the major players in this drug operation, including a little reveal to what might make this drug so special. Scharf really impressed me by making the flashback sequences unique, yet familiar–something that I think is difficult to do. Guimarães's Comoran really helped differentiate between the two time periods. However, this issue wasn't just flashback sequences, rather Bunn ends the issue with a potential threat that will really test this seemingly fractured family.
---
Catwoman/Tweety & Sylvester Special #1 (DC) — DC has really found something special with these Looney Tunes crossovers. This one has been one of my favorites. Gail Simone's knack for twisted, yet lighthearted, humor is on full display here. This story was fantastic! Inaki Miranda's art was a blast, and it seemed he enjoyed drawing all the crazy ideas Simone threw his way. Their choice to draw Sylvester and Tweety as life-like, non-anthropomorphic animals was genius. Moreover, Simone really nailed the Looney Tunes' characters' dialogue. I may have had to reread some of their word balloons, but that was half the fun. Everything about this book was just great; it might be one of the best of these crossover books yet. As a bonus, we get a Shea Fontana-penned short story that plays a little more in line with the original Looney Tunes cartoon. The art team's work was like it came right out of the cartoon itself. Fontana seems to have had a fun time pitting Selina and Sylvester against Tweety, Black Canary, and Conan O'Birden. The result was a fun, lighthearted story that was a perfect callback to the original cartoon.
---
Lex Luthor/Porky Pig Special #1 (DC) —Again, these DC/Looney Tunes crossovers have proven to be a success, especially with the right creative teams. Mark Russell is on writing duties here, and he has a certain knack for writing witty, satirical takes involving somewhat-forgotten pop culture icons. For example, he got noticed writing Count Chocula fanfic on Facebook, then subverted all expectations by making the Flintstones a vessel for a biting take on modern society. So, why not give Porky Pig a go on a tale that examines and exploits white collar crime. Russell writes him perfectly, speech impediment and all. However, after all is said and done, the best part just might be a hilarious cameo that involves Daffy Duck. Furthermore, Brad Walker's pencils were expressive and dynamic — I've never seen Porky show this many emotions so strikingly! At the end, Jim Fanning (writer), John Loter (pencils), Paul J. Lopez (inks and colors), and Wes Abbottt deliver a backup story in the vein of the original cartoon in which Porky is trying to make his mark in Metropolis as an office supply salesman by going after the biggest company around, LexCorp. This team does a spot on representation of the classic cartoon; I was whooshed back to my childhood in a snap. Overall, this special issue was phenomenal…another great entry in this crossover series.
---
WAIT AND SEE
Isola # 5 (Image) — This issue marks the end of the first story arc. While this may be the most gorgeous looking book on stands today, I still feel you're better off reading the trade. Kerschl's art is just so dynamic and dreamy. His colors are perfectly picked; they pop right off the page. Fletcher moves the story along nicely, and he does leave it wide open for more story — don't worry, this series returns next January. Also, Aditya Bidikar's letters take on a life of their own, from made up languages to an injured person's word balloons that have softer, less rigid borders. His letters play as big a part of the story as any other element. So, to sum this up, I really enjoy the book…it's gorgeous…I just think it will read better in a collected trade.
---
Harley Quinn/Gossamer Special #1 (DC) — I had two things working against me with this Looney Tunes crossover: One, I had no idea who Gossamer was…not even a vague recollection; two, I'm just not a big fan of Harley Quinn. I liked her in the 90's animated series where she was introduced, and I even liked Margot Robbie's take on her. I just don't see why she's so popular, outside of her sex appeal — something that I'm proved right of by not one, but two, bathroom scenes with Poison Ivy, but I digress. Amanda Conner and Jimmy Palmiotti write the main story, which did have some genuinely funny moments; however, when they team up someone who talks a lot (Harley) with someone who can't speak at all (Gossamer), then things get challenging real quick. Pier Brito's art is fun and carefree with some truly funny gags including a Joker-face flotation device. All in all, it wasn't a terrible issue, I just found it, for me, to be one of the least enjoyable of these crossovers. However, IF you are a Harley Quinn fan, then you should find this issue enjoyable enough, I think.
---
Judge Dredd: Under Siege #1-4 (IDW) — Full disclosure: I know very little about the Dredd franchise. However, I did know Mark Russell was writing this four-issue mini-series for IDW. So, I read all four this week and I liked more about it than I disliked about it. So, there's that. Russell, who is typically more satirical, played it a little more straight than usual. It's not to say he didn't make any social commentary, because there was plenty of that. He touched on class, social status, social acceptance, the legal system, gentrification, religion and, most importantly, family. Moreover, there were some funny background sight gags like the Second Hand Store,where you can buy robotic prosthetics or, my favorite, Ersat's Meats, where you can buy "not-dogs" and "chemicola." Unfortunately, I felt the overall plot was a tad generic and straightforward. And, I'm sure fans of the franchise would probably get a little more out of this than I did. Also, Max Dunbar's art and Jose Luis Rio's colors were fairly generic, as well. I mean, they served the story fine, and there were some nice moments. But, overall, it wasn't anything I'd read again.
---
Venom: First Host #1 (Marvel) — Marvel sure is pushing Venom these days. What with the upcoming movie, and the stellar Donny Cates/Ryan Stegman run receiving endless praise for its originality, the symbiote is riding a wave of popularity it hasn't seen since it was first introduced thirty years ago. With that in mind, Mike Costa and Mark Bagley are reuniting on this title after their recently concluded run this April. They are combining to tell the story of Venom's first ever host. The reveal as to who it is is underwhelming, to say the least. I'm going to give the second issue a shot, just in case their is some intriguing development they excluded here. Moreover, Bagley, as always, is solid, especially when it comes to drawing anything in the Spider-verse, as it were. Maybe part of my problem with this issue is that it is so different from Cates' ongoing run, that it causes a disconnect from the amazing things they are doing there.
---
SKIP IT
Nothing to see here this week, folks!
---
Well, that is it for this week. Let us know if you agree or disagree with any of these classifications, either here or on Twitter @RoguesPortal. Also, let us know if there are any books you want us to cover in future segments.
---