2017 is here and new games are on the horizon! So our video game reviewers have come together to share their most anticipated games of 2017.
Chris Becker
Resident Evil 7: Biohazard (PS4/Xbox One/PC) – January 24
Let's talk about a series that has had quite the evolution over the years. It started in 1996 with Resident Evil and we've seen the game on nearly every platform that's come out in the last twenty years. It's a series I've loved and played since the launch of the first game. Resident Evil online is the reason I got high-speed internet for crying out loud! The series started to move away from the genre it helped create, but they seem to be finding their roots again with Resident Evil 7: Biohazard. Playing through the demo had me breathing heavily and screaming out loud. It's some scary stuff and I can't wait to be frightened even more when the game drops at the end of January.
Sea of Thieves (Xbox One/PC) – TBC 2017
Growing up in the suburbs of Philadelphia, I'd often fantasize about being a pirate. Maybe I'd be the captain of my own ship or have a patch over one eye, just for dramatic effect. So it goes without saying that a game about running around being pirates with your friends has my excitement levels at an all time high! I had a chance to be a part of the Alpha that took place last year and I've wanted to get back into that world ever since. Rare has been one of my favorite developers for years now and they just might have another hit on their hands with this bad boy.
For Honor- (PS4/Xbox One/PC) – February 14
When I found out that Ubisoft was making a game that pits medieval warriors against one another, they immediately had my attention. So far, the main focus of the game's marketing has been the massive multiplayer brawls and elimination matches, but there will also be a wicked single-player campaign. Interestingly, Ubisoft also promised that any new DLC, maps, and modes will be made available to players for free. No mention of new "Heroes" as they're called, but I still can't complain.
I for one am looking forward to huge melee brawls between Samurai, Vikings and Knights. I mean, who wouldn't want to know who comes out on top in that fight? I hope it's good! Whispers from Alpha testing say there are matchmaking issues and that dedicated servers may be needed. Let's hope Ubisoft fixes the issues before the release in February. Last I checked, you could still register for Beta testing.
Days Gone (PS4 Exclusive) – TBC 2017
Ok, I have to preface this with two points: I love large open-world console games and I love me some zombies. So when the trailer for Days Gone was unveiled at E3, I was more than a little excited. The trailer is one of the most chaotic and intense gameplay trailers I've ever seen. You're on edge even though you aren't even the one playing the game!
In Days Gone, you play as Deacon St. John, a former biker gang road captain and bounty hunter who'd rather stay alone in the wild than set down roots in a camp. When this game begins, we are two years into a post-apocalyptic future where a pandemic has wiped out most of the population and left millions as Freakers — this games incarnation of the flesh-eating zombie. These Freakers can also horde in groups of hundreds, if not thousands, or work alone using stealth to carry out sneak attacks. The E3 trailer shows a horde unlike anything I've ever seen. It. Is. Awesome. If you haven't already, check it out!
What I'm most excited about is the idea of exploring an open world crawling with zombies where your survival is heavily dependent on your crafting, combat, stealth and tactics. There's no release date set, but I'm keeping my eyes peeled for this one.
Horizon: Zero Dawn (PS4 Exclusive) – February 28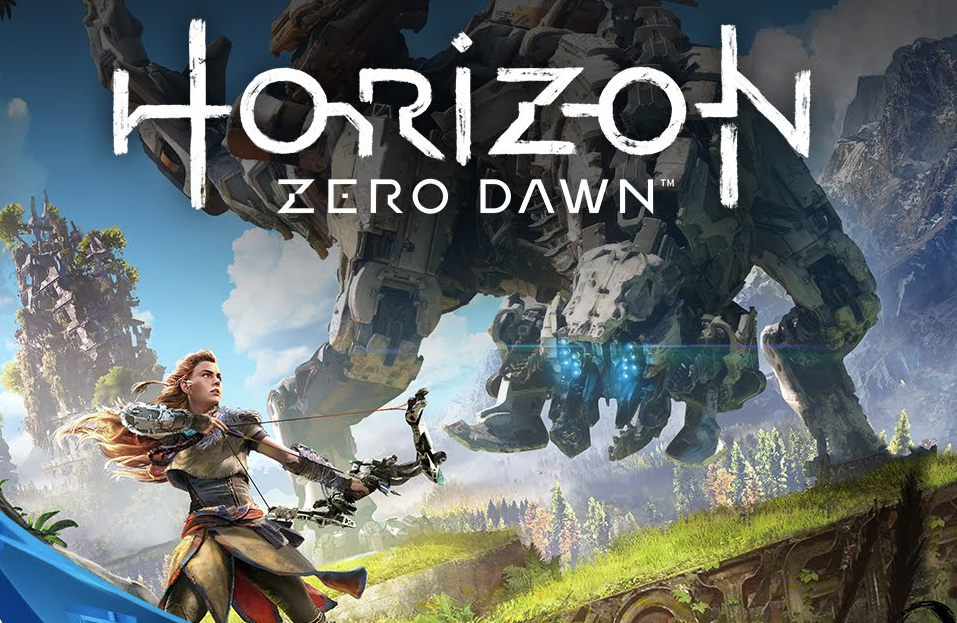 This game just looks beautiful. Set a thousand years into the future, in a post-apocalyptic world where mechanical creatures have evolved and taken over the wilderness, a young hunter named Aloy seeks to discover her destiny among the remnants of an ancient past. The lush landscapes and forgotten ruins make for a vibrantly stunning backdrop to a story about a woman shunned by her tribe who has to survive in the unforgiving wilds. The gameplay requires cunning and skill as you hunt your prey and try to unravel the mystery of what gave rise to these organic machines. Seriously, it looks dope. Horizon: Zero Dawn will likely be the first game I really sink my teeth into for 2017.
Uncharted: The Lost Legacy (PS4) – TBC 2017
I'm not gonna lie, I was pretty sad at the end of Uncharted 4 when it hit me that this would be the last adventure for Nathan Drake and his rag-tag group of thrill-seekers and thieves. Uncharted has been one of my favorite titles, so I was distraught to say the least. As I watched the subtly engrossing teaser which opened PSX 2016, I certainly didn't expect Chloe Frazer to emerge from under a scarf after navigating the back alleys of a war-torn city in India. I was even more surprised that she was there to meet a more recent addition to the Uncharted series, the tactical badass Nadine Ross!
Uncharted: The Lost Legacy is the series' first ever stand-alone DLC and will be downloadable, as well as available in stores. In yet another treasure-hunting adventure, Chloe and Nadine partner up to seek out the long lost Tusk of Ganesha deep within India's Western Ghats mountains. It'll be interesting to see how these two strong-willed characters work together, they're already butting heads a bit in by the end of the trailer. But Naughty Dog's creative director Shaun Escayg knows what he's doing, saying: "Much like Chloe, Nadine is a formidable and interesting character whose complex nature we just started exploring in her Uncharted 4 debut. She's a skilled tactician, whose cool, calculating nature offers an important contrast to Chloe's improvisation and wit."
From the trailer alone, this game looks like another thrilling and immersive experience, and Chloe and Nadine were definitely the perfect choices for the next chapter in Uncharted. Naughty Dog just knows how to captivate with amazing story worlds and getting more backstory on two of the franchise's fiercest characters is something I'm not going to miss!
I'm a huge multiplayer gamer.  I hardly play single player campaigns anymore, unless they reward me with something I can use in multiplayer.  Going into the new year, I'm trying to go back to the roots of video gaming and instead enjoy a good single player game.  How well will it go? We'll see, but I've started out well. I've currently playing Mafia 3. Despite its bugs and glitches, I enjoyed it.  Here are a couple of titles that I am looking forward to playing in 2017!
Tom Clancy's Ghost Recon: Wildlands (PS4/Xbox One/PC) – March 7
One game that I'm really excited for is Tom Clancy's Ghost Recon: Wildlands.  For the most part, I have liked the Tom Clancy games.  I had a very hard time with Advanced Warfighter and Future Soldier, but thankfully we jump back to modern times in Wildlands.  Set in Bolivia, Wildlands is an open-world, third person, tactical shooter. Gamers will play as a member of the Ghosts, a fictional elite team in the United States Army. The game will be the first of the series to feature an open world, which I'm excited to see. Players are free to explore the game's world and, when not completing missions, they can interact and build friendly or hostile relationships with other non-playable characters — such as citizens, officials, or rebels. These interactions require strategy, as they will bring consequences and impact the game's story world.  Wildlands will also feature four-player, co-operative multiplayer in which gamers can be joined by three other players to explore the world and complete campaign missions.  I'm looking forward to March 7th!  Maybe this will be the title that'll finally make me put down Battlefield 1!
Friday the 13th The Game (PS4/Xbox One/PC) – Spring/Summer 2017
Another game that I'm looking forward to is Friday the 13th The Game.  From what I've seen this game appears to be only multiplayer, but I read there might be a single-player mode as well.  There are eight players, one is Jason and the rest are the counselors.  Jason's goal is to obviously kill all the counselors, while the counselors' goal is to kill Jason or find a way out of Camp Crystal Lake. This can be achieved by collecting parts to make a car start or escaping with the police.  I watched a few gameplay videos and it looks like fun.  However, you must communicate and that might be hard. In my opinion, party chat has ruined the multiplayer experience.  It's hard to find a random group of people that are all active in chat, but hopefully this game will force people to cooperate.
My first thought is that Jason is overpowered, as he can teleport anywhere on the map, even right up to the counselors, but he is Jason and always seems to pop up wherever. The counselors will have to really pull together to take Jason down. Like I said, it looks like a lot of fun and as a multiplayer junkie, this game is definitely on my radar.
Mass Effect: Andromeda (PS4/Xbox One/PC) – March 21
Mass Effect: Andromeda is my most anticipated game of the year, as the first Mass Effect is one of my favorite RPGs. The next two in the series weren't revolutionary and delved more into the shooter side of things than I would have liked. But what makes Mass Effect so special to me are the relationships and the fact that the decisions you make in this gigantic space opera have long-lasting consequences that carry over to the next game. It was lovely. BioWare created a universe that completely pulled me in. I hope the next one lives up to the previous games!
In Andromeda, we return to the Mass Effect universe even though it ostensibly ended in the third game. We find that between the first and second game (which take place about 2-4 years apart) the Allied planets united and built several arc ships, which can carry the seeds of various civilizations into another galaxy. It takes over 600 years. Your character, one of the Ryder twins, is a pathfinder for one of these arc ships. From the trailers and what I've read about the game, it seems like they are carrying a lot from the previous story into this one. Suffice it to say, I'm very excited and cannot wait until the March 21!
Red Dead Redemption 2 (PS4/Xbox One) – Fall 2017
Even as someone who isn't a fan of Westerns and almost exclusively avoids first-person shooters, Red Dead Redemption is another one of my favorite games. Red Dead's compelling story had me so captivated,  I barely realized I was playing an FPS western. So Red Dead 2 is a game I'm eagerly anticipating. All we've had are glimpses from a minute and a half teaser and I'm not usually presumptuous, but this game looks totally engrossing. Right now we don't have a confirmed release date, but whenever it arrives I'll be there!
Cuphead (Xbox One/PC) – Summer 2017
I've been waiting for this game since it was briefly shown at Microsoft's E3 Press Conference back in 2014. Cuphead was supposed to be out in 2016, but was since pushed into an unknown period in 2017. The gameplay looks like standard shooter fair, but the game's aesthetic is going to be the real charmer. Featuring an interesting co-op mode where the second player can take control of Mugman, I cannot wait to explore this world!
Legend of Zelda: Breath of the Wild (Wii U/Nintendo Switch) – March 2017
This is going to be the game I sink the most time into in 2017, I'm sure. Breath of the Wild will be the first open-ended Zelda game that doesn't rely on a hub world. Nintendo has said you can beat the game with nothing but a wooden stick… if you were really determined. To say this claim has me intrigued is an understatement and I hope this signals that Nintendo is finally ready to enter the world of modern video game design. After some uncertainty last year about whether or not some elements needed to be polished off, Breath of the Wild is once again on track for a March 2017 release alongside the Nintendo Switch!
Destiny 2 (PS4/Xbox One/PC) – TBC 2017
Saturn, Psions, and Cabal – oh my! With 2016 at a close, Bungie and Destiny certainly had enough accomplishments to add to their Moments of Triumph record. However, the loyal fanbase will also tell you that this year left much to be desired. Yet again Looking ahead, it seems likely that Destiny 2 is on track for 2017 with some interesting rumors on how the game is shaping up. The primary focus will be the Cabal of Saturn, but that's almost all we know about the plot or characters. There's been chatter, mostly on forums and from snipets of interviews, that the majority of the changes will be to the engines and flow of play. As rumored on this neogaf.com thread, Bungie will be adding more towns and outposts to the playspaces, allowing players to complete tasks, engage with merchants, and become visible to other players while simultaneously queuing up for strikes and the Crucible.
This seems to be a fairly sizeable undertaking, with Activision's CEO Eric Hirshberg stating "The majority of the team at Bungie is actually focused entirely on creating Destiny 2," even before the expansion Rise of Iron dropped. Director of The Taken King expansion, Luke Smith, leads the way on this new take on the Destiny universe. In addition, Destiny 2 will finally be coming to PC! Much like the Traveler, a lot about how this new incarnation of the game will look is still unknown, but Guardians everywhere remain hopeful.