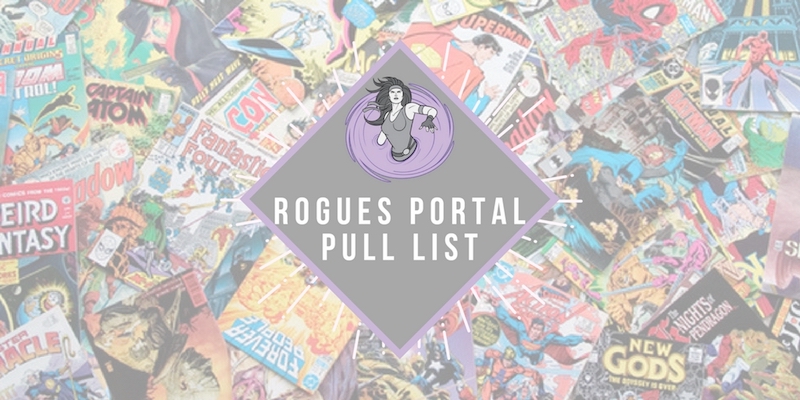 It's Wednesday, my dudes, and that means it's New Comic Book Day! There are tons of new comics hitting the shelves of your local comic shops every week, and it's not always easy deciding what to get, let alone what you should add to your pull boxes. So we've put together the Rogues Portal Pull List to show you the best comics that you might have missed! Here's what we're getting and what you should check out today!
---
Rogues' Essentials
Avant-Guards #2
Carly Usdin has a knack for writing fun, girl-powered stories. – Anelise

The first issue did a great job of hooking me into the story. I cannot wait to see what Carly Usdin has planned for the series. – Greg
Daredevil #2
If Daredevil isn't your favorite superhero (SHAME!), then Chip Zdarsky and co. are definitely going to change that with this series. – Anelise

The first issue was a masterpiece and left us on a shocking cliffhanger. Can't wait to see where we go from here. – Michael
Euthanauts Volume 1 Ground Control TP
This beautiful, dark story about the afterlife is SO good. – Anelise

So you didn't listen when I told you every month to pick this title up? Well, the good news is you can grab volume one here. Read it. – Greg

Trippy exploration of death. Do recommend listening to Pink Floyd while reading. – Michael
Firefly #4
No power in the verse can stop this series. – Josh

Pak does a great job of making it feel like the show is still going strong. – Michael
Ice Cream Man #10
Ice Cream Man is the best existential horror on the shelf. – Anelise

The series has shifted from an anthology to actually having some backstory, which makes it all the more compelling. – Michael
Man-Eaters Volume 1 TP
Puberty, Periods, and Pussy Hats with women turning into human-eating big cats — YES PLEASE! Looks like we're hungry and about to eat loads of people! – Hafsa

What fascinated me the most about the first issue of this series was the magnificent world-building and wonderful artwork. Get your copy of Man-Eaters before they get you. – Christoph
Punks Not Dead London Calling #1
Ghosts, punk music, departments of weird — it's all here folks. – Anelise

See above. This sounds awesome. – Josh

One of my favorite series picks back up. What more will we learn about Sid, Fergie, and Dorothy? – Michael
Weatherman Volume 1 TP
The release of the TP is the perfect time to catch up on this weird sci-fi story about a galaxy-wide manhunt. – Anelise

The Weatherman has everything: from deeply disturbing technological advancements to deep philosophical discourses. But most of all it is one hell of an entertaining read. – Christoph

This series has more twists than a two-lane mountain road. Go grab it now if you were sleeping on it. – Greg
Wyrd #2
Looking for a unique crime book with a dose of black magic? This is it! – Anelise

A surprise book that has all the right elements. Can't wait to delve into the character's history. – Michael
---
Brendan's Picks
Null Faeries #2
A grizzled old detective and an inexperienced outsider on a harrowing investigation. Classic scenario, but set in the world of fairies.
Peter Cannon Thunderbolt #2
Kieron Gillen and Caspar Wijngaard continue to weave an off-the-wall superhero story, while still winking and nudging heavily in the direction of Watchmen.
Wasted Space #7
This absurd take on the classic sci-fi epic should be on everyone's list!
---
Cameron's Picks
Buffy The Vampire Slayer #2
This new series sends Buffy and the Scoobies back to high school but completely re-imagines their "origin" for a new generation. Definitely excited to see where it goes from here.
Captain Marvel Braver And Mightier #1
With her film debut on the horizon, what better way to celebrate than with a second Carol Danvers series featuring Marvel's bravest and mightiest hero?
Detective Comics #999
Only one more issue 'til the milestone issue #1,000! If last year's Action Comics #1,000 was any indication, this oversized issue will offer plenty of great content for a slightly inflated price.
Princeless Find Yourself #5
This series has been a blast since the first series, and it just keeps getting better. Try it and see!
---
Christoph's Pick
Spawn #294
I can't believe that Spawn, over 290 issues after its first release, manages to reach new heights. Everything, from the storytelling to the artwork, fits perfectly together.
---
Greg's Pick
Age Of X-Man The X-Tremists #1
Part of the whole AOX line. I have a feeling we are going to get some answers as to why relationships are not allowed in Nate Grey's utopia here.
---
Josh's Picks
Forgotten Queen #1
A warrior witch who helped the Mongol Hordes in their battles has returned to the modern world? Sign me up.
Martian Manhunter #3
The secret origin story of J'onn J'onz continues here.
---
Stacy's Picks
Atomic Robo And The Dawn Of A New Era #3
Atomic Robo is one of the best comics out there, and it's definitely worth your while.
Edgar Allan Poe's Snifter Of Terror #5
Humor comics can be touch and go, but the premise of this series (adaptations of Poe classics by creators who've never read them) is just too delicious to pass up.
Hellboy And The B.P.R.D. 1956 #4
Looking for some old-school Hellboy antics back when he was a full-time monster-hunter? Hellboy and the B.P.R.D. is the comic for you. It's a great jumping on point for new readers too.
Mage Hero The Denied #15
It's the end of an era. Mage was one of the earliest independent comics out there, and now Matt Wagner brings the curtain down on Kevin Matchstick. If you haven't read Mage, it's amazing stuff.
Quincredible #4
Quincredible is old-school superhero comics in all the best ways.
---
Graphic Novels
Cold Spots TP
The first issue of Cullen Bunn's new series was very creepy, and I had a lot of fun reading it. Let's find out what the rest of the first arc looks and feels like. – Christoph
Faith Dreamside TP
The world needs more high flying, good feeling type stories. Read Faith. – Josh
Mr. And Mrs. X Volume 1 Love And Marriage TP
Kelly Thompson is doing Amazing things with Rogue and Gambit. you need to check out this TPB if you missed the monthly run. – Greg
Ninja-K Volume 3 Fallout TP
I like ninjas and spies. And Ninja-K has to save his friend Gilad from a mad, immortal genius. – Josh
Superman Volume 1 The Unity Saga HC
A few months ago I decided to do more trade waiting, and finally, the first volume of Bendis's Superman is out and about. Can't wait to read it! – Christoph
---
That's all we have for this week! Thanks for checking out the Rogues Portal Pull List! We'll be back next week with a brand new list for you to check out. Same Bat-Time. Same Bat-Channel!