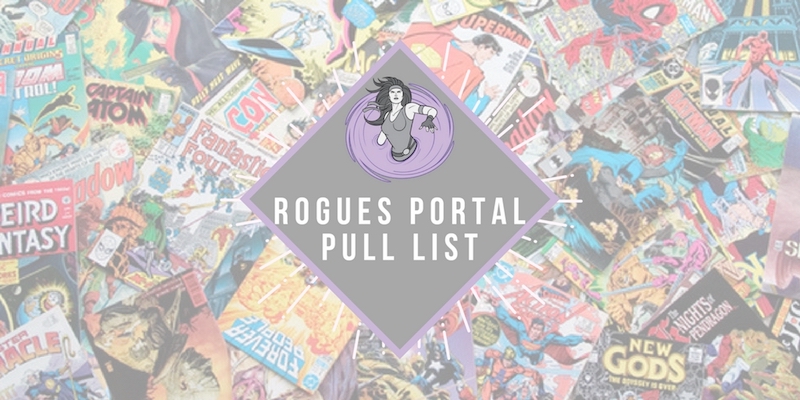 It's Wednesday my dudes! And every Wednesday tons of new comics hit the shelves of your local comic shops. It's not always easy deciding what to get, let alone what you should add to your pull boxes, so we've put together the Rogues Portal Pull List to show you the best comics that you might have missed! Let's see what's new for March 14th. Here's what we're getting and what you should check out today!
---
Rogues' Essentials
Captain Canuck Volume 1 Aleph TP
Blustering Beavertails! More Captain Canuck? I might be that guy that buys two of everything to help one of his favourite characters do well so I get more stories. – Josh
Don't fall for the temptation to think Captain Canuck is just a Canadian Captain America. This series has deep, meaningful roots in its own mythology, and it is nothing short of a joy to see my favourite Canadian Superhero back on the shelves. – Sean
Come Into Me #1
This body horror comic is so unique and prescient. – Anelise
The first issue sets up some interesting concepts and questions. Jump on now and enjoy the body horror ride. – Greg
Black Mask continues to kill it with Thompson and Nadler. – Mark B.
Eternity Girl #1
DC's Young Animal has consistently put out rad titles. I'm excited to see what this one is all about! – Anelise
This book is set to be poignant and beautiful. Very stoked! – Mark B.
Infidel #1
The solicit for this comic had me wanting to read it right away. I can't wait for what appears to be a new promising horror series! – Anelise
I'm excited for this comic. A new kind of politically-themed horror! – Jim
Neil Gaiman's American Gods My Ainsel #1
More American Gods? Count me in! – Anelise
So happy this comic is continuing! – Jim
Unbeatable Squirrel Girl #30
Still the best book Marvel is putting out right now, in my humble opinion. This issue is set IN SPACE! – Jameson
Squirrel Girl brings a sparkling wit and a surprisingly nonviolent attitude to stories other superhero comics would resolve with gritty grumbles. Check this out if you're looking for something lighter. – Sean
---
Anelise's Picks
Judas #4
I'm excited to see how this series wraps up. So far it's been an interesting take on one of the Bible's most intriguing figures.
---
Cory's Picks
Betrothed #1
On the eve of their eighteenth birthdays, two high-schoolers discover a lifelong secret: in a dimension far away, they are each the leader of an army that is at war with one another… and what's more, when they turn eighteen, they're to be Betrothed or Fight to the Death! Sign. Me. Up.

Dry Country #1
Rich Tommaso doing an 80's crime/love story. Yes, please.
Giants #4
The worst part of this series is that it's on the penultimate issue. I need more of this world full of giants and underground gangs.
Sea Of Thieves #1
Jeremy Whitley doing pirates? After Unstoppable Wasp, I'll give anything he does a shot.
---
Frank's Picks
Avengers #684
Probably the best Avengers arc in years. This weekly series has truly been epic, if you've taken a break now is the time to be reading this book!
Deadly Class #32
Remender and Craig continue to kill it in this ultra violent and entertaining book. Plus, TV show coming soon!
Vampironica #1
The Smallwoods look to have a hit on their hands with this one. Yet another great Archie Horror title on the way!

---
Greg's Picks
Curse Words #12
Every issue that comes out goes right to the top of the read pile. I can not wait to see whats next.

---
Jameson's Picks
Jim Henson's The Power Of The Dark Crystal #12
I've heard great things about this series, which is based on Jim Henson's original notes. Now that it's concluding, it's a great time to catch up!
No. 1 With A Bullet #5
I've been enjoying this title! The art and colors are really great. Looking forward to the conclusion as we get closer to it.
Star Wars Thrawn #2
Give me more Thrawn content. Give me as much Thrawn content as possible!
---
Josh's Picks
Secret Weapons Owen's Story #0
Another Secret Weapons origin story! This issue is about Owen, the conjuring psiot who can't control what or when he conjures.
---
Mark B.'s Picks
Pumpkinhead #2
After reading #1, I need more of Shepherd's sweet, sweet horror.
Rocko's Modern Life #4
Not just a nostalgia comic. Rocko's Modern Life has finally got some modern problems.
---
Sean's Picks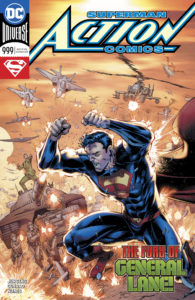 Action Comics #999
Since Rebirth, Superman stories have been bringing back all the heart Clark Kent was missing in the New 52. With Action Comics #1000 around the corner, you're going to want to be on the bandwagon before it's cool.
---
Stacy's Picks
Athena Voltaire And The Sorcerer Pope #2
Athena Voltaire is bliss. Definitely a series that deserves your attention and hard-earned comics dollar. Walk, do not run.

Jupiter Jet #4
You guys have been reading Jupiter Jet right? RIGHT? If not, you're missing out on some fun comics. Go get 'em!
Mage The Hero Denied #7
Look I already chided you for not reading Jupiter Jet, but if you're not reading Matt Wagner's Mage I'm not sure we can roll together. If you like urban fantasy Wagner's been holding it down since 1984. That's over thirty years in a journey that's culminating in this series.
---
Graphic Novels

Archival Quality GN
A ghost story that's more than just a ghost story! This is a beautiful tale of mental illness, support and human connection. – Jameson
Black-Eyed Kids Volume 3 TP
I just read the first volume the other week and it was great! Need more Black Eyed Kids! – Josh

DC Comics The Art Of Darwyn Cooke TP
Darwyn Cooke was a giant in both animation and comics, and any collection that celebrates his beautiful artwork is something to buy and treasure. – Stacy
Green Lantern Earth One Volume 1 HC
From the creative team behind Invisible Republic. If that's not enough for you, just know that I've read it and it is amazing. DC would be remiss if they don't base their next GL movie on this book. – Cory
Puerto Rico Strong SC
A lot of great talent on this book for an important cause. Need I say more? – Mark B.
Unbeatable Squirrel Girl 2 Fuzzy 2 Furious HC
Yes, I will read Squirrel Girl in any format Marvel wants to give me. – Jameson
---
That's all for this week! Thanks for checking out this week's Rogues Portal Pull List! We'll be back next week with a brand new list for you to peruse. Same Bat-Time. Same Bat-Channel!