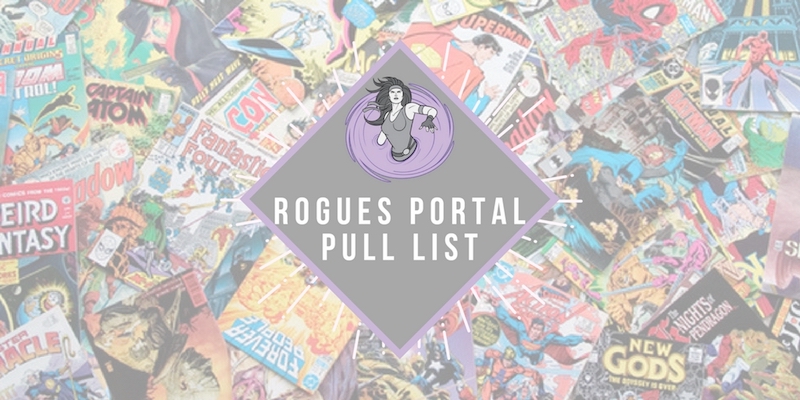 It's Wednesday my dudes! And every Wednesday tons of new comics hit the shelves of your local comic shops. It's not always easy deciding what to get, let alone what you should add to your pull boxes, so we've put together the Rogues Portal Pull List to show you the best comics that you might have missed! Let's see what's new for March 7th. Here's what we're getting and what you should check out today!
---
Rogues' Essentials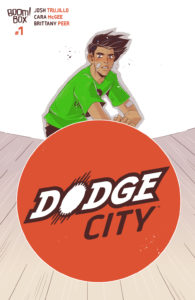 Dodge City #1
After seeing what Boom! has done with a sport like fencing, I'm intrigued to see them tackle dodgeball. – Cory
Boom! has had some hits with other sports such as fencing and roller derby. Here is hoping that a series about an adult dodgeball league will be just as entertaining.- Greg
Gideon Falls #1
If Lemire's name is on it, I'll read it. But also this horror mystery involving a barn just sounds ridiculously cool. – Anelise
Lemire & Sorrentino were meant to make horror comics together! – Cory
Another Lemire Series has me excited for heading to my local shop. – Greg
Lemire is usually taking my money, but this rural mystery/urban horror has me chomping at the bit. – Josh
Hawkeye #16
This series makes me smile. I love the Bishop-Barton duo! – Anelise
The final issue <insert super sad face emoji here>. They better announce that Thompson is writing a new series involving Kate or else I will pitch the biggest fit that's ever gone done been pitched! – Cory
Mech Cadet Yu #7
This series with robots and rad kids is super fun. – Anelise
Currently in my top 3 books on the shelf today. – Cory
Giant robots, alien invasion, and the pains of growing up. Mech Cadet Yu is a great read and deserves your comics dollar. – Stacy
Oblivion Song By Kirkman And De Felici #1
Kirkman is a genius, and whether it's zombies or demons or post-apocalyptic survivors, I'll read it. – Anelise
Any new series by Kirkman warrants at least a first issue look-see. – Cory
This new series by Kirkman has me super intrigued. Not sure what to expect, but with Kirkman I'm confident in having high hopes for the story. – Greg
Like everyone else, I'm eager to see what Kirkman cooks up next. – Kylee
Spider King #1
10th century Vikings defending Earth from aliens? Just take my money already! – Cory
So let me get this right. There are a bunch of Vikings and they have to protect their world from Aliens? Yup I'm in. – Greg
Vikings and aliens!! – Josh
War Mother Volume 1 TP
Let's follow a caring, duty-bound, and badass woman with a talking gun through a jungle in the year 4001. – Josh
Honestly, David Mack's covers always called to me, but I never had a chance to pick this one up in single issues. If it's as good story-wise as it is first impression art-wise, I really need to stop dragging my feet on this one. – Kylee
---
Cory's Picks
Elsewhere #5
I just recently read the first volume that collects the first 4 issues. This. Book. Is. Amazing.
Green Hornet #1
I only know this character from the Seth Rogen film. That wasn't enough for me to check out his comic. Putting Amy Chu on writing duties certainly is.

---
Frank's Picks
Frankenstein Alive, Alive #4
This one is bittersweet. Wrightson turned in a final, masterful work with this series. It's more than worth a read just for his glorious linework alone.
Red Sonja #11
You might assume this book is all swords and T&A. And you'd be partially right, but it's also chock full of great humor and furious action. Chu and Gomez deliver every single month!
Strangers In Paradise XXV #2
Loving this return to the SiP world. Terry's finally uniting his "Terryverse" and it's so, so great.
---
Greg's Picks
Rogue And Gambit #3
So far Kelly Thompson has done an amazing job with this series. I can't wait to see where she takes the merry mutant couple next.
---
Josh's Picks
Bloodshot Salvation #7
Jeff Lemire is shaking things up with an all-black issue. I'm intrigued
---
Stacy's Picks
Atomic Robo And The Spectre Of Tomorrow #5
Atomic Robo is too good for this fallen world. Read it; you'll thank me later.

---
Graphic Novels

Bionic Man Omnibus Volume 1 TP
Gentlemen, we can rebuild him. We have the technology. . .seriously, while the Bionic Man might seem like a funakadelic relic from days gone by it can't be denied that Dynamite's done some great comics with the franchise. Check it out.
Lobster Johnson Volume 6 A Chain Forged in Life TP
Mike Mignola's greatest creation in my estimation. A lot of people like that big guy with the red right hand, but I love the Lobster. FEAR THE CLAW! – Stacy

Star Wars The Last Jedi HC
The novelization of the major motion picture will hopefully have deeper insights to share into the motivations of classic characters and new heroes alike. Looking forward to this one. – Stacy
---
That's all for this week! Thanks for checking out this week's Rogues Portal Pull List! We'll be back next week with a brand new list for you to peruse. Same Bat-Time. Same Bat-Channel!