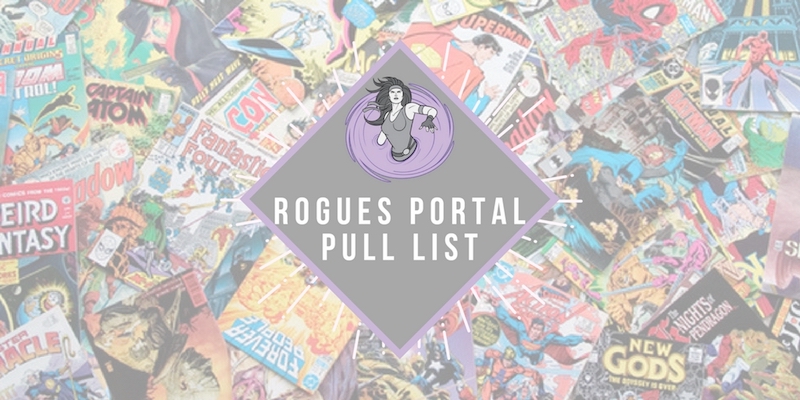 Guess what guys? It's Wednesday my dudes! And every Wednesday tons of new comics hit the shelves of your local comic shops. It's not always easy deciding what to get, let alone what you should add to your pull boxes, so we've put together the Rogues Portal Pull List to show what you should check out! Let's see what's new for February 28th. This is what we're getting and what you should check out today!
---
Rogues' Essentials
Abbott #2
A 1970s crime story with a kickass female at its center AND supernatural ties? What's not to love! – Anelise
Ahmed's first issue was full of grit and overall awesomeness with a dash of the supernatural. My only complaint: it's a 5-part limited series **sad face emoji*** – Cory
Give me a crime story that is based in a part of actual history and you have me hooked. Add in some twists and maybe some unknown supernatural powers, and I will be first in line to read it.- Greg
Reading other people's descriptions of this comic makes me want to jump in and read it as well. I had no idea it was crime and horror. – Jim
When I started reading this I thought it was just going to be a journalist investigating crimes in the 70's with a focus on racism. And I was into it. Nope. We got a supernatural connection here, and I'm riding this story to its end! – Josh
Beef #1
I am looking forward to a new food-centered murder mystery series. – Anelise
The premise of the story sounds pretty crazy so I cannot wait to see if the story delivers – Greg
Crosswind Volume 1 TP
Gail Simone's adult version of Freaky Friday. A lot less Lindsay Lohan, and a lot more adult. – Cory
I somehow missed Crosswind coming out but volume 1 seems a good place to get on board with Gail Simone and Cat Staggs' body swap crime thriller. – Mark Jones
Jim Henson's Labyrinth #1
Admittedly, I wasn't a huge Labyrinth fan growing up; however, I will give anything a shot that is written by Si Spurrier. – Cory
You remind me of the babe! What babe? The babe with the power! What power? Ahem, sorry, I'm really looking forward to reading this one for obvious (David Bowie) reasons. – Frank
Long Lost #4
Long Lost continues to deliver with a story that slowly reveals itself, each part more mysterious. – Greg
My favorite book on the stand.- Mark B.
Royal City #10
Lemire + all the feelings. Enough said. – Anelise
This second story arc has been all sorts of wonderful. Lemire continues to deliver on a monthly basis with this series about life in a small town.- Greg
Teenage Mutant Ninja Turtles #79
79 issues in, and this title still keeps my inner child alive and well! – Cory
Can a book really retain this much momentum and entertainment for nearly 80 issues? Yep, TMNT sure can; month after month it's a blast to read. – Frank
---
Anelise's Picks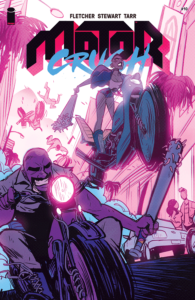 Motor Crush #10
This sci-fi series is always a delight, both in terms of story and art.
Void Trip #4
This depressing beautiful sci-fi story was made for me.
---
Cory's Picks
Alisik Fall #1
For fans of Neil Gaiman and Tim Burton's The Corpse Bride and Nightmare Before Christmas. A girl wakes up in a cemetery with no recollection of how she died. Only other ghosts in the afterlife can help her unravel her mystery.
Mera Queen Of Atlantis #1
Abnett has been crafting a Game of Thrones-esque story with Aquaman. This limited series focuses on Mera as a Queen in Exile. Abnett has delivered maybe the most badass version of this character!
---
Greg's Picks
Thanos #16
Cates has done amazing things with this series so far. This week promises to give us the origins of Thanos' favorite spirit of vengeance Ghost Rider.
---
Josh's Picks
X-O Manowar #12
Aric's been left for dead and now he's coming for the universe's deadliest bounty hunters who deposed him as Emperor. And FIGHT!

---
Mark B.'s Picks
Cult Classic Return To Whisper #1
This book has gotten so much hype, and for $1.99, there's no excuse not to follow up on it.
Hack Slash Resurrection #5
I'm just here for the queer pot-smoking gore.
X-Men Blue #22
Venom's in space for the first time since reuniting with Brock; the X-Men have symbiotes. I live for this stuff.
---
Graphic Novels

Motor Girl Omnibus SC
A short series by Terry Moore standards, Motor Girl is an absolute delight. Funny, dramatic and heartbreaking all in equal parts, all collected under one cover. – Frank
New Mutants Epic Collection Curse Of The Valkyries TP
It's not quite the Asgardian Wars, but any time our merry mutants tangle with Asgard it's a great time all around. Classic stuff! – Frank
Pizzeria Kamikaze GN
Depressing yet affecting stories are my jam, and I look forward to seeing what this is about! – Anelise
Unstoppable Wasp Volume 2 Agents Of G.I.R.L. TP
Undeniably charming! Whitley gave us the "happy-go-lucky in spite of growing up in the Red Room" daughter of Hank Pym we never knew we wanted, but really needed. – Cory
Victor Lavalle's Destroyer TP
The premise has me sold. When the last descendant of the Frankenstein family loses her son to a police shooting, she turns to science for her own justice…putting her on a crash course with her family's original monster and his quest to eliminate humanity. – Cory
---
That's all for this week! Thanks for checking out this week's Rogues Portal Pull List! We'll be back next week with a brand new list for you to peruse. Same Bat-Time. Same Bat-Channel!