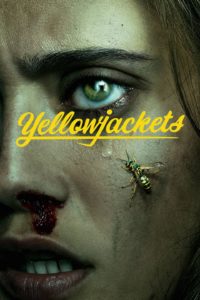 I went into Yellowjackets (2021) without knowing what it was; it popped up on my Showtime app, and the image of a bloody nose and a yellowjacket had me instantly intrigued (I have weird tastes, okay?).
The pilot opens with a scene that could be taken from pretty much every horror film: a panicked girl running through a forest. It's dark and ominous and feels like the furthest thing from where we go next: a high school soccer game in 1996, full of sunshine and excited cheers. The women's soccer team (the Yellowjackets) is going to nationals. A rich father gifts the team with a private plane for the big trip.
…but they never make it to nationals.
The plane crashes, and the survivors spend 19 months in the wilderness until help finally arrives. So, what exactly happened during those 19 months? The world wants to know. And it's the promise of those juicy details that is bound to keep viewers coming back for more Yellowjackets. 
We don't see much in this first episode about those mysterious 19 months besides creepy woodland cult costumes and cannibalism. The bulk of the first episode alternates between the present day, 25 years after the fateful crash, and the days leading up to the trip. This sounds like a lot of jumping around, and it is, but it's an interesting choice that helps us to connect the teenage hopefuls to their traumatized adult selves.
That said, there are a lot of characters to try to keep up with, but fortunately they're all intriguing, and the acting is fantastic. Personally, I am drawn to Natalie (teenage version played by Sophie Thatcher; adult version played by Juliette Lewis) – the team rebel. I'd kill to be able to rock a mullet like she does. Also, I'd watch Melanie Lynskey in anything, and she definitely doesn't disappoint here as the adult Shauna Sheridan.
Ultimately, there's a lot going on in this first episode, and that makes me nervous because I really dig the concept. My main concern is where the show's focus is going to be moving forward: the present day or the 19 months lost in the wilderness. Are we just going to get unsettling flashbacks or entire episodes spent in the woods? Either way, I'm here for it.
The pilot episode officially premieres Sunday, November 14, but early access is available via the Showtime app.