TOY STORY 4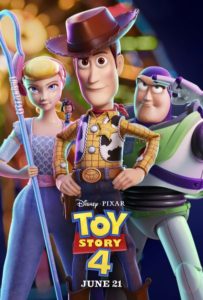 Starring: Tom Hanks, Tim Allen, Annie Potts, Tony Hale, Christina Hendricks, Keegan-Michael Key, Jordan Peele, Keanu Reeves, Ally Maki
Directed by: Josh Cooley
Written by: John Lasseter, Andrew Stanton, Josh Cooley, Valerie LaPointe, Rashida Jones, Will McCormack, Martin Hynes, Stephany Folsom
Story by: Andrew Stanton, Stephany Folsom
Studio: Disney Pixar
Nine years after the emotionally charged Toy Story 3, the gang returns once again to grace us with yet another profound installment to the franchise packed with laughter, adventure, new friends, and some tears. Considering the Toy Story gang has been around for 24 years since its very first release back in 1995, this felt like a brave venture for Disney Pixar. As a whole, this franchise has been very strong from start to finish. All three movies are incredibly well done and satisfying. So why ruin a good thing and add a fourth movie to an already strong trilogy that wrapped everything up so nicely? Could Toy Story 4 live up to the former Oscar-nominated films?
Toy Story 4 takes us back to nine years ago in the midst of Andy's ownership of them. It starts episodic as they try to save a lost toy from being dragged into a water gutter during a heavy rainstorm. During this scene, we learn about Little Bo Peep's unfortunate departure—explaining why she was missing altogether in Toy Story 3. For a moment, Woody (Tom Hanks) almost considers going with her. But after he hears Andy looking for him, he realizes he has a duty as Andy's toy to stay by his side.
The film circles back to present time where the toys are now living with Bonnie, who is about to start kindergarten and forced to attend orientation. Woody, being the loyal toy he is, joins her to ensure she has a good day and hides in her backpack. During orientation, using a spork, pipe cleaners, googly eyes, and a broken popsicle stick—-all provided by Woody—-Bonnie makes a new friend that gets her through her struggle in the classroom.
Aptly named "Forky," this anxious spork is voiced by the ever-so-perfect Tony Hale and struggles with an identity crisis of sorts. "I am not a toy. I was made for soup, salad, maybe chili, and then the trash," he declares before making his way to the nearest trash can. Throughout the first half of this film, Forky's suicidal tendencies get the better of him as he tries to escape the affection of Bonnie. Meanwhile Woody, who has fallen out of favor in the toy hierarchy, tries his best to teach Forky the ways of the toy business and keep him around.
Like with the trilogy, the film gets deep when we see Woody take on a sort of fatherly, caretaker role towards Forky as he tries to bring him back to Bonnie from yet another unsuccessful escape from his new reality. Woody explains that a toy's duty is to make their kid happy and tries to make Forky understand the importance that has been granted to him. There is this nostalgic moment where he tells Forky about his time with Andy and being the favorite toy, and it tugs at your heartstrings a little.
During the detour, they pass an old antique store named Second Chances Antiques where Woody recognizes Bo Peep's lamp by the window. He decides to enter and see if he can find her. There, they run into an antique type Chatty Cathy doll called Gaby Gaby voiced by Christina Hendricks and some pretty creepy ventriloquist dolls who play her henchmen.
Her hidden agenda is something out of a horror movie in the toy world, but it won't be too scary for a little one. I audibly gasped when I discovered what she wanted. This film, like the others before it, has a lot of little inside jokes. They also carry homages and references aimed to the parents and those who grew up with the franchise and a lot of really fun horror film-esque moments that oddly work beautifully in the story.
Bo (Annie Potts) is fleshed out wonderfully, and she plays a bigger role than she ever has in the trilogy. She's badass, adventurous, and offers Woody a new perspective in the toy world. Should a toy spend its life making others happy at the risk of their own?  The franchise always hinted at a romantic connection between these two, and that's explored with more depth in Toy Story 4. Contrary to what Woody has been teaching Forky, he now sees this whole new path for toys … ones he thought were lost but have actually found a different purpose for themselves.
There is also a series of new characters that join the adventure like Ducky and Bunny voiced by Keegan-Michael Key and Jordan Peele. They have my personal favorite running gag in the movie. Look out for it. It's on the dark side of the humor spectrum. There is also Duke Caboom voiced by Keanu Reeves who is this '90s stunt man-type action figure from Canada with a back story that will bring some of the best laughs and some pride to us Canucks in the crowd.  Giggle McDimples (Ally Maki), a Polly Pocket-type toy is also another newbie to look out for. Playing Bo's best friend, she has some great lines like "Don't do it. He's got a kid. You remember me and He-man. I'm not proud."
Some of our favorites are also back! Buzz Lightyear (Tim Allen) is more supporting than he has been in the past as he literally uses his inner voice to help Woody. Same goes with Rex and Jessie. I enjoyed Buttercup the unicorn constantly suggesting they get Bonnie's father arrested during their rescue plans. Trixie (Kristen Schaal) plays a bigger role than she did in Toy Story 3.
Going in, I wasn't feeling confident in this fourth installment, but I came out of Toy Story 4 pleasantly surprised and emotional. The ending wasn't one I would say I saw coming right out the gate. But I have to admit it took me some time to process. This film takes some risks both narratively and creatively. Although it does prepare us for its final scene when you finally do catch on, prepare for some waterworks. Bring tissues!
As much as I loved seeing these characters once more, I hope this is the last journey we have with Woody and Buzz. Director Josh Cooley does the franchise justice with such a strong feature film debut of this fourth installment, no less. The animation and graphics are the best they've ever been. The rain and blades of grass almost looked too realistic at times. It's been an astonishing almost quarter-century run. I'm hoping they can learn from Woody's struggle to let go before it becomes a lifeless cash-grab like many franchises before it. Toy Story 4 is a beautiful film that leaves you pondering the origins of a soul and having free will with strong themes about the power of imagination, love, loyalty, and finding self-worth and happiness vs. putting others before your own.
Toy Story 4
Overall Story Arch
9.5/10
Strong female character representation
9.0/10
Enjoyment by both adults and kids alike
10.0/10
Credits
Strong feature film debut for Josh Cooley.
Strong fourth installment to the franchise.
Look out for the new characters who can steal the spotlight from time to time.
Sprinkles of horror elements that work wonderfully in this kid film.
Safe for even the youngest of children, but bring tissues for yourself.
Credits (cont)
Has an ending that may take some time to process.
Was done well but was this installment necessary to the franchise?
You will cry.