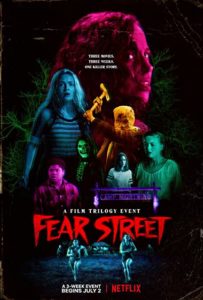 My happiest memory from my public school days is without a doubt when the Scholastic Book Fair came to town. I would hover around the R.L. Stine table, running my hands over the titles, absorbing the spooky covers – working my way from Goosebumps to Fear Street. While the books would not earn higher than a PG-rating, this summer's Netflix Fear Street trilogy features a bold R-rating. It is definitely not for children, and I imagine that it's intended for 30-somethings like me who feel nostalgic for R.L. Stine but want something a bit more adult. And, although the trilogy is loosely based on R.L. Stine's Fear Street world, no prior experience is required.
Fear Street Part 1: 1994 introduces viewers to Shadyside, a town with a haunted history. Legend has it that hundreds of years ago a witch was murdered. Upon her death she swore that she would live on in Shadyside, possessing individuals and brutalizing the town. And 1994 is a year for just that. While Shadyside is used to being plagued by unfortunate events, especially when compared to neighboring Sunnydale, an accident on the way home from a football game releases a supernatural evil. So, siblings Josh (Benjamin Flores Jr.) and Deena (Kiana Madeira), Deena's ex Sam (Olivia Welch), Josh's love interest Kate (Julia Rehwald), and the goofy stoner Simon (Fred Hechinger) all team together to unravel the mystery of the witch's curse.
This movie has all the makings of a classic slasher film, and I am so here for it. The core cast is made up of stereotypes like the know-it-all, the druggie, and the cheerleader, but they're also fully-developed characters who are more than just a type. All of the acting is fantastic, and the aesthetic and soundtrack really add to the feeling of a classic teenage slasher film. There's also, of course, plenty of slashing, and honestly some of the killings surprised me – which I appreciated. Furthermore, the violence is there, but it's not gratuitous (something I appreciate as someone who is not a fan of gore). And the plotline actually makes sense. It's predictable and certainly not unfamiliar, but it thoughtfully lays out how the other two films will unfold: in the second, we are going back in time to the 1970s, when a previous possession occurred, and then, in the final film, the 1600s, when the witch hunt began. It's a curious move, going backwards, but based on this strong first showing, I'm confident that the creative team knows what they're doing.
I highly recommend Fear Street Part 1: 1994 if you're look for a fun summer slasher film that, like CW's Riverdale, owns its campiness and over-the-top high school theatrics. The first installment released on July 2, 2021, and the subsequent films in the trilogy will release on July 9 and July 16. To be honest, I love this setup. It's like waiting for a weekly TV episode but getting a whole film instead. So, sure, you can wait until they're all out and binge them all at once, but I recommend viewing them as intended. The fact that it's horror makes the anticipation that much more fantastic!
Fear Street Part 1: 1994
NINETIES AESTHETIC
10.0/10
SHADYSIDE HAUNTED HISTORY
10.0/10
MAKINGS OF A SLASHER
10.0/10
THOSE TUNES THOUGH
10.0/10
Credits
Stars: Olivia Welch, Kiana Madeira, Benjamin Flores Jr., Fred Hechinger, Julia Rehwald
Director: Leigh Janiak
Writers: Kyle Killen, Phil Graziadei, Leigh Janiak
Producers: Kori Adelson, Yvonne M. Bernard, Timothy M. Bourne, et al.
Musicians: Marco Beltrami, Anna Drubich, Marcus Trumpp
Credits (cont)
Cinematographer: Caleb Heymann
Film Editor: Rachel Goodlett Katz
Casting Agent: Carmen Cuba
Art Director: Sean Brennan
Costume Designer: Amanda Ford