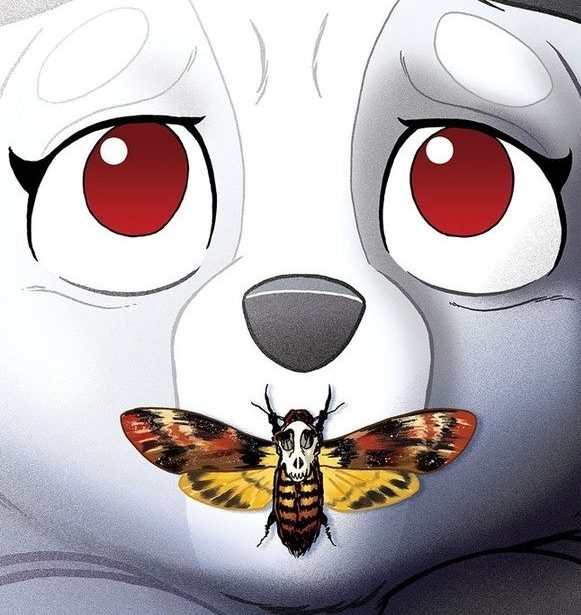 Not since Saga have I felt such anxiety reading a comic. Maybe it's the unsettling opening scene focusing on our wide-eyed and terrified pup protagonist Sophie. Perhaps it's the beautiful character designs and how they immediately brought to mind the works of Don Bluth or Disney films from the '80s. Or maybe just the fact that most comics from Image nowadays tend to get dark really quickly, and I immediately feared for the well-being of our adorable canine cast. Regardless, I found it very difficult to put down.
The first chapter in a five-issue miniseries, our story centers on Sophie, a sweet-natured Papillon with a lot of anxiety, who arrives at a new home with no memory of how she got there or where she came from. After becoming acquainted with the owner's other dogs, including their de facto leader, the seemingly kind Rusty, memories start seeping back, and Sophie discovers her new owner may not be who he seems to be. While this story lacks the emotional gut-punch of, say, The Land Before Time, the mystery surrounding Sophie's new surroundings fits right in with the strange and terrifying world of The Secret of NIMH.
STRAY DOGS is written by Tony Fleecs, who is no stranger to the animal kingdom, having written and drawn a number of comics in the My Little Pony: Friendship is Magic franchise. This world he's created is pretty far removed from Equestria and has much more in common with the dark underworld of All Dogs Go To Heaven. As an artist, Fleecs is an incredible storyteller but proves he's just as capable when it comes to writing duties. Here he really amps up the suspense and weaves a tale that is haunting and very much not for kids.
Joining Fleecs is artist Trish Forstner, another "MLP alum" whose style is evocative of both Disney and the films of Don Bluth, while also wholly her own. With a cast of nearly a dozen dogs, no two of the same breed, Forstner gives each character a unique look and personality. Their expressions and body language as they travel through the house are absolutely pitch-perfect. The cast features a number of homages to characters that older readers may recognize–Rusty is lovingly modeled after the ill-fated Charlie from the aforementioned All Dogs Go To Heaven, while poodle Henry bears a striking resemblance to pampered poodle Georgette from Oliver & Company. I was temporarily distracted from the narrative by trying to place where I recognized each of them, but doing so ultimately made me appreciate the book all the more. Rounding out the creative team are colorist Brad Simpson and layout artist Tone Rodriguez, both of whom bring their own visual flairs that ties the whole issue together.
I'll say again, STRAY DOGS is intended for mature audiences. While any real violence is minimal, what's seen on-panel can be a bit jarring, and the dark undertones throughout are definitely not for kids. If you're looking for something new and unique from the usual superhero fare, or if you've ever just wondered what Lady and the Tramp would be like with the tone of True Detective, then definitely give this a read. It's an effectively creepy and entertaining first issue that kind of messed me up, but in all the best ways.