Writer: Jody Houser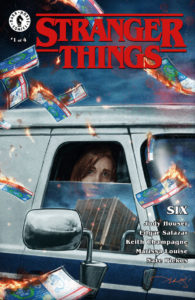 Penciler: Edgar Salazar
Inker: Keith Champagne
Colorist: Marissa Louise
Publisher: Dark Horse Comics
Its not easy being a teenager. But it's harder still if you can see into the future. That's Francine's dilemma in the new Dark Horse miniseries prequel to Stranger Things. Stranger Things Six #1 follows subject Six as she struggles to harness her abilities under Dr. Brenner's watchful eye. The result is a pleasant, if not especially ambitious, story for those diehard fans eager to learn more about the Hawkins Laboratory.
As with most comics built on media franchises, the first issue of this four-issue series is careful not to stray from the show's core themes. Predictably, Stranger Things Six #1 is about growing up, the bonds of friendship and family, and nostalgia for our childhoods. But this time it is Francine who comes of age. It's 1978, five years before the events of the show's first season, and Francine is a test subject at Hawkins Lab. She finds her quest to grow into womanhood frustrated by the constraints of life at the lab.
To her credit, Jody Houser (Faith) does a fine job with the material handed to her. She contributes a crisp and enjoyable story with some twists that distinguish comic from show. Unlike Stranger Things, parental figures and friends in the protagonist's life are not trustworthy–especially men. Francine's father tries to exploit her abilities. And, a crush of hers, a friend named Ricky, is not whom he claims to be. In this sense, the comicbook trends a bit darker than the television show. The heroine is, at least thus far in the story, all alone in her struggle. She certainly cannot trust any of the men in her life.
The artistic team understates the '70s theme. But for a David Cassidy-style poster and some funky furniture, the nostalgia factor is suitably muted. The smart decision allows us to focus more carefully on Francine. Edgar Salazar's (Constantine) expressive line-work shows the heady rush of being a teenager. And, the dour looks on the faces of almost every adult remind us of what Francine is up against. Finally, I like the depiction of Francine's premonitions. They are vague enough not to give anything away but foreboding enough to remind readers that this is a comic about a young woman coming to grips with the thing that makes her special.
Stranger Things Six #1 is good fun for those already invested in the Stranger Things franchise. For the rest, it is an agreeable, though not particularly original, riff on the nostalgia horror genre.