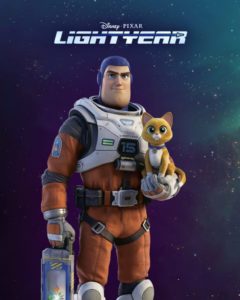 Almost 30 years ago, the movie-going public found out just how powerful a story about toys that come to life can be. Now we find out the backstory of one of those characters. Lightyear (2022) starts by reminding us that, back in 1995, Andy got a toy from his favorite movie.
What the audience is about to watch is that movie.
What comes next is what we have learned to expect from any Pixar movie: a rollercoaster of emotions filled with humor, sadness, and character growth that is missing from even the best live-action movies. 
Lightyear replaces Tim Allen with Chris Evans as the voice of the titular character Buzz Lightyear. Of course, Evans is no stranger to appearing as larger-than-life characters (e.g. his role as Captain America). Evans embodies Buzz Lightyear with the same strength as his live-action roles; I can visualize Evans in the recording studios acting out the movements of the animation and truly embracing the role. 
It is not just the action and the confidence that makes Evans shine but also the quiet and emotional parts of the movie. The plot of the movie focuses on Buzz as he deals with a mistake that strands him and his team on an unknown planet. As he tries to find a way back home, he becomes increasingly separated from many of his fellow space rangers. Finally, Buzz accepts that he cannot do things alone, and only through accepting help can he find what he needs.
Like any Pixar movie, we get several emotional notes that bring a misty eye to even the most stalwart of viewers. Just as important as the movie's pathos, however, Lightyear moves along in a direction and pace that makes sense for Buzz's journey of self-discovery and character growth. Although a kid's movie, the theme hits hard for both kids and adults. 
When going to see a Pixar movies, we expect a certain level of animation quality, and Lightyear upholds that expectation. The character designs are the standard fare: cartoonish with amazing details. The work that went into Alisha (Uzo Aduba) and Izzy (Keke Palmer) are particularly impressive, since both characters are African American, and the details that went into their hair alone must have taken a significant amount of time. Alisha is shown with a natural hairstyle, as the curls have a bounce that is not seen in most animation. The space setting allowed the animation team to play with bright and exciting colors. The green in Buzz's classic suit especially brightens the screen where the rest is shrouded in darkness. 
This review would be incomplete without mentioning a controversy attached to the movie: Alisha Hawthorne is gay. How do we know this? Alisha mentions to Buzz that she got married, and Buzz says he would love to meet her. Later in the movie, Alisha and her wife are shown kissing. It is a moment that is so short as to be easily missed and there is nothing sexual about it … nothing scandalous. It is a kiss that millions of loving couples have exchanged in public as they look adoringly at their family and friends. The only reason it is controversial at all is that a certain group has decided to make it so. Instead, the focus should be on the happiness that the characters enjoy. 
Lightyear is another in a line of great films from Pixar Studios. While a "spin-off," it does not rely on anything from the previous Toy Story movies, except for a few Easter eggs. Evans's performance stands out as he exudes the emotions that we have seen in some of his best roles. Audiences will find themselves laughing, crying, and walking out of the movie deeply moved. 
Lightyear
Credits
Director: Angus MacLane
Producers: Peter Docter, Andrew Stanton
Writers: Angus MacLane, Jason Headley, Matthew Aldrich
Cast: Chris Evans, Keke Palmer, Peter Sohn, Taika Waititi, Dale Soules, James Brolin, Uzo Aduba