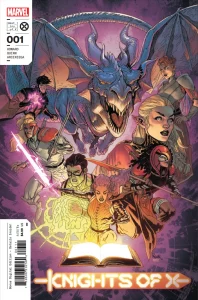 Captain Britain ushers a new team of magic mutants back into the tipsy-topsy realm of Otherworld in Knights of X #1.
Knights of X is a relaunch of Excalibur, retaining the same writer (Tini Howard) and most of its cast—but this time around, the stakes are much more dire for Betsy Braddock and her newly-minted Captain Britain Corps. Merlyn has taken control of Otherworld from the deposed majestrix Saturnyne, and he's set on eradicating their "witchbreed" (mutant) population. With the only gate to Krakoa closed, Betsy and her Corps risk permanent death amid their efforts to save Otherworld's witchbreed from King Arthur's army and the Sentinel-like Furies … but not all is lost. With the help of Merlyn's mutant ally daughter Roma, Betsy is able to summon back her former Excalibur team for a quest to save Otherworld before it's too late.
If you enjoyed the "sword and sorcery" aspect of Excalibur, then you'll probably love Knights of X. This first issue really suggests the series will double-down on the D&D-esque feel of its predecessor, setting off Betsy and her crew into a classic campaign that involves them retrieving a mystical plot device that will be very familiar to X-Men fans. As a #1, Howard does a good job of reestablishing the (Other)world of this story while also conveying the immediacy Betsy faces in her journey. Because of its chaotic nature, deaths there are effectively permanent; the resurrection protocols will produce corrupted or imperfect versions of downed mutants. Case in point: a dead character indeed comes back from death in this issue differently than they went out. Death may be cheap for mutants in the Krakoan age, but not on Otherworld! 
I liked Excalibur, but I do think the aforementioned urgency of Betsy's assignment here allows Howard to get the plot moving a little faster than the former ever did. It's very much a Betsy-centric issue though, so fans of cast members like Gambit or Rictor might be a little disappointed to see their faves sidelined, but it's otherwise still a very fun group of characters. Dragon-Shogo is back, and really that's all anybody could ask for. Bob Quinn's clean, appealing artwork with Erick Arciniega's bright colors also looks great on the page, setting a mystical mood that promises to deliver on the concept. I'd like to see the art team get even weirder and bolder as the series progresses; this is a fantasy book after all!