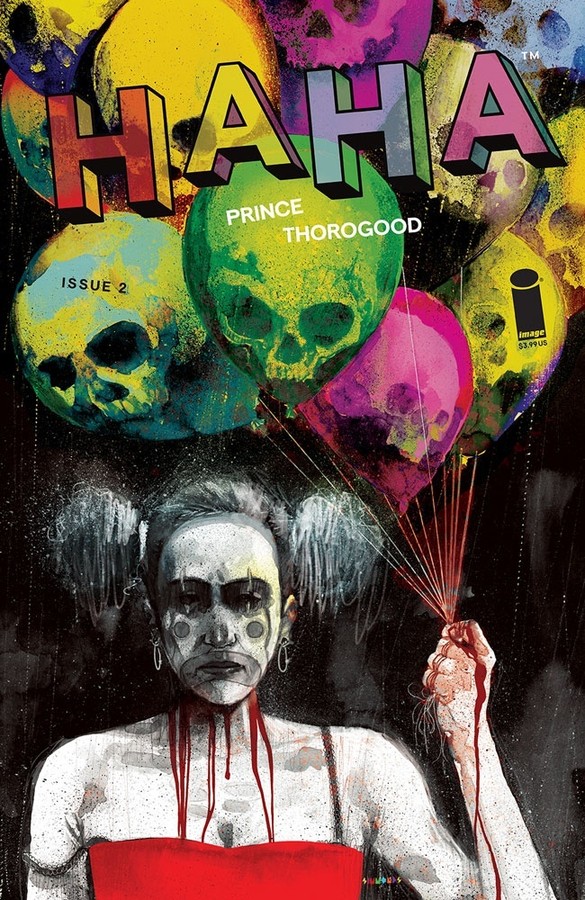 For anyone who has been reading everything W. Maxwell Prince writes (*enthusiastically waves hands*), his latest series from Image Comics, Haha, feels familiar in all the best ways: dark, poignant, and strangely beautiful.
Each issue of this new clown-centric series tells a different story, with the throughline being clowns in various states of despair. Haha #2 introduces "funny" girl Rudy, who recounts what it was like growing up with a mother who was certifiably insane. Said insanity caused her mother to wear clown makeup and take Rudy along on her move to Funville: A place for "those that look in the mirror and accept their real no-bullshit selves."
And it is through Rudy's retelling of this past trip that readers begin to understand what led her to her present occupation. Rudy is still haunted by the trauma that she experienced on that journey, and, despite her mother's poor choices, the comic portrays just how complicated our loyalty can be to those we call family.
There is a sentiment expressed throughout Haha #2 that there are emotions, experiences, that are beyond language. However, what Prince's comics always manage to tap into is just that: the inexpressible. The writing succeeds at being both weighty and sparse, and Good Old Neon's careful lettering allows for a clear distinction between the past and the present. Moreover, the art by Zoe Thorogood and Chris O'Halloran effectively captures the simple yet evocative imagery, as well as the cycle of emotions that Rudy tunnels through.
While it would be remiss to say that Haha #2 is an uplifting read, it is a comforting read as it reminds readers that there is something wrong with all of us.
Haha #2
Despair and Dread
10.0/10
Gorgeous Clown Makeup
10.0/10
Funville Aesthetics
10.0/10
Family is Complicated
10.0/10
Funny but not Funny
10.0/10
Credits
Writer: W. Maxwell Prince
Artist, Cover Artist: Zoe Thorogood
Variant Cover Artist: Martin Simmonds
Colorist: Chris O'Halloran
Letterer: Good Old Neon