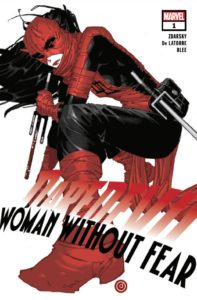 In Daredevil: Woman Without Fear #1, Elektra Natchios, who has assumed the mantel of Daredevil, undertakes her quest to defeat the Hand cult and gain the allyship of Matthew Murdock. Early in the issue, she learns that Wilson Fisk has a file of compromising information on her that he has passed on to an unknown enemy. As Elektra considers what to do next, she muses on her past training as a child warrior, her moral development and relationship with Murdock, old friendships, and old demons. Upon recognizing a former mentor and now enemy, Elektra pursues, only to be surprised by a new foe–the menacing figure of Kraven.
The artwork in this issue is simple but pleasing. I always appreciate comics that do not heavily misrepresent women's bodies or dress them in scanty and impractical clothing. The drawings of Elektra in this issue are refreshing compared to the cringey way she has been drawn in other comics. Surprisingly, this issue is not action-heavy until the end. Instead, the panels are mainly perspective-based, as Elektra revisits her memories and reflects on her relationships. Finally, I enjoyed the dialogue, which highlight's Murdock's moral vision, as well as Elektra's past friendships and examination of her own priorities.
I have recently been growing in my appreciate for the Daredevil character and universe, so I was interested to review this comic and get to know Elektra a little bit more. The Daredevil stories remind me of old-school Batman, with their themes of a dark city and a dark hero whose antagonists are underworld mobsters and former assassins. I think this particular issue's strength is in the way it gives depth to Elektra as a female character before diving into the main action of the arc. It is a good read and worth pursuing if you are a fan of Daredevil comics.
Daredevil: Woman Without Fear #1