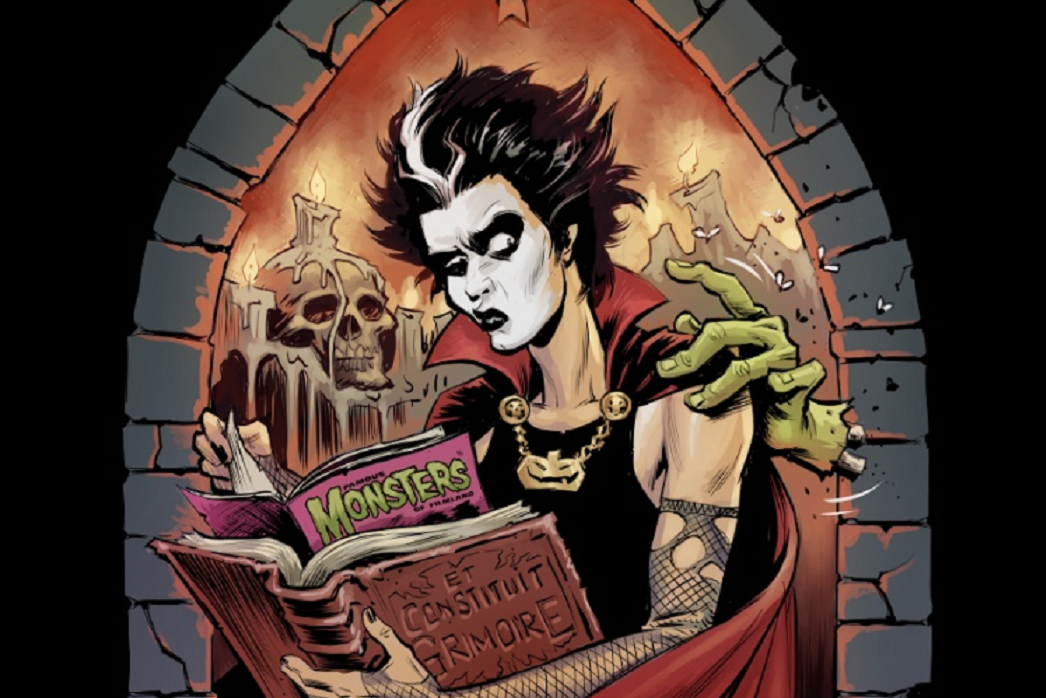 Poor Jerri just can't catch a break. First she loses her job as a local journalist following a drunken stint
on live TV. Then she has to take the rather demeaning job hosting a midnight monster show. Next is her wild encounter with a man who, before her very eyes, turns into an actual werewolf. And did I mention the zombie she has to dismember? Basically, it's been a helluva week, and it's only getting worse–especially when the freaking werewolf shows up at her AA meeting (in human form, of course). Little does she know, this is just the tip of the iceberg as she's about to come face-to-face with an honest-to-God vampire. Oh, and more werewolves, as if one wasn't bad enough!
Thus begins the latest adventure in the life of Count Crowley: Amateur Midnight Monster Hunter. From the very first page, horror fans will get a kick out of the comically ghoulish narrator and the darkly comic tone. The whole issue has that fun and eerie "Tales from the Crypt" vibe. Writer David Dastmalchian crafts a tale that is straight out of an old EC Comics back-issue. In Jerri, Dastmalchian has created a complex character whose life had little meaning before spiraling wildly out of control with the discovery of real-life monsters. In that respect, she has at least a little in common with her creator's portrayal of Polka-Dot Man in The Suicide Squad (2021). She's the type of character you root for, even when, or perhaps because, she makes poor decisions. She's not unlike Marvel's Jessica Jones, as an alcoholic hero with a massive chip on her shoulder. Her costume design is particularly clever, as if Tim Burton designed Harley Quinn, even if her overall look and demeanor makes her less Elvira and more Svengoolie.
Sadly, the one-page recap leaves much to be desired, since it only vaguely references the story that came beforehand. As it turns out, this is the sequel to Count Crowley: Reluctant Midnight Monster Hunter, which you certainly wouldn't know based on the cover or solicits. Hence the real problem of this first issue is that it's pretty reliant on having read the initial miniseries; it's essentially issue five, with its opening scene continuing directly from the first series' ending. Hopefully the book's concept will inspire readers to seek out the original mini, but it can certainly be frustrating to new fans hoping for an accessible first issue. Despite these setbacks, Dastmalchian's script and dialogue is quite strong and gets better as the story progresses. Personally, I have a great appreciation for the various midwestern references, as well.
Perhaps the book's greatest strength lies in its look and style, thanks in part to the outstanding art by Lukas Ketner. Taking place in the early '80s, the characters and locations look and feel genuine. The brilliantly-muted colors by Lauren Affe give the entire book a weathered, purely vintage aesthetic. There's no ironic commentary or overly-saturated nostalgia here; it literally reads like the adaptation of a 1983 horror flick, only with much better writing. Equal parts Fright Night and Creepshow, Count Crowley: Amateur Midnight Monster Hunter is an entertaining yarn that both respects and embraces the genre to which it's paying homage.