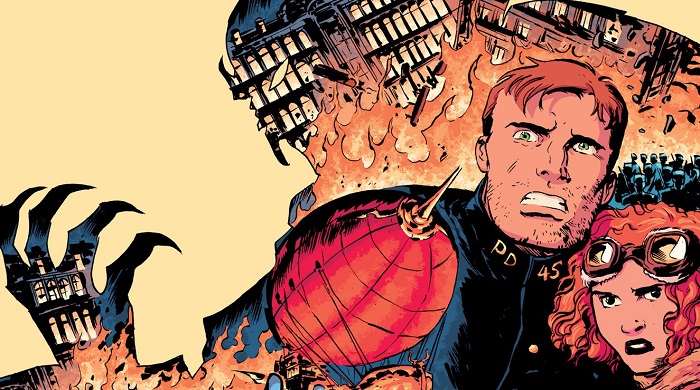 TKO is no longer a newcomer to the comic industry, as their new wave of comicbooks are now available for preorder. However, one should never forget where their roots lie, so I thought it would be a good idea to review one of TKO's classics: The Fearsome Doctor Fang.
The Plot
In The Fearsome Doctor Fang, we meet the San Francisco cop Nayland Kelly, who is on a mission to take down the villain known as The Fearsome Doctor Fang. During this quest, he meets treasure hunter Alice Lecroix, and they work together to retrieve an occult artifact the villain stole. However, they quickly discover that Fang isn't a criminal but an undercover agent who wants to keep the artifact safe. The trio then has to join forces to stop true evil from awakening an ancient power.
The Writing
This comic was written by two writers who also write for TV; Tze Chun wrote for Gotham and Once Upon A Time, and Mike Weiss for The Mentalist. They know how to make a story engaging, so I had high hopes for this comic. I'm happy to say that they exceeded my expectations, as The Fearsome Doctor Fang was an incredibly nice read.
The story is (only) six issues long, yet it's a fully fleshed out story. I didn't feel like there were any gaps where background information was missing. I understood who the characters were and what their motivations were, their strengths and weaknesses. It takes skill to tell a complete story like this in six issues, so I was quite impressed with how well it was written.
The story itself was very engaging as well as exciting and funny. A couple times the dialogue made me laugh, especially Fang's witty comments. There is also a lot of Chinese culture in the comics, which I'm a sucker for. Culture is something that gives more depth to a story, and it certainly did in this case. This comic is set in the early 1900s, but that didn't stop the writers from incorporating ingenious technology and gadgets in there. The characters used weapons that seemed futuristic, but still made sense in that time period. That also takes skill, and I applaud the writers for that.
The Art
The art in The Fearsome Doctor Fang is absolutely stunning. It's very clean and it doesn't distract from the reading. Sometimes some comic artists have an art style that can be confusing or so unique that you either love it or hate it. While I encourage having one's own style as an artist, I think that in comics the art should be detailed enough and clean enough to avoid distraction or confusion. It should be just as readable as a regular novel, for the art itself tells the story along with the dialogue.
I really enjoyed looking at this comic's art, as it just suits the story. The coloring is also exceptionally beautiful. It's vibrant but has a very consistent warmth that prevents the vibrant colors from becoming an eyesore. At one point, I just took a moment to appreciate the coloring, because it felt so different from things I had seen in the more mainstream comics. In fact, so far all of TKO's comics I have read have this beautiful coloring style.
The final verdict
As you can tell I'm very enthusiastic about this comic. So were there things I didn't like? Yes, there was one thing that bothered me. On maybe two or three occasions, I had difficulty understanding certain panel sequences. I had to inspect them closely to figure out what was going on, because the actions made by the characters were unclear. I don't know if this was a flaw in the writing or in the art, but either way, that could have been done better. Other than that, I have no remarks at all. The Fearsome Doctor Fang is a solid read and definitely worth your time.
You can purchase The Fearsome Doctor Fang at TKO's webshop.
The Fearsome Doctor Fang
Credits
Writers: Tze Chun, Mike Weiss
Artist: Dan McDaid
Colorist: Daniela Miwa
Letterer: Steve Wands
Editor: Sebastian Girner
Credits (cont)
Cover Artist: Jared K Fletcher
Book Designer: Robert Terlizzi
Publisher: TKO Studios