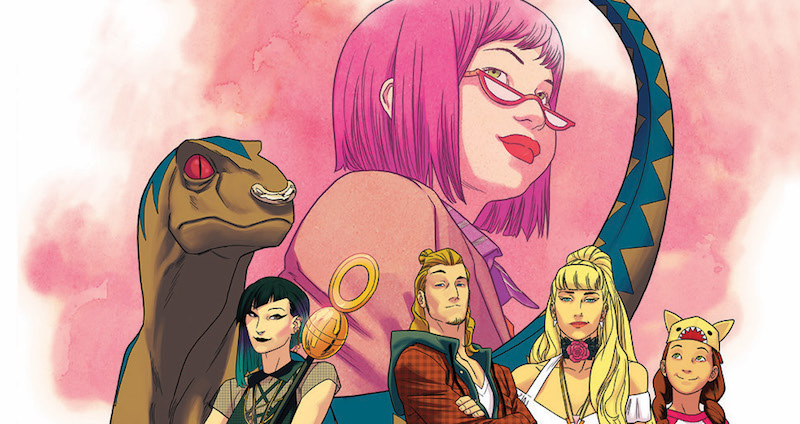 Runaways #1
Writer: Rainbow Rowell
Art and Cover: Kris Anka
Publisher: Marvel Comics
The Runaways are back in an all-new adventure this fall. The first issue of the new series introduces author Rainbow Rowell to the comics world. She teams up with artist Kris Anka (All-New X-Men, Star-Lord) and Eisner-winning colorist Matt Wilson (The Mighty Thor, Black Widow) for the new Runaways.
Executive Editor Nick Lowe said, "For years I batted other editors and creators back from the Runaways. I was the last Editor to edit them and they are precious to me, so I didn't want just ANYBODY to bring them back. So when my new favorite writer (Rainbow's Eleanor & Park slayed me in the best way) said they were her favorites, I knew I had half of the lightning I needed. Kris [Anka] was the other missing link for the PERFECT RUNAWAYS creative team and I'm so excited to share them with the world!"
Hold up. Lowe praising Eleanor & Park isn't a ringing endorsement of Rowell's involvement with Runaways. Following the book's publication, several people criticized her for her erasure of Park's Korean heritage. Additionally, readers accused Rowell of Asian fetishization and called her out for her obvious lack of research and poor representation.
The Runaways' de facto leader Nico Minoru is a Japanese-American sorceress and one of very few Asian American women in a leadership role in comics. Nico is well loved and totally badass. Her presence in the Marvel universe is vital, especially given Marvel's diversity problem. Nico is wildly important and deserves a writer who will respect that importance.
To be honest, I don't think Rowell is that author.
Rowell may love the Runaways, but has she heard her critics and learned from her mistakes? The blog post she wrote about Park's race in 2013 is cringe-worthy. It backs up the claims made by these critics and suggests that Rowell — who saw Park as Korean because he just was — is not the best choice to write this comic. Has she done any research, beyond reading the original comics?
This quote suggests that she really, really hasn't: "My goal is to write [Runaways] the way I did Carry On, where it's clear that the characters have been together for a while, but you the reader are just meeting them."
Carry On, for those not in the know, is Rowell's sequel to Fangirl. The book is meant to be the final in the Simon Snow series, which is basically Harry Potter but with canon Draco/Harry romance. It's about two white boys who fall in love and kiss a lot. It's definitely not on the same level of Runaways, especially for representation, and it begs the question…
Why hire a white woman to write Runaways at all?
I suppose that's a question for Nick Lowe. Did he bother to look beyond the text of Eleanor & Park when he decided to hire Rowell? If he's so protective of the kids in the Runaways, wouldn't he want all of them — Nico included — to be well represented in a new series? White editors hiring white writers who've been criticized of Asian fetishization to write Asian characters is not a good look.
Runaways #1 comes out September 13 and the cut-off date for pre-orders is August 21. If you buy it, consider as you read it: is this good representation? Is it fair? And if your answer to either one of those questions is no, be as loud about it as you possibly can.