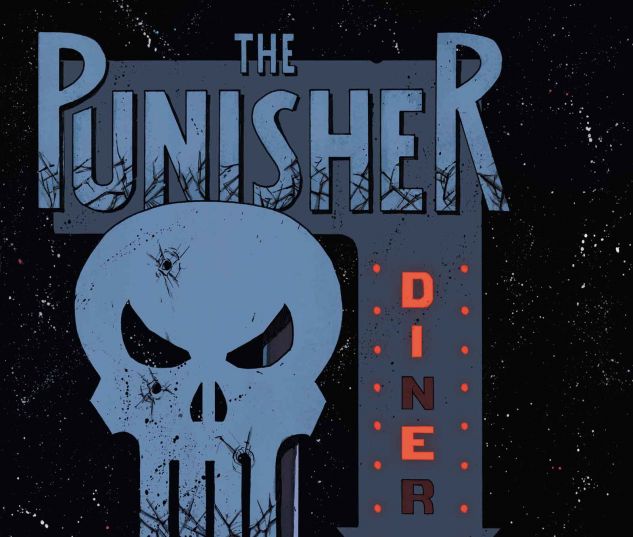 The Punisher #2
Writer: Becky Cloonan
Artist: Steve Dillon
Color Artist: Frank Martin
Letterer: Cory Petit
Publisher: Marvel
Reviewed by David Hildebrand
Let me start this out by saying that I am a HUGE Punisher fan.  I have way too much clothing with that pretty skull, I have jewellery, if you find me on twitter, you will see my background is numerous Punisher skulls, I'm even wearing a Punisher bandanna in my picture!  Hell, I even have a Punisher tank protector on my motorcycle!  So to say the least, last month when Becky Cloonan brought my beloved Frank Castle back to me to further read about his adventures, I was more than thrilled.  I read the first issue quite a number of times, while looking forward to this second issue to come out.  And guess what?  The second issue is just as good as the first and Frank finally speaks!
In the last issue we were left with Frank slaughtering a bunch of baddies in a warehouse.  There is a new drug called EMC and when taken, it turns even the weakest of the weak into a relentless bad-ass killing machine.  Frank's investigation has led to the middle of nowhere in Connecticut where the ruthless Face, who is Condor's hatchet man, some crooked members of law enforcement, and more drug dealers have met up. As you can guess with that mix of company and the Punisher right behind them, things do not end without a lot of blood being shed. Just as the first issue started, this still seems to be a simple by-the-numbers story for Frank.  However, Becky steps it up in the end of the issue and things get a little edgy when we are introduced to another villain. We learn little about him but his actions are without emotion and something that you have to pick up and see for yourself.  Oh, and we can't forget that the DEA are still hot on Frank's trail!
Two issues in and I am a big fan of Cloonan's writing for the Punisher.  It has started out as your basic Punisher versus bad guys story and yet she has put her own signature on the story.  Frank was completely silent last issue and I was kinda hoping that he would be silent this issue as well, just to see if she would carry it another issue. He says very little but lets his weapons do his talking for him. I have no complaints on where she is taking him so far.
As I said in my review of the first issue, seeing Steve Dillon draw Punisher still feels like home.  There is much more bloodshed in this issue and it's pretty brutal and gritty. The artwork is well drawn and the colors by Martin flesh out the story, which is as pretty as it is violent.
The Verdict:
Buy it! If you're a Punisher fan and have not picked up this book yet, WHAT IS WRONG WITH YOU?  The book is amazing, it keeps its pace and is a lot of fun to read.  Also, if your first introduction to the Punisher was in season 2 of Daredevil, this book will not disappoint you either.  You have learned about his background, now it is time to enjoy his future adventures.  Becky and Dillon are killing it! Go get this book!