Middlewest #1
Writer: Skottie Young
Artist: Jorge Corona
Colorist: Jean-Francois Beaulieu
Letterer: Natie Piekos of Blambot
Publisher: Image Comics
Review by Anelise Farris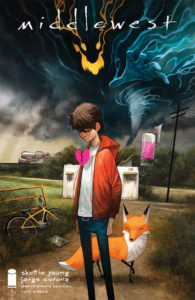 Middlewest #1 is a fantasy-adventure story about a young boy named Abel. With a few friends, who aren't the best of influences, and an abusive dad, Abel has no one in the world to count on besides a talking fox. When an argument with his dad turns violent and meteorological, a boy-and-his-fox quest ensues.
It's hard not to just turn this review into an all-out gushing fest. I just really, really loved it. It opens with a dream sequence, and then later wisely ties that dream sequence back into the story. I loathe a dream opening just for effect, so I was so relieved to discover that it actually served a purpose. Abel's point of view is well executed, and from his dad's biting one-liners to Abel's suffering, the emotional resonance is so, so real. Overall, the writing is affecting, poetic, and unhurried — just like I like my comics.
The art is also perfect for the story being told in Middlewest. Each panel is beautifully done with the sketch-style, less-refined linework that pairs really well with the border-less speech balloons and rough lettering. And the moody, surreal colors are balanced wonderfully by the whimsical, bright atmosphere of Abel's town.
Verdict: Buy it.
Middlewest #1 is the start of a stunning new series that explores the relationship between the real monsters in our lives and the fabricated ones.