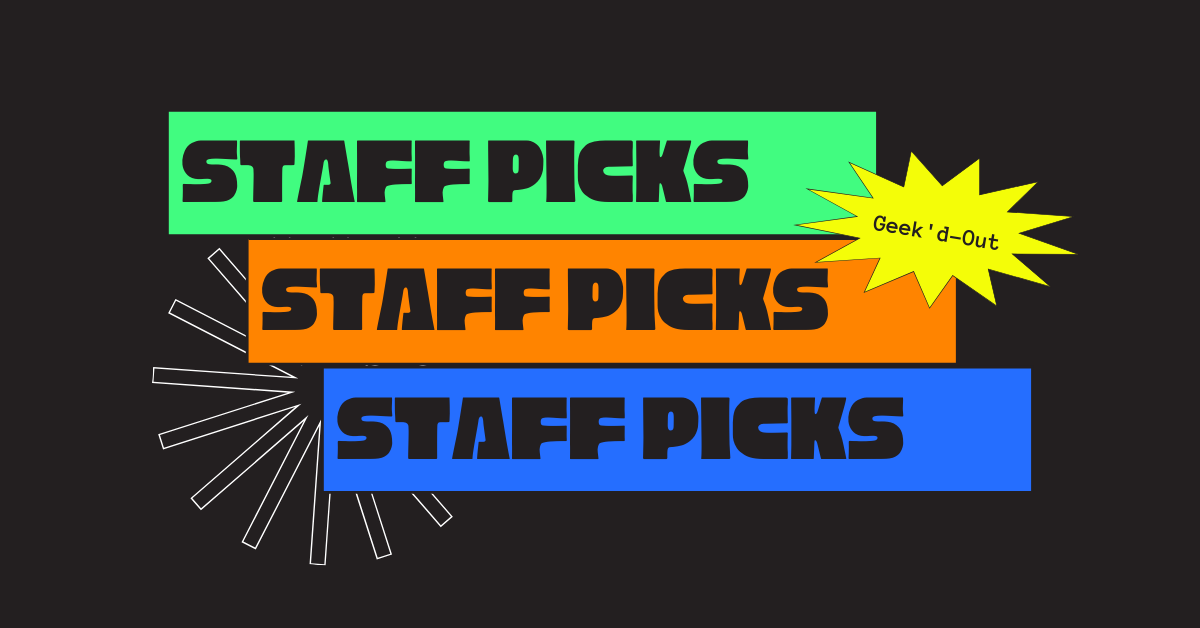 Check out what the Geek'd-Out staff is recommending this month!
---
Anelise Farris
: Metal Lords (2022)
Metal Lords tells the story of a singer/epic shredding guitarist (Hunter, played by Adrian Greensmith), a drummer (Kevin, played by Jaeden Martell), and a cellist (Emily, played by Isis Hainsworth) who come together to form the band Skullfucker…later turned Skullflower (this is high school). Their goal? To kick ass at the Battle of the Bands. That's it. That's the movie's premise. And it's brilliant. The film is heartfelt and hilarious and doesn't shy away from all the necessary over-the-topness of what it means to be a true metalhead.
As Hunter reminds us, "Metal is power. Metal is speed. Metal is the key to everything."
The cast is perfect. The movie is perfect. The Metal Lords Official Playlist on Spotify is perfect. Watch, listen, repeat.
Cameron Kieffer: Everything Everywhere All at Once (2022)
Wedged between Spider-Man 3: Too Many Spider-Men and Doctor Strange in the Mouth of Madness, this film takes on a much different and crazier take on the multiverse. Michelle Yeoh delivers the performance of her career as Evelyn, a put-upon immigrant whose unhappy life revolves around her family's failing laundromat and preparing their taxes. That is until she is approached by a version of her husband who claims to be from the "Alphaverse" and recruits her to help save the world by tapping into other versions of herself and taking on their abilities. By doing so, Evelyn is given glimpses of lives she could have led had she made different choices, leading her to reconsider her own path and choosing a new life for herself. And yes, one of these versions comes from a world where everyone has hot dogs for fingers. Just go with it.
Yeoh is just perfect, playing a character whose inner strength is weighed down by an impossibly heavy load of responsibility. Ke Huy Quan (who you may remember as Data, the best Goonie) is a revelation as Evelyn's seemingly naive husband whose incredible use of a fanny-pack will stick with you long after the credits. There are so many crazy ideas in this film that shouldn't work but they 100% do. The title alone encapsulates the film perfectly. So many scenes are layered with hilarity, action, and deep, DEEP emotion, but it doesn't just balance the humor, drama, and insanity: it combines them all together into a film experience unlike any other. Imagine if The Matrix was written by Terry Gilliam and directed by Stephen Chow, and you might have an idea of what this film is like. Everything, Everywhere, All at Once is the one of the strangest, most ludicrous, absolutely bat-shit crazy films I've seen, probably ever. It's also the most fun I've had at the movies in a long time and is easily my favorite film of this year.
Michael Farris Jr.: Only Lovers Left Alive (2013)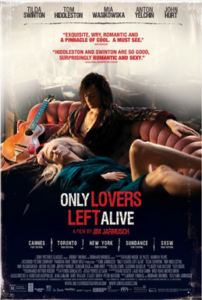 Adam and Eve (no, not them) have seen a lot of the best and worst that humanity has to offer–them being centuries-old vampires and all. While Eve takes pleasure in delving into the written words of humans, Adam broods in his derelict Detroit apartment, wailing away on rare instruments and creating tunes that are as black and eerie as his outlook on life with humans (or, as he calls them, zombies). As Adam and Eve reunite and try to make sense of this new, 21st-century world, they struggle to find ways to keep a low profile and stay alive. Especially when Eve's sister crashes their party.
This film from 2013 might have slipped past me due to the Twilight-induced vampire craze in the 2010s, but I'm glad I serendipitously discovered Only Lovers Left Alive on HBO Max one night. Starring Tom Hiddleston and Tilda Swinton as Adam and Eve, respectively, this is an atmospheric and existential take on the vampire genre. Really, the whole vampire thing isn't the point of the movie, and I think it's better off for it. Adam and Eve's different responses to art and the humans that create it requires watching and re-watching, and while their perspectives differ, it seems to only enhance their romance.
Muriel Truax
: Ori and the Blind Forest (2015)
I'm not a huge gamer, but I'm drawn to the ones I do like for their aesthetic appeal. I love Ori and the Blind Forest for its beauty, mythical setting, and haunting soundtrack. There were moments in which I held my breath and could have cried.
---
Check back next month as we share what Geek'd-Out staffers are enjoying in May!