Jackpot #1
Writer: Ray Fawes
Artist: Marco Failla
Colourist: Stefani Rennee
Letterist: Jimmy Betancourt
Publisher: Aftershock Comics
Review by Gregory Brothers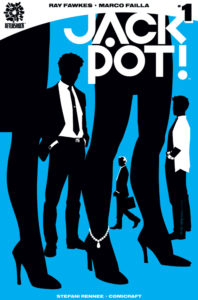 The ultimate heist! It has been the subject of books, movies and comics throughout history with different types of teams and prizes through all genres. Jackpot! #1 from Aftershock comics is the latest comic to tackle the subject with the promise saying they are going to be pulling off the greatest scam in human history.
We join the team in mid-mission, as things seem to be going sideways while in international water. Quickly we are transported back to 10 minutes earlier before things seemed to go wrong. As each character first arrives on the scene we are introduced to them with a name and their specialty splashed somewhere on the panel. Tam Malawi, The Poker Face, is introduced first as we see him involved in a high stakes poker game with a notorious drug lord. We find out quickly that the poker game is more of a distraction than the main mission as below deck we are introduced to Felicia Hyde, The Cold Reader, searching the drug lords office for the real purpose of this trip. Meanwhile Forrest Rhodes, The Heater, has procured a get away vehicle and runs surveillance for the mission. As the mission takes a slight detour from the plan we are introduced to the last two members of the team. Dominique Vasko, The Genius, who helps get the drop on the bodyguards of the drug lord, and finally Josef Friedrich, The Dirty Dealer who has rigged the poker game from the beginning but not in the way you might expect.
The art here is bright and very well done. The colors and clothing are appropriate for a yacht, in the middle of what I assume to be the Caribbean. At no point does it feel as if the art over powers the story and instead in several panels compliments it perfectly. The way the facial expressions and actions sequences are drawn contribute greatly to the feel, as they give you a better sense of what the intentions of the writer is. When the characters are introduced, the name splash in the background gives the movie feel that the writer is most likely going for.
Verdict:
Wait and See. I think that Jackpot! has some potential depending on how the reveal of what the team is really up against comes to pass. That being said this first issue just did not catch my attention. Joining the team mid-heist gives me no reason to care about the their mission, as I don't even know what the motivation is. We also have no background of the team in general to know if their missions usually go off without a hitch or if the issues that they run into here are unique which helps lead to the concern that the team has with how the mission unfolded. However, if you love anti-hero teams and heists, this may be for you.
Released: 4/13/2016