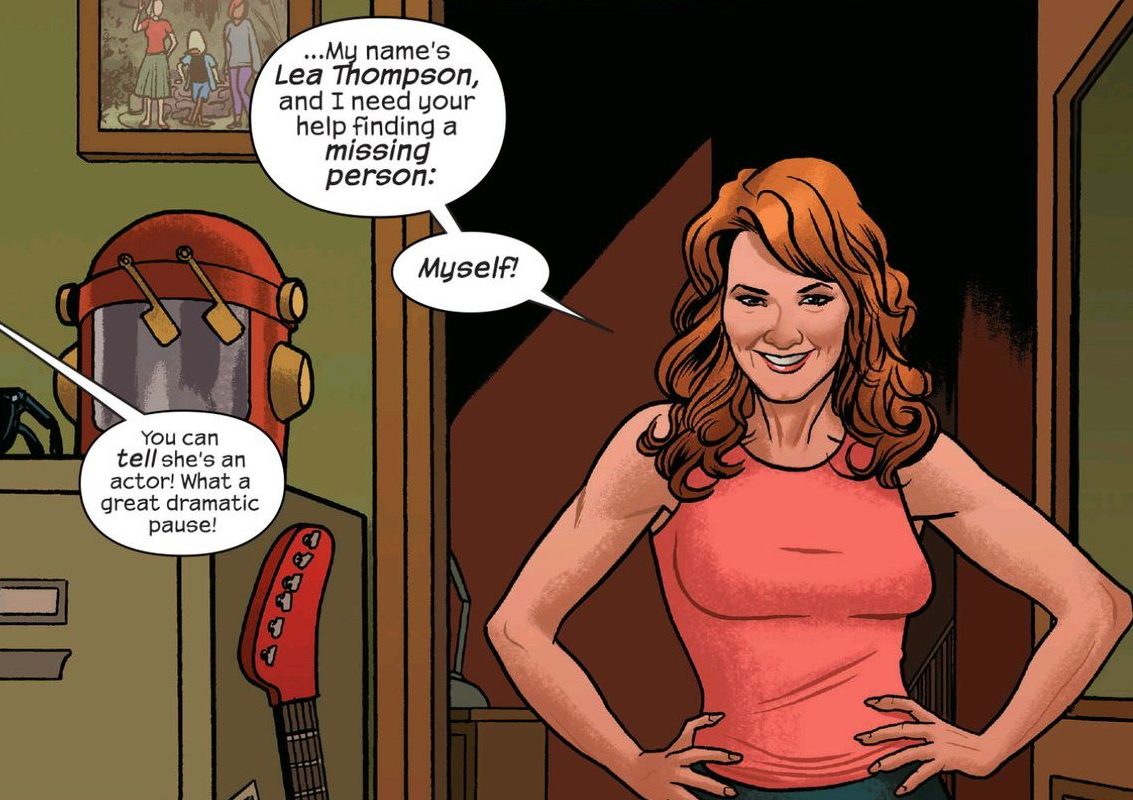 Howard the Duck #8
Writer: Chip Zdarsky
Artist: Joe Quinones
Colorist: Joe Quinones and Jordan Gibson
Letterer: Travis Lanham
Publisher: Marvel
Reviewed by David Hildebrand
I have a confession to make and this is hard for me *tears stream down face*  I liked the Howard the Duck movie!  There! I said it, I can't take it back… Well, I can delete that and pretend like I didn't type it, but I am not going to.  Everyone has their guilty pleasure movies, I have quite a few and Howard the Duck just happens to be one of them.
I started reading Howard the Duck again last year when Volume 4 began.  Then Marvel decided to reset the entire universe again, Howard included, when he was only five issues into the volume.  This left a very bad taste in my mouth.  Marvel was smart when they introduced Volume 5, they added the first Gwenpool story to the first three issues of Howard the Duck, to recapture the attention of the audience that were like me and jumped ship after the unnecessary reboot.  I will admit, they caught me, but only for those three issues. I stopped when Gwenpool ended and told myself I was done. Then a few days ago I came across an article that Lea Thompson was going to appear as herself in the latest issue of Howard the Duck… DAMN YOU, MARVEL!!!!!
This might be a spoiler, but it has been posted enough times on the internet in the past couple of days, so I'm going to discuss it.  This issue starts a new arc where Lea Thompson shows up at the end of the book asking Howard to help finding a missing person… herself! Of course she will be the focus of the next issue with Howard helping her.  However even though I bought this issue solely based on Lea Thompson being in it, this new arc begins with a good story. Howard appears on Beverly's doorstep, he explains that he was separated from the Nexus of Realities and it brought him there to her residence in Maine.  Beverly tells him that she is in her second year of vet school and Howard questions why she made the decision to become a vet, in which she just gives this silent, saddened stare.  The issue is a melancholic story about Howard's past and how two close friends can drift apart.  There is an eyebrow raising moment towards the end that I hope gets explained as we progress in the arc.  Damn you, Howard and Zdarsky you have sucked me in once again.
I enjoyed Zdarsky's last run of Howard the Duck, so I knew that I would be walking into familiar territory again. And it's really like we never stopped.  He writes Howard with charm and gives him a soul, especially in this issue.  It is a more serious tone but it does have its little quips as well.
Quinones artwork helps make the story come to life. The facial expressions of Howard and Bev give great detail into the emotion that they once had for each other and presently feel as well.  The colors bring out the somber feel of the story and compliment the artistry perfectly.  In all, it is a complete book that hits on all marks.
The Verdict:
Buy it! As I previously mentioned, the only reason I picked this book up was because Lea Thompson was going to be in it. And in the end, I read a well written story with heart that gave me flashbacks to previous Howard the Duck issues, as well as the movie. It looks like I will be riding this arc out!  If you are even a little bit of a Howard the Duck fan or are just in it for nostalgic, check this issue out. I don't think you will be disappointed.