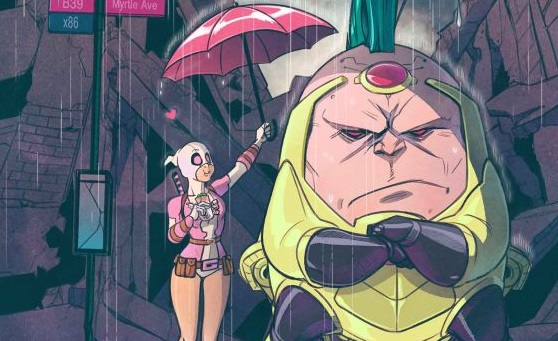 The Unbelievable Gwenpool #2
Writer: Christopher Hastings
Artist: Gurihiru
Letterer: Clayton Cowles
Publisher: Marvel
Reviewed by David Hildebrand
Oh Gwenpool, right when I think I could fall in love with you, you take a couple of steps back and we are only at issue 2.  This might turn into just a two issue stand! Everything I loved about the first issue appears to leave for most of the second.
The issue starts out with Gwenpool replacing a now dead henchman from the first issue for the Agents of M.O.D.O.K.  She and the other agents are assigned by M.O.D.O.K.'s client to kill The Seed of Pains, a black druid that is being transferred for unclear reasons, but it is possible that S.H.I.E.L.D, A.I.M, and even Roxxon are interested in him.  Gwen questions M.O.D.O.K. about why he is even back and why did he kill his henchman, Cecil. M.O.D.O.K explains that he was designed only for killing so killing is what he does. But he is a righteous killer and his killers must be the same, they get paid for only shedding the blood of evil.
Gwen begins to associate with the other agents and the only thing I can think of is Deadpool's Mercs For Money and how it feels exactly the same.  I love Deadpool, I do not like that the Mercs For Money are starting to show up everywhere, and right away I don't like these agents that Gwenpool is working with.
It feels like a ripoff to me.  They get acquainted and go on their mission to kill The Seed of Pains. Thor shows up, she also wants the druid for her own reasons. During an exchange between her and Gwenpool, there is one shining moment, but it quickly fades away.  I question why we are at issue 2 and already there is a cameo by another major hero showing up in the book.  I would like this character to be able to stand on her own but I'm already questioning that as well.  The end of the book does bring back a little bit of what I liked about the first book so much.  Gwen sits and ponders the world that she is in and has questions about it. And once again her character seems genuine. Hastings story has gone from intrigue to your standard search-and-destroy plot. The story became very simple, very quick. It did have a few bright moments, but not as many as the first issue brought.
The artwork by Gurihiru remains consistent, I like the colors and it still has a manga feel to it.  I just hope that the arc regains the interest that I had when I read the first issue.
The Verdict:
Wait and see. I really liked the first issue and recommended it to quite a few people, including the ones that wanted to hate it just because of all the "Gwen" content that has been released in the past year. After this issue, it is hard to say to pick this one up.  It did get better in the last few pages when she is by herself contemplating who she is, but it took reading through a weak plot to get there.  I haven't lost all hope yet, I will give the third issue a shot, but if it stays going down the road this one is starting on, I can't promise how long I will stay a fan.