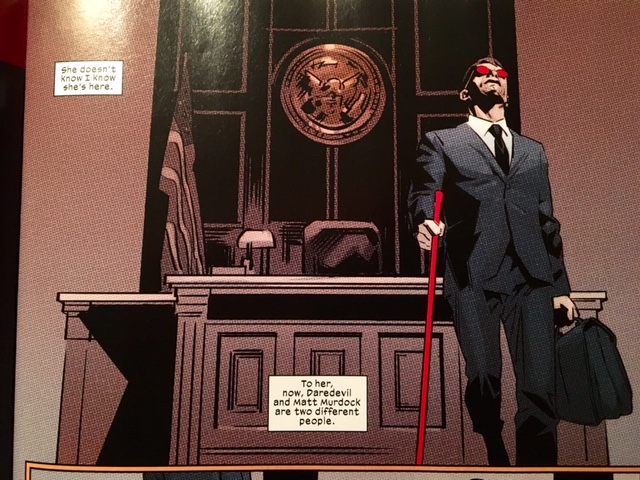 Daredevil # 6
Writer: Charles Soule
Artist: Matteo Buffagni
Color Artist: Matt Milla
Letterer: VC's Clayton Cowles
Publisher: Marvel
Reviewed by David Hildebrand
Quick warning, the first part of my review will catch up on where we are with Daredevil at the moment. If you have not read issues 1-5, then I suggest skipping all the bolded parts of the article.  At the end of issue five, we are left with Tenfingers dead, killed by the Hand, although you never see who actually kills him.  Tenfingers' followers from his church are freed and Daredevil finds out that Lu Wei, a top lieutenant in Tenfingers' gang is actually the mother of his new prodigy, Blindspot. Daredevil decides not to lecture him, he comes to the conclusion that he kept her secret for the obvious reason and in the end, Blindspot chose the right side.  He would let him enjoy his win.
Issue six starts out with Matt in the courtroom, he is still assigned to the Early Case Assessment Bureau, which is like the 80's TV show Night Court.  While he is in the middle of explaining his case to the judge, he senses that Elektra is in the room.  He doesn't know why she is there and tries to ignore her as he leaves the courtroom, but Elektra isn't letting him off that easy.  The issue transitions back and forth between Matt and Elektra having a conversation over dinner to a rooftop scene where Daredevil and Elektra are fighting.  For those that may be familiar with the Daredevil show on Netflix, in the comic, Elektra doesn't know that Murdock is Daredevil. During dinner, she asks if he can arrange a meeting between her and Dardevil.  The fight gets intense and Blindspot even tries to intervene. The end of the issue had me thinking "hmmmm". I didn't really see it coming and it is an interesting way to start this new arc.
The art of Matteo Buffagni combined with the colors of Matt Milla gives the issue a dark tone, exactly as the previous arc.  They have a real gritty feel to it and reminds you that you are in Hell's Kitchen and not in some lush paradise. There are pages where everything is washed out, you have black and white, with the only colors being the red of Daredevil and Elektra. It oozes noir and takes on a life of its own. Charles Soule stays strong with his scripting. He has set up the characters and the world that both new and old readers alike can enjoy. He has taken some risks….I'm looking at you Blindspot, but I have started to like the guy a little more after the end of the first arc.
The Verdict
Buy it! Hot off the second season of Daredevil, this new arc reintroduces Elektra into Hell's Kitchen.  This book was one reason I was looking forward to Marvel restarting all of their books. I always wanted to pick up on Daredevil and I am happy I was able to start at the beginning of this volume. So far, I am not disappointed. I was a little worried that it would try to pick up after the show, but so far it hasn't done that and that is a good thing. It needs to live on its own! If you haven't checked out Daredevil yet, this isn't a bad starting point. It is the beginning of a new arc and the story would be pretty easy to catch up on at this point.  So if you are a Daredevil fan, I am sure you're reading this, if you're on the fence, give this one a look!