Spidey Zine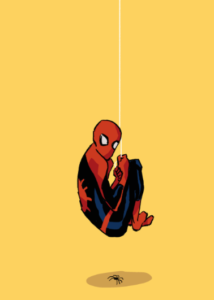 Creator, Writer, Artist and Overall Badass: Hannah Blumenreich
Review by Insha Fitzpatrick
I have never been a big fan of Peter Parker, but these small stories have completely made me want to hug Spidey forever.
The Spidey Zine is created entirely by Hannah Blumenreich. She's an artist who makes her own comics, zines and illustrations. She does some amazing and incredible comic work and works in digital and traditional media as well. Give her a look on her website here. 
Spicey Zine is a collection of stories about the one and only Spider-Man. Some of them are comedy and some are tragedy, but all of them are purely excellent. It's not long, only a couple of pages, but this little zine gives Peter Parker his chance to shine. This zine dives a little bit into the adventures and misadventures of Peter Parker. It gives a little bit of the dork that he is, but it gives you his playful side and some of the things he has to go through behind the scenes. The zine has some special guest stars we all know and love including Aunt May, Uncle Ben and Mary Jane. These stories are, again, comedic and tragic at the same time, but it very much helps you understand Peter and his family in 32 pages rather than a full length comic.
There are a couple of stories that very much stand out and they're absolutely incredible in just the right amount of panels. The story "Uncle Ben" is told with no dialogue exchanges, which makes it way more powerful This story chronicles the tender relationship that Peter has with his Aunt May after his parents and Uncle Ben pass away. "Face It Tiger, You Hit the Sweater-Pot" is the cutest example of another relationship Peter and his Aunt May has as well. Hannah really lays out Peter's dorky personality in the very first comic entitled "Ballad of Bilbo Baggins", where we see our hero swing to The Ballad of Bilbo Baggins.
Verdict:
BUY IT (Download it) There's something great and powerful about a zine and it works very well with Spider-Man. Hannah has not only created a meaningful and brilliant character study of Peter Parker, but she's brought something special from these little stories as well. If you love, like or even unsure about Spider-Man. Download Spidey Zine and I guarantee you will feel so many feelings.
You can find out more about Hannah through her social media via Tumblr, Twitter and StoreEvny & Society6 shops.