Cover #1
Writer: Brian Michael Bendis
Artist: David Mack
Publisher: DC Comics
Review by Greg Brothers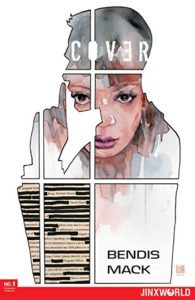 It is a comic-book creator's dream: a customer approaches you at a convention, drools over your work, and goes on and on about how big of a fan they are. And then, instead of trying to nickel-and-dime you down in price, they agree to pay more than you are asking. Then a few weeks later across the country that same fan shows up and buys your entire stock. Even after that they invite you to dinner at a nice restaurant. Sounds great right? Well what if they told you at dinner they were a CIA analyst and recruiter and hinted that comic-book writers make good spies. And then they left you alone in the restaurant in the middle of dinner. Well, that's the premise of Brian Michael Bendis's and David Mack's latest book, Cover #1.
Bendis does an excellent job of laying out the story. It starts interestingly enough, and the dialogue is a nice slow build throughout Cover #1. With each meeting between Max and Julia, you can feel the awkward dance as Julia tries not to reveal her intentions while feeling Max out. Bendis does an excellent job keeping the dialogue to a minimum at certain points. While there are speech balloons in the first few pages, they are random things you may hear at any convention. Those speech bubbles do really get you in the mindset of the story and fit perfectly with conversations that you would hear. And, the wordless panels allow the story to flow perfectly.
Speaking of the art, Mack's workis breathtaking at points. The watercolor style allows for a bit of mystery as the story develops. And, the shadows, the line work, and the panels all flow together perfectly throughout.
Verdict: Wait and See.
As much as I like the flow and the look of Cover #1, there was not enough for me to be all in yet. The story set up is interesting. The art is amazing to look at. However, I need a little bit more from both Max and Julia before I can get hooked. So for now it's wait till next month and see if the foundation leads to another great series or not.