Conan the Slayer #1 
Writer: Cullen Bunn
Artist: Sergio Dávila
Colorist: Michael Atiyeh
Letterer: Richard Starkings & Comicraft
Review by Josh Canales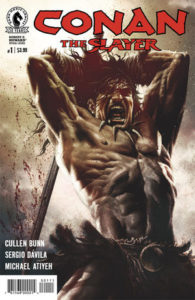 I had almost no idea what to expect from this comic since it is my first foray into the barbaric world of Conan. By the second page I was hooked, a gorgeous and bloody double-page spread had grabbed my attention and would not let go. Conan the Slayer #1 had me more and more immersed with each turn of the page, to the point I hadn't even realized I had reached the final page of the issue. The book's title says all you need to know; this is Conan and he definitely does some slaying.
Conan is alone on the run, injured and badly bleeding, his followers slaughtered, but he is not giving up. Those who had killed the men who followed him are now relentlessly hunting Conan himself to put an end to him once and for all. Of course Conan being who he is, will not be an easy kill, even for a group of four warriors against a bleeding man with arrows still in his arms. He makes quick work of his enemies in a gruesome and blood-soaked battle. From there he is on his way again to either death or a safe haven, whichever he finds first. Since it wouldn't be much of a series if the titular character dies in issue one, Conan finds a camp.
This bandit's camp is not much of a "safe haven" but they do keep him alive. Although, they only do so for their own curiosity and agendas. The dynamic between our barbarian and the bandits is interesting and fun, the leader seems to like him. Ignoring the pleads of his eldest son, the bandit leader keeps Conan alive and talking, eventually cutting him free. The bandit camp itself has a lot of attention-grabbing aspects, such as the peaceful son and warrior woman. Conan the Slayer #1 ends on a high note of a conversation between the bandit leader and Conan, leaving the reading begging for more.
Cullen Bunn is a writer whose work I have heard countless great things about and Conan is a character whose legacy goes back farther than my own life; this was my first experience with both. I was not left disappointed, Bunn's writing had me excited to turn the page. His take on Conan drew me into the character and left me wanting to know so much more. His character's all have distinctly different personalities which makes for interesting interactions between them. A highlight of Bunn's writing was the interaction between the prideful and confident Conan and the level-headed bandit leader. In this interaction a tied-up Conan does not let his emotions take over, he will not give the leader that satisfaction of know he broke him. Because of this the bandit leader respects this and find him to be an asset rather than an enemy.
Bunn couldn't do this book alone of course, Sergio Dávila's art greatly compliments the writing. A book with "Slayer" in it's title would be nothing without epic fight scenes and Dávila does not fail to deliver. In the fight between Conan and his pursuers Dávila really just gives readers a sample of what's to come; swords are dodged, blood is spilled, and enemies are dismembered. Fights aren't the only area where Dávila impresses, his bodies are accurate and faces beautiful and distinct. No two people look the same. Yet, without Michael Atiyeh's colors bring the art to life, the book would not have had the same effect. Atiyeh's palette is true to life and simply gorgeous.
The Verdict
Buy it. As my first venture into the barbarian world Conan the Slayer #1 left me longing for more of this story. The team from Dark Horse really makes this issue shine and I cannot wait to see what is coming from them in future issues. Do not miss this excitingly barbaric story, make sure to pick this issue up as soon as you can.