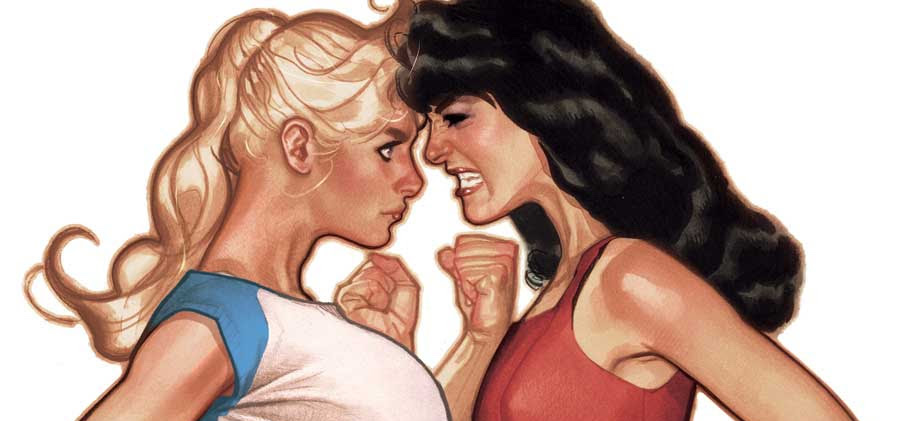 Betty & Veronica #1
Archie Comics
Cover by: Adam Hughes
Writer & Artist: Adam Hughes
Colorist: Jose Villarrubia
Letters: Jack Morelli
Review by Insha Fitzpatrick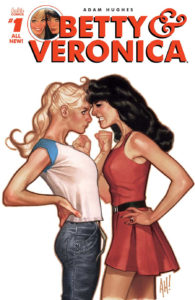 A feud between our two favorite ladies of Riverdale is brewing and things are about to get hostile.
Betty & Veronica #1 is the long anticipated and awaited series from Archie Comics. These two ladies go head to head in a story that is very familiar to Archie Comics, but doesn't leave much to be desired as a whole. The story revolves around the gang as they figure out what to do after Pop's, their beloved diner, is threatened to get shut down by a big coffee industry. *eye shifts to big coffee* The gang including, Archie, Jughead, Moose, Midge, Betty and Veronica, try to figure out a plan to save Pop's and it's a bit of a race against time. Veronica is strangely quiet about the whole situation and we all know when she's quiet something has to be a mist.
Betty & Veronica #1 honestly was going to be a hit or miss for me. I was very excited to see what they would do with the story, but it left me feeling slightly unsatisfied. While the overall story was brilliant to bring together, especially having Midge and Moose join in roles as well, it felt very drawn out and didn't really give you an excited feeling to want more.
Adam Hughes duels both does the art and writing for B&V, but while the art thrives, the writing somehow suffers. It was very wordy and text heavy for my own personal taste. There were a couple of issues with the writing that had me doing a Scooby Doo "ruh oh". The whole thing (or most of it) is narrated by Hot Dog. Yes, Hot Dog, Jughead's beloved and most loyal dog. He comes into this with big words straight out of the thesaurus and a british accent to boot. It felt very out of place for this story, but a bit heartwarming as well, especially when he realizes it himself. The dialogue of teenager seems to be lost and except for some characters, they all just seem to sound alike. Also that "Double You Tee Eff" has got to go. Like, WTF.
Adam Hughes' art for the new series is absolutely stunning (even though his Jughead flopped a bit). The way he draws both Betty and Veronica is fantastic, but the one thing to admire about his art is the way he draws Riverdale. It's so realistic and Jose Villarrubia's colors make them pop out even more. It's almost a matte palette to them, but it sets the town for the sleepy town that has so much going on in it.
Verdict:
Wait and See. You guys don't even know how bad I feel about this. I worship Archie Comics so much, but Betty and Veronica can be so much more than this. Since this is the first issue, I want to believe that this story will somehow get even more amazing as it goes on. We'll just have to see what happens.