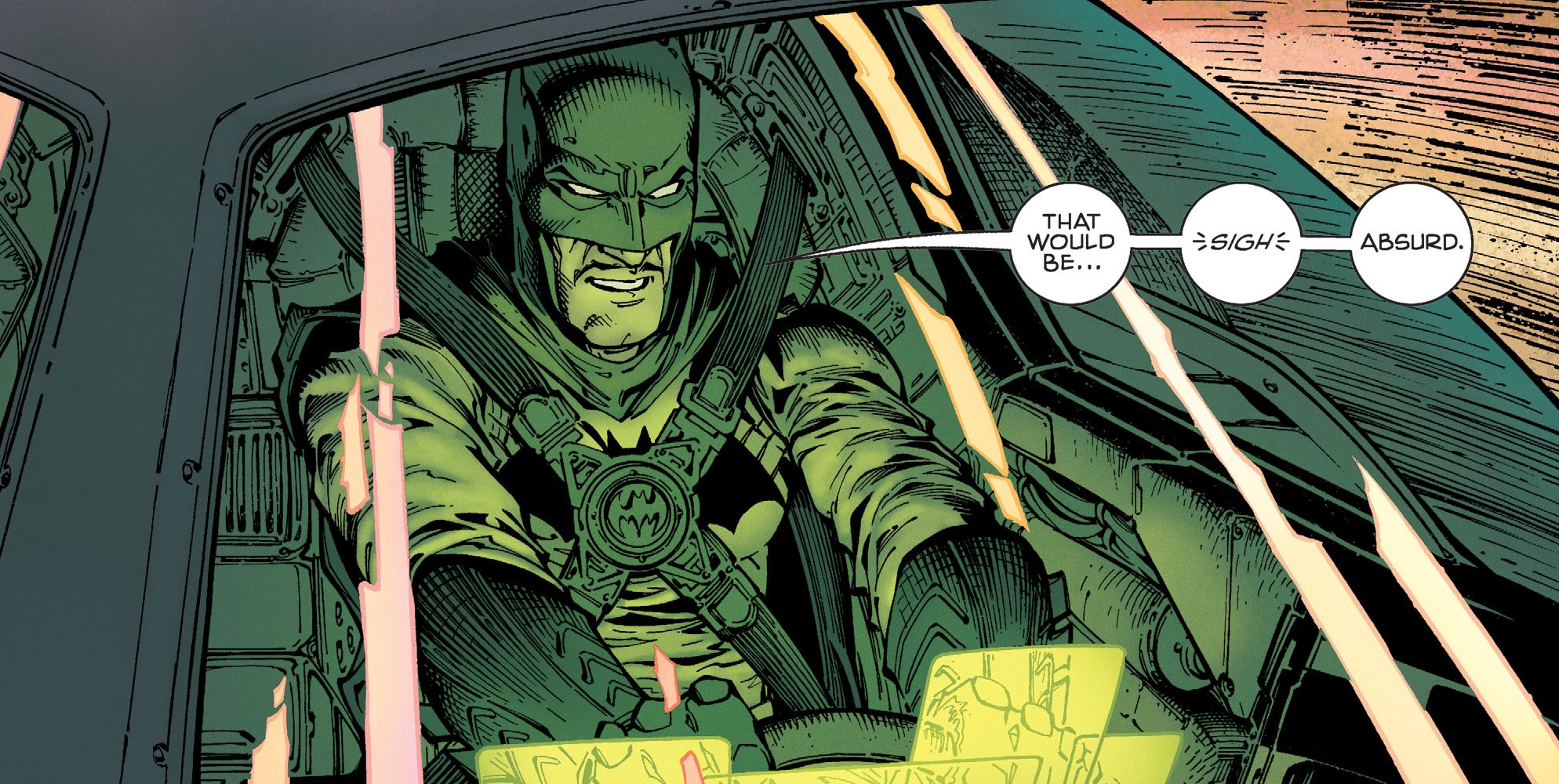 Batman #5 Review
Writer: Tom King
Artist: David Finch
Colors: Jordie Bellaire
Letterer: John Workman
Publisher: DC
Reviewed by David Hildebrand 
"I AM GOTHAM. KILL ME."
Tom King's conclusion to his first Batman arc is brilliant. The new superhero on the scene, Gotham has flipped out. He is out of control and Batman is struggling to maintain while Gotham City is in certain danger. King's Batman started out at a slow pace but has  gradually built up to the climax between Batman and Gotham that is delivered in issue 5. The issue also offers up a look into what the future holds for Batman and the series. And the future is looking bright!
The issue begins on quite a comical note. Alfred is donning Batman's costume, replaying what he said to Bruce's father in his head about taking care of him as he rams the Batmobile into the hostile Gotham. It is nice to see King bring in a little more humor into the issue. As well as giving Alfred a more pivotal role, although it's only temporary. Batman does recruit some friends to help with dealing with Gotham, but Gotham makes short work out of them. A bright moment in the book for me was getting more Gotham Girl. She is finally brought to be more of importance in this issue and after I have been crying out for why she is even here for the past two issues, it is good to see her provide some significance to the story. Although her characterization is still suffering here, there appears to be promise for her in the future. I will accept that for now. This ending chapter is dark as we watch the showdown between Batman and Gotham, leading up to an ending that was both satisfying and emotional.
One thing that has pleased me during the first five issues is that David Finch has been on board for each one, where the rest of the Rebirth titles has changed out artists in between issues. The consistency of Finch's art has been vital to the Gotham arc. His detail to the characters and Gotham City are exquisite and haven't failed to impress me as the story progressed. Of course I can't leave out Jordie Bellaire's colors that continued to maintain the right mood for the book. King has made me more of a fan of his work. I have thoroughly enjoyed his Vision run, as well as Sheriff of Babylon. This first Batman arc looking back on all five issues as a whole has been an impressive start and I can't wait to see him start tackling more of main villains to see how he brings them to life.
Verdict:
Buy it! The final issue of the Gotham arc has its fair share of humor, action, and drama. I like how it ended, King overall did all the characters justice… except for Gotham Girl. BUT it looks like we will all be seeing her sooner than later. If you are a Batman fan, then have no worries because King has taken good care of our beloved Caped Crusader so far. I'm ready for the next story! Bring it on!