Amerikarate #4
Writers: Corey Kalman, Brockton McKinney, and Christian Moran
Artist: Devin Roth
Letterer: Dave Dwonch
Publisher: Action Lab Danger Zone
A review by David Hildebrand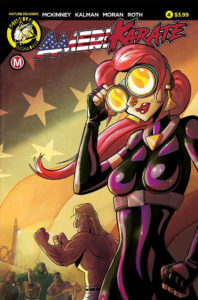 Amerikarate #4 marks the end of the first arc and if you have been reading my reviews, you know I dig this book! Kalman and McKinney have captured the essence of cheesy and over the top 80's action celluloid unlike any other book out there. Many have tried, none of executed it as well as Amerikarate! If you love 80's cinema, tongue in cheek humor, and snappy one liners, Amerikarate needs to be on your pull list!
Amerikarate #4 wraps up the first arc with a swift karate chop to the Adam's Apple. Sam Kickwell and Agent Cynthia are left fighting for their karate lives as they battle wave after wave of Neon's henchmen. I dig Neon, he is the perfect 80's asshole villain that is full of himself. Neon is so sure that Kickwell and Cynthia's fate is sealed, he turns his back, leaving the opportunity for their escape. Blood flies, butterflies die, and it all ends with one helluva of a cliffhanger that you have to see to believe! And don't forget the gratuitous sex scene thrown in for good measure!
One of the positives of the series has been the collaboration of the creative team. For every joke that Kalman and McKinney produce, Roth matches with brilliant visuals to make the humor come to life. From The Warriors to the Korean favorite Old Boy, there are throwbacks to old school and modern classics alike. It is a treat to see nods to the movies that I've fallen in love with over the years mixed into the narrative. And they never feel tacked on or added for filler. They become a necessary part of the story and each piece of the puzzle falls into place to create a cheesy, action packed masterpiece!
I have praised Roth's artwork in the past and he raises the bar with each issue. The multiple gangs that Kickwell and Cynthia cross paths with are a unique and colorful bunch of misfits. The backgrounds are dynamic, along with the dramatic shadowing of the panels. The facial expressions illustrate the intensity of the characters as they trade fists. Amerikarate #4 and the series overall has been a visual delight.
The Verdict
Buy this whole series! Get off of your karate loving ass and support Amerikarate! The series has been fun from the beginning and continues to be pure entertainment! Much like the beloved 80's films I grew up watching, you check your brain at the door and just enjoy! The market is saturated with serious comic book stories. Kalman, McKinney, and Roth remind us all that comics are also made to be fun! And there isn't a single page from Amerikarate #4 or the previous issues that isn't fun. Enjoy!