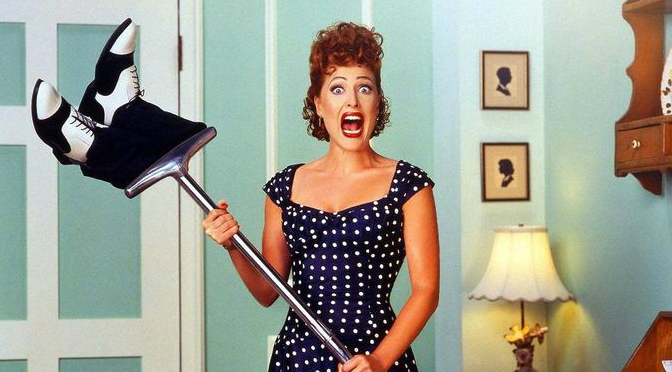 In our week-long coverage of American Gods, we've introduced you to the key players behind the new Starz series and discussed some of the other Neil Gaiman adaptations currently slogging their way through development hell. None of that really means anything to the unfamiliar, however. Now it's time to talk about what makes this series really interesting. Now it's time to meet some Gods.
Any story can give you Old Gods. The characters are already written, for crying out loud! Even the Marvel movies are full of them. So how do you make a story about Gods special? You make your own. Rather than going for the straight representations of power and force of the Old Gods, however, Gaiman tried something different by looking backwards at how Gods are made. In a world where people sacrifice more of their time and thought to Orange is the New Black rather than Poseidon, New Gods are sure to spring up.
As characters in American Gods, the New Gods are the villains. We therefore see less of them, and when we do, it's through the eyes of their enemies. Still, they're incredibly fascinating, and creating them was some of Gaiman's best work in the novel. Let's take a look at who they are, who's playing them, and what we hope they'll be like in the new series.
Technical Boy (Bruce Langley)
Who Is He? Technical Boy is the New God of Technology and the Internet. The youngest of the New Gods, he is also the most powerful and openly hostile. Technical Boy might not look like much, but you're supposed to underestimate him. He's one of the most powerful forces on the planet, with the entirety of humanity's information at his fingertips, but you can't help but look down on him thanks to his appearance of trying to look and act cooler than he is. He's a character that shows the line between Old Gods and New in an unflattering light.
Who Plays Him? Bruce Langley. In all appearances, Bruce looks like the perfect little shit for the role. Definitely one of the youngest members of the cast, Langley only has five previous roles credited on IMdB, the most notable being the 2015 film Deadly Waters. The fact that he's young and fresh faced is integral to the role. While nowhere near the overweight description of Technical Boy given in the book, it speaks to the difference in how we view people of the internet in 2016 as opposed to 2001. Technical Boy is getting dangerously close to being cool and earnestly powerful. Langley has a lot to take on in this role.
Media (Gillian Anderson)
Who Is She? Media is a God who claims domain over television and entertainment. In Media's most memorable scene from the book, the New God takes on the form of Lucy Ricardo and asks the question: "you wanna see Lucy's tits?". The scene colours the lack of dignity the New Gods have compared to the Old. A truly powerful character, Media is everywhere, and more people sacrifice their time and energy to Media than any of the others. She certainly rules over this website, for example. Admit it. You're still thinking of your favourite movie or TV show right now. There might even be a television on in front of you. Meet your New God.
Who Plays Her? Gillian Anderson. Honestly, this is just perfect. Between Hannibal and The Fall in recent years, I truly believe Gillian Anderson can do anything. She's Dana Scully. She's still my pick for James Bond. And if you're looking for a powerful woman who can play someone who's intimidating, sexual, but also still finds room to bring comedy to her appearances, Anderson is one hell of a get. Bryan Fuller worked with Gillian Anderson before on Hannibal, and I'd be surprised if she ended up being the only other alumn from that series to make it over to the American Gods cast. Media is fun, but she should scare the hell out of you. There really was no better option than Gillian Anderson for the role.
Mr. World (Crispin Glover)
Who Is He? Depending on who you ask, Mr. World is the either the leader of the New Gods, or simply their driver. Mr. World is one of the Black Hats, representations of the Men in Black that exist in American folklore concerning government conspiracies and UFOs. Dressed in black hats with full suit and tie, these are the government agents that have existed as Gods in the world of American Gods for as long as people have looked over their shoulder thinking that their government is out to get them. Accompanied by Mister Town, Mister Wood and Mister Stone (none of whom have been added to the cast list yet), Mr. World is a fascinatingly mysterious figure that should intrigue the paranoid.
Who Plays Him? Crispin Glover. If you told me last year that my most anticipated show of 2017 would involve George McFly from Back to the Future, I'd tell you to hop back in your Delorean. All kidding aside, however, this is a great choice. I currently have no idea how Glover is going to play the role. As an actor, he has the ability to switch lanes from warm to creepy with incredible precision. Glover will need use that skill in American Gods, as fans of the book will know that there's a hidden secret to Mr. World within the story, and no one is better suited to playing the two-faced role. This is assuming that the story of the book lines up with the show, of course. But the absence of the other Black Hats in the cast list speaks to his probable importance in the show. It's likely that his story lines up with that of the book pretty closely.
The Intangibles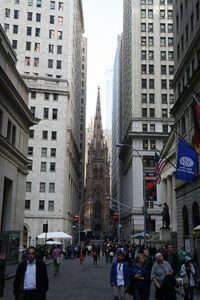 Who Are They? The Intangibles are unique among the New Gods in that they're indifferent to the battle between Old and New. They represent "market forces" and concern themselves with invisible transactions of power and wealth that take place across the globe, taking up residence in places like Wall Street in New York. In keeping with this role, the Intangibles are generally okay with letting things play out as they will, never actually becoming involved in the main conflict. In fact, their existence is only ever mentioned in passing by other characters of the book. They're interesting, in that while all the other New Gods are openly hostile, the Intangibles seem more concerned with actually getting down with their business.
Who Plays Them? This we're not sure of yet. To be honest, I'm not even particularly sure that they're in the series at all, and it's definitely likely that they'll take on a role similar to the original novel: spoken of but never seen. Their role in the book was minor enough that before going back and rereading American Gods I actually hadn't even remembered them. One thing has me thinking we might catch a glimpse of these mysterious creatures, however. Bryan Fuller has previously said the world American Gods is going to feel as big as the Marvel Universe. It's highly possible we're going to see more New Gods than those originally seen "on screen" in the book.
American Gods will premiere in 2017 on Starz. Follow @RoguesPortal for more coverage as we continue our week long look into why we're excited about the series.
SEE ALSO:
American Gods: Meet the Creators