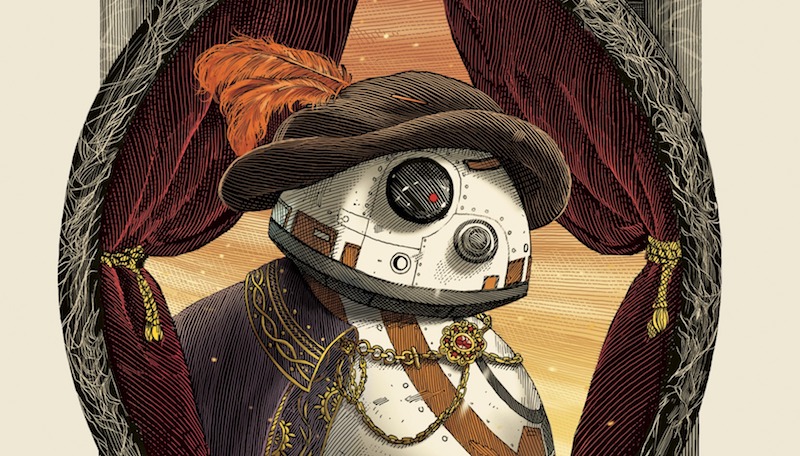 William Shakespeare's The Force Doth Awaken: Star Wars Part the Seventh
Author: Ian Doescher
Illustrator: Nicolas Delort
Genre: Satire, Science Fiction
Publisher: Quirk Books
A review by Samantha Pearson
There's something about Star Wars that makes it seem perfect for an iambic pentameter retelling, isn't there? Thank goodness for Ian Doescher, who's been adapting the Star Wars films into Shakespearean plays since 2013. His latest work, which adapts Episode VII: The Force Awakens, is out October 3 from Quirk Books. And let me tell you: William Shakespeare's The Force Doth Awaken: Star Wars Part the Seventh is everything I could have dreamed and more.
If you've ever wondered what BB-8 would sound like in Early Modern English, look no further. The droid's beeps have been translated alongside all your other favorites from The Force Awakens. Early Modern English definitely sounds more natural for some characters than others. Supreme Leader Snoke, for example. General Leia Organa. But the deeper you get into the story, the more the language feels natural and right for all of the characters, even ones who don't speak normally (like Chewbacca).
Doescher has a firm grasp of how iambic pentameter works, and how a Shakespeare play should look on the page. His stage directions are also spot-on. Each act of the film is written accordingly as an act of the "play", which is divided in five like all of Shakespeare's plays. The accompanying illustrations from Nicolas Delort are stunning, the exact pen and ink drawings one would expect in a classic story. And the cover, of course, is whimsical but absolutely fitting. I think it's my favorite of the series so far.
Really, The Force Doth Awaken is easier to take seriously than I would have expected. Doescher's use of Early Modern English is sound, the plot of The Force Awakens translated beautifully. The "play" reads better than a novelization would, as it follows a similar structure to the film itself. It would be something very special to see this script actually performed, as Shakespeare's language always works best aloud — and so, I think, would Doescher's.
I have no qualms with this adaptation. I would love to provide a really critical look at The Force Doth Awaken, but I simply don't have any criticisms to make. This book is whimsical and fun but also maintains the seriousness of the film, enacting its drama in one of the most famous rhythm and meters of all time. It's delightful and I love every page down to the very fiber of the paper itself.
The Verdict
Buy it! If you're a Shakespeare fan, Ian Doescher's Star Wars series is absolutely worth your time. And if you're a Star Wars fan, it is equally worth your time. Media tie-ins and crossover projects are so cool, especially when the creator really knows the material they're working with, which Doescher clearly does. I highly, highly recommend William Shakespeare's The Force Doth Awaken: Star Wars Part the Seventh.